By Leslie Knauf

Even before 3-year-old Uncle Sigh galloped his way onto the road to the Kentucky Derby Presented by Yum! Brands (gr. I), trainer Gary Contessa took to Twitter in early January just to express his excitement and anticipation for the 2014 racing season—and to acknowledge his good fortune at being part of the sport.
At the time, Uncle Sigh had just broken his maiden at Aqueduct Racetrack by a staggering 14 1/2 lengths, giving the native New Yorker—who uses social media (@GaryContessa) to connect with friends and fans—good reason to eagerly anticipate how the next few months would play out.
Since then, New York-bred Uncle Sigh has collected 24 points toward a place in the Kentucky Derby starting gate, with solid second-place finishes to rival Samraat in the Withers (gr. III) and the Gotham Stakes (gr. III). Now he'll look to turn the tables on Samraat in the 1 1/8-mile Wood Memorial (gr. I) at Aqueduct on April 5.
Uncle Sigh's progress so far would put some spring in the step of even the most skeptical horsemen. But Contessa, 56, a genial man who grew up on Long Island with a love for horses and rock music, harbors no such cynicism—neither is he reticent about Uncle Sigh nor his hopes for the big, bay son of Indian Charlie he describes as "awesome."
"I wouldn't trade the horse that I have for anybody else," Contessa said by phone from Florida recently while looking over prospects as is his habit at the Ocala Breeders Sales Co.'s March sale of 2-year-olds in training.
"I think I have the horse, now I just have to get to the show. I'm very, very confident in my chances, but, it's funny, it's not like there are playoffs leading up to the big show," he said.
A trainer for 30 years and a fixture at New York tracks for the past 20 (he was the leading trainer in New York from 2006-2009), Contessa's enthusiasm is tempered only by a sense of realism borne of experience on the road to the roses. It's a familiar route for the longtime conditioner, who last year was Derby-bound with the talented Rydilluc, only to be derailed when the colt faltered to finish fourth in the Toyota Blue Grass Stakes (gr. I). That result left the horse with insufficient points to obtain a slot in the Derby starting gate.
"I was very excited to have Rydilluc last year, running in the Blue Grass, but it didn't work out," Contessa explained. "We didn't get enough points, but we wound up winning the Penn Mile (Stakes at Parx, in June), so it was good.
"It's all one-shot deals, and we all know horse racing. A horse could stumble, a rider can drop the whip, a horse could be snotty or coughing, or not having a good day. There are many, many things that can get you beat and only one (horse) can win."
Armed last spring with a directive from owner George "Chip" McEwen to purchase some quality racing prospects, Contessa saw Uncle Sigh, who is out of the Pine Bluff mare Cradlesong, at the Fasig-Tipton Florida select sale of 2-year-olds in training last March. The colt didn't make his reserve at the sale, but he was purchased privately for McEwen's Wounded Warrior Stable and Anthony Robertson.
When choosing a name for the colt, McEwen, a Southerner who lives in Florida and operates a pharmaceutical supply company based in South Carolina, was inspired by the regional humor found in the "Duck Dynasty" reality television series and one of its popular characters, Uncle Si.
"He was a big horse, so we backed off him a little bit out of the sale, gave him a little time off and fixed a few little 'baby problems' that he had," Contessa explained.
Eventually arriving at the trainer's barn at Belmont Park in October, Uncle Sigh's lessons continued until he was ready for his debut in early December at Aqueduct. The colt ran a creditable second, losing by a scant head in the mud at six furlongs against other maidens.
Contessa didn't waste any time testing his charge around two turns, running Uncle Sigh back at Aqueduct just 20 days later, on Dec. 27 at the 1-mile-and-70 yards distance. Everything fell into place as the colt cruised to the impressive 14 1/2-length victory.
In the high-stress environment of the racetrack, a horse's temperament often plays a significant role in its racing success, as it did with Rydilluc, who exhibited behaviors before his races that tended to divert his attention away from the task at hand. By contrast, Contessa feels Uncle Sigh has the perfect disposition for the challenges ahead.
"[Uncle Sigh is] like the coolest dude you'd ever want to be around," the trainer said. "Last year, at this time, we were all talking about Rydilluc and his antics in the paddock—crazy guy that he was. This is the alter ego. This horse could care less. I mean, he's the kind of horse where you could literally sit on him and shoot a pistol off him and he wouldn't really care."
Describing the colt as "incredibly sweet," Contessa nevertheless admitted he's not quite a perfect gentleman, however. "He'll bite you, but he'll be smiling at you." Still, he's unflappable, the trainer said.
"This horse has got the mind for a Derby horse," Contessa remarked. "He'll walk into that stadium and there'll be 150,000 people there and half of them are drunk, yelling and screaming, and he'll be like 'Yeah, this is cool...whatever.' Horses are washing out, carrying on and jumpin' around and nothing bothers him. He's 'Mr. Cool'. "
Drawing upon his earlier background as a young working bass guitarist on Long Island—he played hundreds of gigs in clubs, at concerts and in recording studios before devoting his energies to training horses full-time—Contessa thought for a moment before settling upon popular country artist Toby Keith as the human personification of Uncle Sigh.
"Toby Keith is a sweet guy, but he's a tough guy, and that's what Uncle Sigh is," the trainer said.
"(Keith) stands up for our country, he's a tough guy, but he also sings from the heart and he's a sweet guy at the same time. I know a lot of rock 'n' roll musicians. Uncle Sigh is not a rock 'n' roller—he's a sweet guy, but he's a tough guy."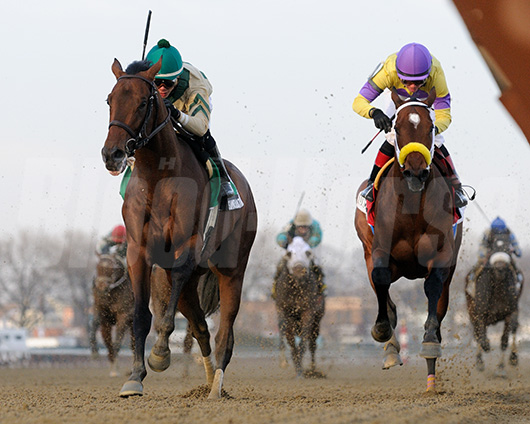 Uncle Sigh demonstrated his toughness in a pair of solid performances in the Withers and Gotham against his rival, Samraat, another New York-bred. Both races were such close matches that Contessa dubbed them "Rocky I" and "Rocky II" as the colts battled each other neck-and-neck in riveting stretch duels.
With Uncle Sigh and Samraat expected to square off again in racing's version of "Rocky III" in the Wood Memorial, Contessa remains cautious about the future.
"We have to get across this big hurdle and I'm not looking beyond that by any means," Contessa said. "I'll start thinking about the Derby if we give a good showing in the Wood."
While he thoroughly enjoys the ride, Contessa allowed that there's a trade-off in perusing the fabled journey toward Churchill Downs with a good horse.
"It gives me angst," he admitted. "I'm sure I'll have a new ulcer or two, but it's OK. I handle it well. I love my horse, and I'm very realistic about the whole thing. I'm certainly looking at that calendar and saying 'Two months. I just gotta keep him together for two months.'
"Anybody who has a horse like Uncle Sigh is thinking Derby, but you can't allow yourself to become overwhelmed by it because so much can happen. Look at Todd Pletcher. Two years in a row, in the weeks before the Derby, his favorites, Uncle Mo and Eskendreya, get hurt. It's so hard to keep them sound...so hard."
When he steps on the track on April 5 for the Wood Memorial, Uncle Sigh will be carrying Contessa's hopes for a trip to Louisville along with the bright yellow racing silks emblazoned with the symbolic purple heart of Wounded Warrior Stable.
"Chip is the most benevolent guy I've ever met in my life," Contessa said. "He deserves to go to the Derby, he really does."
As the result of his recent success with Uncle Sigh, McEwen, who has owned and raced Thoroughbreds since 1996, characterized his current position in racing as a "17-year overnight sensation," but it is his experience during the last two years that have given his involvement in the sport a new and greater purpose.
Returning to Florida from a trade show in Las Vegas in early 2012, McEwen and his fiancée were aboard a flight at Charlotte Douglas International Airport awaiting a change of planes. The flight crew of their plane had asked the passengers to remain seated so a young veteran and his family could disembark first. The soldier, who had suffered from a head trauma in combat, slowly exited the plane with assistance from his father, while his wife followed them with their two young children in tow.
Although not a veteran himself, McEwen, was so moved by the young man's struggle and sacrifice—and the life-altering impact such injuries can have on an entire family—that he vowed to do significantly more to help wounded veterans. He renamed his racing stable Wounded Warrior Stable and dedicates a percentage of its earnings to organizations that assist veterans who have suffered injury during their military service, including Retrieving Freedom, an organization that trains dogs to assist soldiers suffering from post-traumatic stress disorder or PTSD.
Uncle Sigh's success has boosted the stable's charitable contributions markedly in recent months.
"It's been very rewarding for us and I'm excited for the organizations we support and for an opportunity to win a lot of money and give back to those organizations for the veterans who do so much for our country," McEwen said. "It has been a unique and neat experience as we've gone along this journey for the last two years.
"I'm very excited about having an opportunity to have a horse nice enough to run in the Wood, and we hope he'll show up and do well. If he does well in the Wood, we'll definitely be in Kentucky—it's every horseman's dream to have one run in the Derby."
McEwen, who has also been involved in breeding, selling, and pinhooking horses with success, said he hopes an outside draw in the Wood Memorial could make the difference for Uncle Sigh, who has been inside Samraat in his past two efforts.
"This business is very tough; there are a lot of highs and a lot of lows," he said. "I try to take it all in stride and be cautiously optimistic. As this Derby pool (of horses) has shrunk, all the competition is very, very strong. Most of the horses that are coming into the Wood are very accomplished. We certainly hope we can draw (a post position) outside of Samraat for once and see how we do then."
Should his hopes for a good post position and a good showing by Uncle Sigh become reality in the Wood, McEwen has some tentative plans to gather a very special group at Churchill Downs in May.
"I don't want to get too ahead of myself on Derby talk, but we'll have a Gold Star family and two wounded war veterans, should we be blessed enough to be there," he said.
If the big bay horse who carries yellow silks with a purple heart takes them to Kentucky on Derby Day, it's a place they'll all deserve to be.