The quest for the classic racehorse has been ongoing since the first classic races were inaugurated in England in the late 1700s. Today the foremost classic race in North America is the 10-furlong Kentucky Derby Presented by Yum! Brands (gr. I), which requires both the speed and agility to secure position and make key moves in a big field and the stamina to stay the distance.
Various schools of thought have existed as to the best way to breed a horse capable of winning classic glory. The oldest has probably been to breed stamina to stamina. This strategy was notably employed by August Belmont II, who has been quoted as telling William Woodward, "Billy, breed to stoutness! When you get one that has some speed, you have a very good horse!" Both Belmont and Woodward were highly successful, each breeding five winners of the Belmont Stakes at a time when that race's prestige rivaled or surpassed that of the Derby.
Nonetheless, both these programs tended to produce late-maturing horses and relatively low percentages of winners; in today's American market, similar programs would probably commit financial suicide. Belmont and Woodward also found themselves handicapped by the failure of most of their champion stayers to breed on. (Ironically, Belmont's breeding program received a major shot in the arm courtesy of Hastings, primarily a sprinter-miler despite his 1896 Belmont victory; he became the sire of Belmont's great stallion Fair Play and the grandsire of Man o' War.)
The opposite approach, breeding primarily from animals with brilliant-to-intermediate capacities, typically produces earlier-developing stock and higher percentages of winners but is much less likely to produce a horse that can genuinely stay. Horses bred in this manner have won over classic distances but usually depend on being able to set a high cruising speed from a comfortable position on or near the lead.
Historically the great breeders have recognized the need to balance speed and stamina, either by using speed-oriented stallions on mares of stouter backgrounds or by crossing staying sires onto speedy female families. Sea The Stars, Europe's Horse of the Year in 2009 and a group I winner at distances from 1,600 meters (about a mile) to 2,400 meters (about 1 1/2 miles), shows such a balance. Produced from 1993 Ciga Prix de l'Arc de Triomphe (Fr-I) winner Urban Sea (herself the result of mating Miswaki, a group I winner over 1,400 meters, to a mare from a stout German female line), he is by the high-class miler Cape Cross.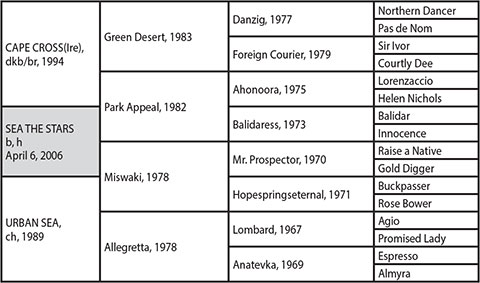 In the case of 1936 Epsom Derby winner and important sire Mahmoud, however, the pattern was stamina over speed. The speed came through Mumtaz Mahal, still widely regarded as one of the fastest fillies ever seen in England. Bred to English Triple Crown winner Gainsborough, Mumtaz Mahal produced the speed-oriented Mah Mahal. But when Mah Mahal was bred to classic stamina, this via 1930 Epsom Derby Stakes winner Blenheim II, the cross produced Mahmoud, whose Derby time remained a stakes record until broken by Lammtarra in 1995.
Sea The Stars and Mahmoud point out the need to consider both the distance aptitudes of individual horses and familial proclivities when trying to produce classic hopefuls. Purely sprint-bred stallions generally do not succeed as sires of classic horses, and while mares from sprinting backgrounds have made important contributions, it can take two or more crosses to staying sires in succession to infuse sufficient stamina in the progeny.
On the other side, the staying capacities of Sea The Stars' female line remained largely intact despite successive crosses to stallions that did not stay above a mile. Other female lines do not show such dominant speed or stamina and tend to mirror the mates they are bred to in their produce. Likewise, stallions vary greatly regarding the dominance of their own characteristics, and some may throw more like a maternal grandsire than like their own sires.
Not every mating is going to produce a classic winner, and those breeders with the greatest long-term impact have often worked with a particular breeding plan for several equine generations as they strove to achieve and maintain the needed blend of speed, stamina, conformation, and temperament. But a clear vision of the goal, combined with a level-headed assessment of one's stock and the traits that need to be brought into the available genetic pool, is the key to achieving the balance that leads to classic success.