A few years ago Xavier Moreau was talking to his neighbor Wilson Winter when the retired businessman mentioned his interest in getting into Thoroughbred breeding.
That conversation would lead to a partnership between the Ocala, Fla.-based Moreau Bloodstock International and Winter Racing Enterprise on a couple of mares. One of them, Racene, in 2011 would produce eventual Besilu Stables Fountain of Youth Stakes (gr. II) winner Wildcat Red .
Suddenly, Winter has gone from testing the Thoroughbred waters to having a part in producing a 3-year-old Florida-bred being pointed to the May 3 Kentucky Derby Presented by Yum! Brands (gr. I).
"I've been in the business for a little while and I know how tough it can be, even to just get a healthy foal sometimes," said Moreau, 56, who has been involved with horses since his childhood in France and loved seeing a newcomer like Winter enjoy success from the start. "You have to enjoy the ride. I'm not sure he understands it, but I've tried to express to Wilson that this may be the best horse he ever breeds. I mean, realistically, that's what you have to think."
Moreau, who set up a farm with his wife Sharon in 1995 in Citra, Fla., has three broodmares on his own and keeps another four in various partnerships.
Moreau and Winter are just one of several successful Thoroughbred breeding partnerships represented in this year's Derby. Not counting agreements between family members, six listed breeders among this year's likely Derby starters are partnerships.
"I do a lot of partnerships and they're good because you have someone to share the excitement with," Moreau said. "And of course, you're sharing the risk."
Also new to the game are Perry Martin and Steve Coburn, who struck gold with the first horse they bred, California Chrome . Martin and Coburn also campaign the Santa Anita Derby (gr. I) winner who figures to be the favorite in this year's Kentucky Derby.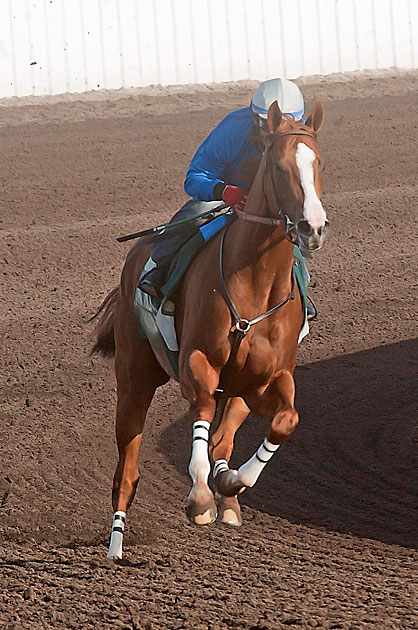 Martin and Coburn had each owned 5% of California Chrome's dam, Love the Chase, by Not for Love, through Blinkers On Racing Stable. They bought out the other partners and raced her two more times before retiring her to start her broodmare career. In 2011, California-bred California Chrome was the first foal she produced.
Other Derby hopefuls this year bred in partnership include four Kentucky-breds in Arkansas Derby (gr. I) winner Danza , who was bred by Rob Whiteley's Liberation Farm and Jim and Pam Robinson's Brandywine Farm; Rebel Stakes (gr. II) winner Hoppertunity, bred by Bill Betz, D.J. Stable, Charles Kidder, Jim Betz, and Nancy Robenalt; Risen Star Stakes (gr. II) winner Intense Holiday, bred by Carrie and Craig Brogden's Machmer Hall and Chip Montgomery's Haymarket Farm; and Sunland Derby (gr. III) winner Chitu , bred by Tom Evans, Dr. Ted Forrest's Macon Wilmil Equines, and Rich Burke's Marjac Farms.
It's an impressive list of breeders that boasts a long line of success. Carrie Brogden said partnerships allow people the opportunity to bounce ideas off one another and provide checks and balances on their way to making key decisions.
Machmer Hall typically partners on five to eight mares a year with Haymarket Farm since Brogden met Montgomery about a dozen years ago. They typically arrive at stallion decisions though discussion.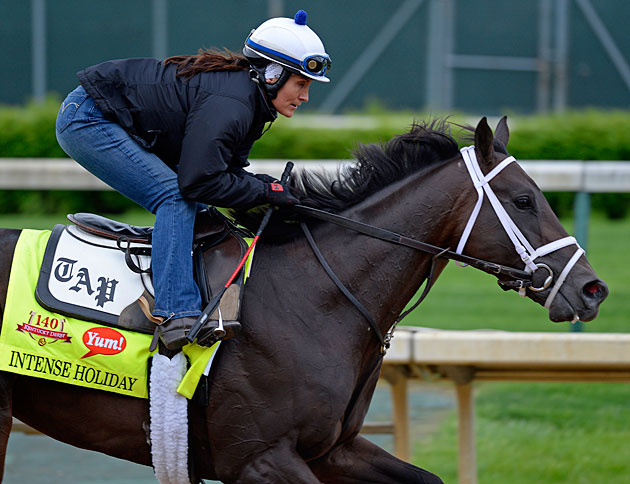 "If he was adamant that he didn't want to go to a stallion or spend a certain amount of money, then we'll just bag it. We basically try to come up with a bunch of options and it works out," Brogden said. "It's important not to force anything. Nothing should be an absolute in any way, shape, or form."
Brogden said Harlan's Holiday was one of the stallions that made the short list for their Unbridled's Song mare Intensify, and they chose him after determining Intensify was a good physical match. Brogden and Montgomery enthusiastically followed the progress of Intense Holiday, who was purchased by Starlight Racing for $380,000 at the 2012 Keeneland September Yearling sale and went on to win the Risen Star and finish second in the Louisiana Derby (gr. II).
"I really enjoy having other people to talk to, other people to be excited about being involved in the industry," Brogden said. "I'm definitely very much a partner-type personality. All of our partners are our friends; there isn't a single partner I wouldn't call a friend."