"I thought about it, always, always," Jose Garoffalo said on a sunny late April morning, seven days before saddling his first contender to the Kentucky Derby Presented by Yum! Brands (gr. I). "When I was training in Venezula, I used to say that someday I would be winning these big races. Then I moved up to Miami, and when I got there I said, 'Now I'm closer,' and today I'm even closer...I'm here."
"Here" is Barn 21 on the Churchill Downs backstretch, temporary home to Besilu Stables Fountain of Youth (gr. II) winner Wildcat Red , Garoffalo's trainee. A speedy bay colt who gives his all every time, the son of top sprinter D'wildcat was expected to get tired when stretching out in distance.
Instead—after running a narrow second to fellow Kentucky Derby contender General a Rod in the one-mile Gulfstream Park Derby—he carried on in unlikely fashion following a victory in the seven-furlong Hutcheson Stakes (gr. III), taking the Fountain of Youth going 1 1/16 miles. Next, by turning in a hard-fought second by a neck in the March 29 Besilu Florida Derby (gr. I) at 1 1/8 miles, Wildcat Red proved himself beyond his paternal genes, partially thanks to the training methods Garoffalo learned in his native country.
Now 50, Garoffalo began working with horses in Venezuela under his father, respected breeder Jose Garoffalo Sr. He attended training school and also studied law, getting a degree in both fields, but immediately after graduation turned to racing, his first love. In 1988 he came to Florida to work as an assistant for Angel Medina, but he went back to Venezuela in 1991 to help run the family business.
From 1991 to 1998 he trained horses at La Rinconada in Caracas before returning to the U.S. for good in 1999. He won with his first U.S. starter, Redformer, at Hialeah Park on April 11 of that year.
Garoffalo bought Wildcat Red for $30,000 from the 2013 Ocala Breeders' Sales Co.'s June sale of 2-year-olds in training and horses of racing age for fellow Venezuelans Salvatore Delfino and Josie Martino Delfino. The couple owns three of the 25 horses he has in training.
"Wildcat Red was their second horse in their lifetime," Garoffalo said. "They never had contact with the racetrack in Venezuela, they never knew anything about horses. Their first horse we bought was a claiming filly; she won first time out for them so they got excited and wanted to have more.
"They love animals and do a lot for several foundations that take good care of animals, so in one way I always tell them, having this horse is not a coincidence, it was a gift from God, something they're getting back for all they've done. It wasn't a matter of luck, it was something they deserved."
Something deserved by Garoffalo's family is the chance at watching a Derby run in person. But after decades spent supporting the industry in Venezuela and fostering the successful trainer's career, Jose Garoffalo Sr. and his clan will watch from home while his son chases history.
"Unfortunately, he's not coming," Garoffalo said of his father. "We were making plans to come, to bring him; he wants to come and I wish he could be here. But in Venezuela there's a lot of problems now with the embassy and the visas and things, so it's a mess."
Given the political climate in his native land, Garoffalo hopes Wildcat Red's Kentucky Derby bid will give his countrymen something to cheer for this coming weekend.
"The people there are struggling with a lot of problems with the government, with a lot of violence, and the economic situation is very bad," he said. "It's very important to give them a little relief, a getaway, something to make them forget the bad situation. And there, the horses are like our heroes. Everybody follows the races. Actually, my sister who lives there tells me everybody asks about the horse, everybody knows about the horse. So it's good because it's kind of help for the people, it gives them something .
"They're watching the news in a different way, they go places to watch the races, I think they're going to broadcast the race there too. They call me all the time from radio shows, talk shows, they have a lot of media coverage there, so the horse industry for us, it's in the news everyday. People used to follow the jockeys—Eibar Coa, Ramon Dominguez, Javier Castellano—and now they're following the trainers. Now they're following me."
As his countrymen and members of the North American racing community watched over the winter, word came up from Florida that Garoffalo was sending Wildcat Red through lengthy, stamina-building gallops. Word was also that the stamina-building gallops were doing their job, particularly when combined with a stout female side tracing back through dam Racene to champion Personal Ensign via Miner's Mark, a grade I-winning broodmare sire (more on Wildcat Red's intriguing pedigree).
"I pretty much use the same system that I learned in Venezuela; I learned with a very good, old trainer and he had that kind of system," Garoffalo said. "It is based on gallops, strong gallops, mile and a half, mile and three quarters every day. That's the way I train the horses for long distances, especially these horses that already have the natural speed. In those cases, we don't need more speed; we need the stamina. We need the air to go longer.
"I do not like the breezes too much. You have to keep them in shape with the gallops. These kind of horses, they try hard whatever you ask them. If my horse works a bullet, that will be okay, but I'm not looking for that. I just need to keep the horse fit the longest possible time—fit and sound, which is the secret in this business.
"And that's what I have been doing with Wildcat Red since maybe the last month of 2013, and he's been handling it very good. So I have noticed the change in him, and every time he runs he goes longer and longer, and he does it with no problems."
That, in Garoffalo's succinct way of telling things, is how a son of a sprint sire wound up in the Kentucky Derby. Garoffalo recognized the horse's potential despite his less-fashionable pedigree.
"The first thing I saw on his page was the Miner's Mark influence, the Personal Ensign influence, which has been very important in a lot of bloodlines," the trainer said. "You need the balance; and that was the perfect combination. The thing is, the market is very focused, as always, on one thing—the A.P. Indy, Storm Cat, Tapit types. If you don't have a horse with that pedigree, they think you're not going to make it. But in my experience, the best horse is not always the one that has the best pedigree. Actually, much of the time, the best horses, they don't look like a big deal. Wise Dan (two-time Horse of the Year) is an example of that. Wildcat Red is an example of that.
"So when you see a horse like him—that we only paid $30,000 for, with a sire who hasn't caught the attention of many people—and he becomes a grade I horse, people are all surprised. But in reality, if you check, there's a reason for him to do what he's done so far."
Leaning up next to a Derby saddle towel emblazoned with his runner's name, Garoffalo grinned, allowing himself to dream a little more.
"When I was living in Venezuela I used to come to the U.S. to see the Derby, the Belmont Stakes (gr. I), the Breeders' Cup. I used to come here with my father for many of those races, and I always said that one day I would do it, and I did—or I'm trying to do it."
"You always dream about making it to races like this, and you know at some point if you're lucky it's going to happen, but you don't know when."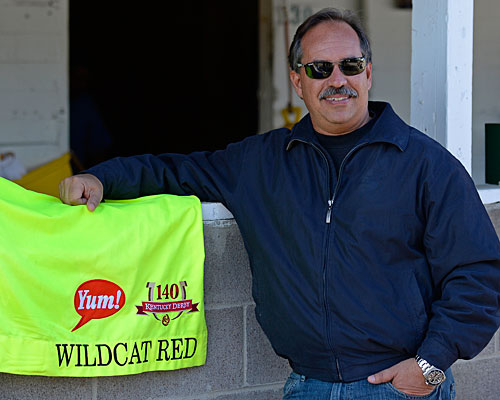 "So we'll see what happens. I bought a one-way ticket, I didn't buy the round trip, because I don't know how long I'm going to be here with the horse," he added. "If everything goes good, we might be running at Pimlico (in the Preakness). If the horse comes back in good shape, I think we could run there. I think that's going to be his natural race, the race where he could be better, because it's a fast track, it's close turns, it's a 1 3/16-mile race, it would be better for him. First, we have to run well or win here..."
Then he caught himself, chuckled.
"One step at a time," he said.