On a cool morning for the final day of April on the Churchill Downs backstretch, Starlight Racing founder Jack Wolf laughed at the thought that only in horse racing could $380,000 not seem like a huge amount of money.
That $380,000 is the price Starlight paid to land Intense Holiday at the 2012 Keeneland September yearling sale. Wolf was surprised to hear the sum was the highest price paid at public auction for any of this year's likely Kentucky Derby Presented by Yum! Brands (gr. I) starters.
"That's interesting, I didn't realize that," Wolf said. "We normally have the reputation of being on the lower end of these prices."
Starlight landed Ashado, who was recently voted into the Racing Hall of Fame, for $170,000 at the 2002 Keeneland September yearling sale and purchased 2012 champion juvenile male Shanghai Bobby for $105,000 at the 2011 edition of that sale.
Winner of this year's Risen Star Stakes (gr. II), Intense Holiday was consigned by Carrie and Craig Brogden's Select Sales, who bred the horse through their Machmer Hall operation along with Chip Montgomery's Haymarket Farm. Former trainer Frankie Brothers serves as Starlight's bloodstock agent.
"The type horse that Frankie looks for is the athlete, first of all. He tries to find a well-balanced colt," Wolf said. "And then we look at the page a little bit and I think the pedigree is pretty nice."
Starlight also campaigned Intense Holiday's multiple grade I-winning sire, Harlan's Holiday, who was purchased for $97,000 at the 2000 Fasig-Tipton Kentucky July sale. Wolf said Starlight doesn't go out of its way to buy horses by the late Harlan's Holiday but they'd seen a lot of quality in some of his recent crops.
"I say the Harlan's Holiday angle didn't play a part in it from a sentimental point of view but Frankie has been putting a lot more Harlan's Holidays on the short list for the past three years or so," Wolf said.
Of the 14 Derby horses who sold at public auction as yearlings, including two sales of General a Rod , the average price was $160,133. The average sale price for the six Derby horses sold at 2-year-old sales is similar, $157,500.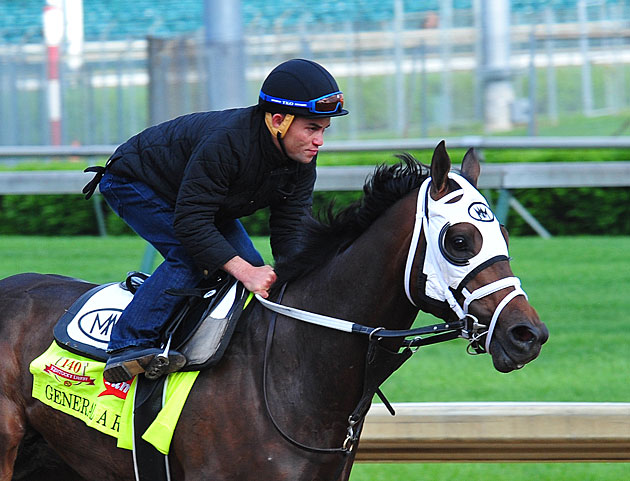 The biggest bargain in the field appears to be Louisiana Derby (gr. II) winner Vicar's in Trouble, whose small size discouraged buyers at the inaugural Equine Sales Co. of Louisiana's yearling auction in 2012. Consigned by breeder Spendthrift Farm and Mark Toothaker, Clyde Taylor landed the Louisiana-bred son of Into Mischief for just $8,000.
Vicar's in Trouble would sell for 10 times that amount a year later when Ken and Sarah Ramsey went to $80,000 for him at the 2013 Fasig-Tipton Midlantic 2-year-olds in training sale from the consignment of Pike Racing, agent.
That $80,000 purchase price also is a bargain but it's not the smallest price for a horse in the Derby field sold as a 2-year-old. That distinction falls to Besilu Stable's Fountain of Youth Stakes (gr. II) winner Wildcat Red , who sold for $30,000 at the 2013 Ocala Breeders' Sales Co. June sale of 2-year-olds and horses of racing age.
Consigned by Classic Bloodstock, trainer Jose Garoffalo signed the ticket for owners Honors Stable (Salvatore and Josie Martino Delfino).
The lowest-priced yearling purchased by his current owner is Ride On Curlin , who was landed for $25,000 at the 2012 Keeneland September sale. Owner Daniel Dougherty said he was looking at a different horse on the grounds when trainer Billy Cowan spotted the son of Curlin —Magical Ride, by Storm Cat.
Cowan and Dougherty loved the breeding. They believe a crooked right-front leg kept the sale price down for the colt, consigned by Lane's End, agent, who was offered on the third day of the sale.
"Billy really liked the way the horse was put together and a lot of times that crookedness works its way out as they get older," Dougherty said. "Fortunately for him it did. He's a little toed in on both sides but it's nothing major."

Sale prices of Kentucky Derby horses sold as yearlings in 2012
Horse
Sale
Price
Intense Holiday
Keeneland September
$380,000
Wicked Strong
Keeneland September
$375,000
Medal Count
Keeneland September
$360,000
Hoppertunity
Keeneland September
$300,000
Uncle Sigh

Fasig-Tipton Saratoga preferred New York-breds
$270,000
Vinceremos
Keeneland September
$140,000
Danza
Keeneland September
$105,000
General a Rod
Fasig-Tipton Kentucky July
$100,000
We Miss Artie
Keeneland September
$90,000
General a Rod
Fasig-Tipton Kentucky October
$72,000
Chitu
Keeneland September
$67,000
Commanding Curve
Fasig-Tipton Kentucky October
$60,000
Harry's Holiday
Keeneland September
$50,000
Ride On Curlin
Keeneland September
$25,000
Vicar's in Trouble
Equine Sales Co. of Louisiana
$8,000
Sale prices of Kentucky Derby horses sold as 2-year-olds in 2013
Horse
Sale
Price
Vinceremos
Keeneland April

$340,000
Chitu
OBS March select
$300,000
Dance With Fate
OBS Spring
$120,000
Vicar's in Trouble
Fasig-Tipton Midlantic
$80,000
Commanding Curve
OBS Spring
$75,000
Wildcat Red
OBS June
$30,000