They think back to when they were kids, the horsemen who will saddle runners in this year's Kentucky Derby Presented by Yum! Brands (gr. I). Somehow this race rises larger than life, and something about one horse or another caught their fancy way back when, the contenders who won it remaining forever in their minds.
Fourteen trainers of 20 horses entered in the May 3 Kentucky Derby saw the potential of their futures played out in furious rallies, wire-to-wire rumbles, by the widest of margins and the slimmest of victories. Weeks like this bring back those memories.
Once Derby horses arrive at Churchill Downs and final works are out of the way, the job becomes mostly about keeping them in bubble wrap, hoping nothing flukey happens, just making it to the day. It leaves a little time for contemplation, a lot of time for keeping fingers crossed.
On an overcast April morning at Barn 41 on the Churchill backstretch, counting down to saddling his first Derby starter, Gary Contessa leaned up against the rail to keep an eye on New York-bred
Uncle Sigh
—a laid-back 30-1 shot on the morning line.
"I used to watch the Derby on TV like crazy," the 56-year-old trainer said. "I think my first memory was Secretariat because the whole world was watching Secretariat that day. There was a whole lot of hoopla; kids and parents and everybody watching it. And then I was hooked, and I was there for Seattle Slew—who is my favorite horse ever—and Affirmed... just great stuff. Great horses catch the attention of the entire world."
While one future trainer's passion was fostered with that 1973 victory, so was the interest of another. A few barns over on the Churchill backside, 48-year-old trainer "Bronco" Billy Gowan recalled the run of the legend.
"My earliest memory was watching Secretariat on TV," he said, kicking back in the tack room with
Ride On Curlin
, his powder keg of a starter, nearby. "I was eight years old and it was a big deal because everybody was talking about Secretariat and he got beat in his race before the Derby, and you know he went on to win the Triple Crown. That was actually my earliest memory of horse racing - haven't seen one like him since, either."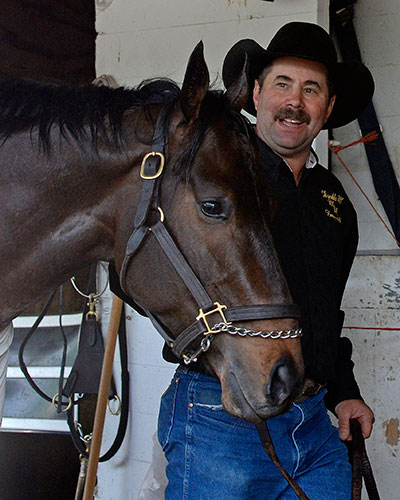 Steve Asmussen said he remembers 18-year-old Steve Cauthen winning the 1978 Triple Crown on Affirmed, the epic rivalry between that champion and Alydar. Now 48, Asmussen was 12 at the time.
"When Cauthen won the Triple Crown, just 'Boy Wonder' and stuff like that, I was really attached to that moment," he said. "I can remember where I was at, what I was wearing, the living room I was in, and the TV I was watching—and I was young. For some reason, it just puts you back."
The first Derby Asmussen watched in person was the 1988 edition won by Winning Colors, one of only three fillies to ever take the Run for the Roses. The trainer, who has
Tapiture
in the Derby and
Untapable
in the Longines Kentucky Oaks (gr. I), relived the electric thrill of that victory.
"I was training already; I had horses stabled over at
Keeneland
, and I drove over and watched it. The hair on your arms stood up; it was just the most amazing feeling, the most amazing thing you'd ever seen."
With four horses in the Derby and a massive stable ticking along with the efficiency of a Fortune 500 company, Todd Pletcher has little time for sentimentality these days. But even in Pletcher's focused program and under his CEO-like management,
Intense Holiday
,
Danza
,
Vinceremos
and
We Miss Artie
have something to live up to.
"I remember watching Affirmed on television; I think I was at Sunland Park at the races with my parents and we were watching on TV there," the 46-year-old Pletcher said. "For me it was a big deal every year, growing up in the horse industry. It was something we'd be watching just because the Derby is the Derby.
"That was 1978, I would have been 10. He's a pretty good one to remember."
Dale Romans recalled the year before, sharing Contessa's love for Seattle Slew from his vantage point in Barn 4 on the backstretch—where he could look down the shedrow to his current contender,
Medal Count
.
"The first real one is coming to the Derby in 1977," the 47-year-old Kentucky horseman said. "My great uncle brought me here and I haven't missed one since. I remember Muhammad Ali walking through the crowd and a whole drove of people walking with him as he went. And I remember Seattle Slew winning the Triple Crown and I haven't missed one since.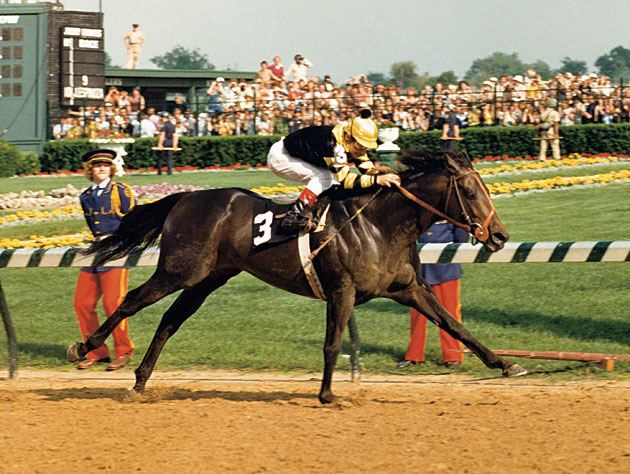 "I was a kid in '77 when he ran; I was only 10 years old and I was already coming to the Derby. We used to go on Central Oaks night every year they would close it off and it would be a carnival atmosphere. It's always been a festival and fun. We were in this barn back then, my dad would always have a barbecue for everybody and we'd hang out, then go in the infield and run wild."
Dallas Stewart recalled another year when people ran wild—the 1976 edition won by Bold Forbes, when a smoke bomb was thrown onto the racetrack near the eighth pole just after the field passed that point for the first time.
"I remember that, and I remember Genuine Risk," said Stewart, 54, who saddles
Commanding Curve
. "I remember Secretariat for sure; I wasn't even really into horse racing at that point, I had kinda just started, but he was one you knew about no matter what you did or who you were."
Of course the world is well-acquainted by now with Art Sherman's early Kentucky Derby memories. At 77, the old-timer who has traveled with Derby favorite
California Chrome
recalled riding the train to Louisville as the gallop boy for Swaps, riding that 1955 winner bareback through the grassy areas on the Churchill backstretch.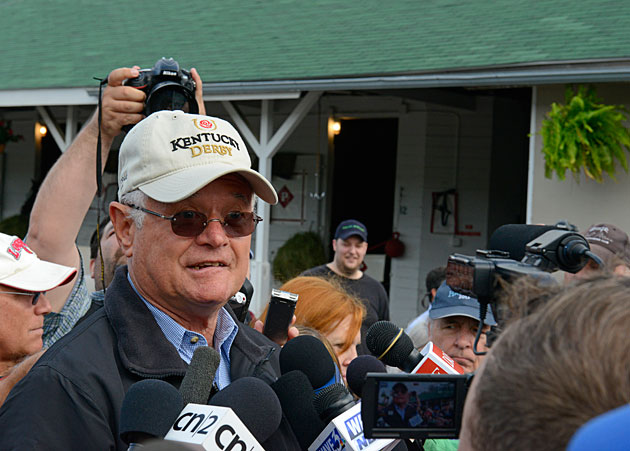 "They used to say, 'Oh, he's going to beat Nashua and all them horses? You've got to be kidding me!' And you saw what happened," Sherman recalled. "I probably thought I'd never get here with the kind of horse that I have. It never bothered me because I just love the game, and if it happens, it happens. I've always been the guy (who believes) if its fate, I'm all for it."
And then there's Bob Baffert.
"We always watched the Kentucky Derby; we watched it every year," the Hall of Fame conditioner said. "We'd actually go to my uncle's house because the antenna was always down at our ranch."
Now 61, Baffert remembers Cannonero II winning in 1971, recalled horses like Seattle Slew, Spectacular Bid.
"It was something I never even dreamt of, being here and saying I was going to be at the Kentucky Derby
—
never thought I was even going to be a trainer. To be in this situation and to think back...I never would have imagined it. I mean, here I am, it's my life; I've been here for so many years now."
Baffert, who has
Hoppertunity
and
Chitu
—his 24th and 25th Derby starters—looked back to bringing his first Derby runner to Churchill in 1996, before he won in 1997 with Silver Charm, 1998 with Real Quiet, and 2002 with War Emblem.
"I came in here with Cavonnier and I was all excited, and I got to the barn
—
they told me all the media was going to be here—and the only guy here was one photographer, Bill Luster," he said. "I was like, 'Where is everybody?' And it was just him, and I'll never forget that. To this day, he always reminds me, 'Hey, I discovered you first.' "
Baffert, who came within a whisker of winning the 1998 Triple Crown when Real Quiet was edged by Victory Gallop in the Belmont Stakes, nevertheless calls that first Derby experience "the toughest beat of my career." Cavonnier made the lead coming down the stretch for home and for one glorious moment it seemed as though the Derby trophy was theirs. He was nosed out by Grindstone in a brutally close photo finish.
"You'd think the Triple Crown was (the toughest beat), but it wasn't," Baffert said. "I actually thought I was never going to be able to come back—I thought that was it, it's so hard, so difficult. When you get beat in the Derby like that, it was like, it may never happen again."
Baffert paused for a second, smiled his old sly grin.
"And then we won it the next year," he said.