Twelve years ago Seattle Slew died on Derby Day at the advanced age of 28. At the time of his death, he had already guaranteed the continuation of the sire line of Bold Ruler (his great-grandsire). Since then, his influence has continued to spread in the top ranks of American racing and breeding.
On paper Slew was not a likely candidate to become either a champion racehorse or an important sire. From the first crop of the talented but unsound Bold Reasoning, he was the first foal out of the stakes-winning Poker mare My Charmer, meaning that both parents were unknown quantities in the breeding shed. His purchase price of $17,500 at the 1975 Fasig-Tipton Kentucky summer yearling sale reflected not only a relatively modest pedigree but a turned-out right forefoot.
Slew would never be a beauty contest winner; he was a big, rugged, masculine sort with a topline that showed an increasing dip as he aged. But handsome is as handsome does. The only horse to sweep the Triple Crown while unbeaten, Slew was one of those rare horses able to progress from 2 to 3 to 4, winning championships every year he raced with a combination of blistering speed, stamina, and heart. He crowned his Cinderella story by leading the general sire list in 1984 and the broodmare sire lists in 1995-96.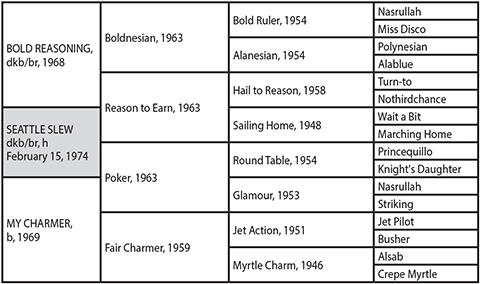 While Slew never succeeded in siring his equal, he came within a reasonable distance of doing so twice—perhaps thrice, had the brilliant filly Landaluce lived to show whether she could train on as her sire had done. Slew o' Gold was less brilliant but longer-lasting. Produced from the Buckpasser mare Alluvial (also the dam of 1979 Belmont Stakes, gr. I, winner Coastal), Slew o' Gold proved a first-rate horse over nine to 12 furlongs, winning seven grade I events at 3 and 4.
Champion of his division at both 3 and 4, Slew o' Gold started well at stud but tailed off after his first few seasons and has also been a disappointment as a broodmare sire. Nonetheless, his pedigree contained a clue to the future of the Slew tribe. While Seattle Slew did well crossed back to almost any of the major strains in his pedigree—Nasrullah (especially through Slew's male-line ancestor Bold Ruler), Princequillo, Hail to Reason, and Polynesian—he was particularly effective when bred to mares carrying Buckpasser in their pedigrees, getting seven of his 28 grade I winners from this cross. The likely reason for this affinity is Busanda, sired by War Admiral from La Troienne's daughter Businesslike and so closely related to the full sisters Busher and Striking (War Admiral—Baby League, by Bubbling Over—La Troienne), who appear 3x3 in the pedigree of Slew's dam My Charmer. Slew also sired grade I winners Adored and Scorpion from the family of La Troienne's champion great-granddaughter Straight Deal, whose sire Hail to Reason was also the broodmare sire of Slew's sire Bold Reasoning.
Arguably on a par with Slew o' Gold on the track, 1992 Horse of the Year A.P. Indy (out of Weekend Surprise, by Secretariat) has been the son who has continued his sire's line. Inbred 4x3 to Bold Ruler, with a Buckpasser mare as his granddam and a double cross of Princequillo via Somethingroyal, his pedigree pulls together many of the strains most compatible with Seattle Slew. His important sire sons Malibu Moon and Pulpit, in turn, bring in Mr. Prospector—a great-grandson of Polynesian, a maternal grandson of the Nasrullah horse Nashua and, like Slew, a tail-female descendant of the foundation mare Myrtlewood—and, in Pulpit's case, additional crosses of Bold Ruler and Princequillo through his granddam, Narrate.
Malibu Moon is, of course, the sire of last year's Kentucky Derby Presented by Yum! Brands (gr. I) winner, Orb , and this year it was Pulpit's turn to add to Slew's legacy via his grandson: the brilliant California Chrome (by Lucky Pulpit), who won the 2014 Kentucky Derby Presented by Yum! Brands (gr. I). Another grandson of Pulpit, Southwest Stakes (gr. III) winner Tapiture (by Tapit ) finished 15th in this year's Derby. All three of these young horses are inbred to Mr. Prospector, perhaps suggesting a new direction for the line of Seattle Slew as it moves further into the 21st century.