Each time Steven Brandt would acquire a new horse for his Vina Del Mar Thoroughbreds, his mother Shirley would respond somewhat skeptically, "Oh, no, you didn't spend more money on horses."
That is, until he informed her last winter that he had claimed a son of Lemon Drop Kid named Kid Cruz for $50,000.
"When I told her about this horse and that we had nominated him to the Triple Crown, she said 'You're going to the Triple Crown, and you're going to win,' " Brandt recalled recently.
His mother died in January after a lengthy illness, so she was unable to share in the joy Kid Cruz has brought to Brandt with his first two stakes wins—the Private Terms Stakes at Laurel Park in March and the Federico Tesio Stakes at Pimlico Race Course in April.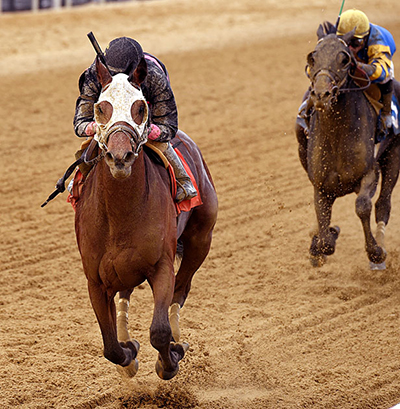 And while a setback precluded the colt from a scheduled run in the TwinSpires.com Wood Memorial (gr. I) and forced his connections to abandon plans to run in the Kentucky Derby Presented by Yum! Brands (gr. I), Kid Cruz is on track to contest the May 17 Preakness Stakes (gr. I).
"It's a dream to go to the Derby, and it's disappointing he did not get that chance," Brandt said. "I'm pretty confident that if everything goes as well (in the Preakness), he'll be right there."
Brandt, 56, is semi-retired from the telecommunications industry and as a consultant. He now spends most of his time working on improving the stable he operates with his life partner, Rick Boylan, also 56.
After previously racing a modest stable in the 1980s and '90s, Brandt was out of racing for awhile before returning in 2005. On one of his regular trips to the Ocala Breeders' Sales Co.'s April sale of 2-year-olds in training about three years ago, he had a chance meeting with New York-based trainer Linda Rice.
He visited Rice's stable in New York, and the two eventually teamed up. Brandt and Boylan now have four or five horses in training with her at any one time.
"Every year I have been trying to learn from my mistakes and trying to improve the quality of my horses," Brandt said.
Bred in Kentucky by Machmer Hall, Kid Cruz was purchased by Black Swan Stable for $80,000 from the Select Sales consignment at the 2012 Keeneland September yearling sale.
Seventh in his career debut over a firm turf course at Aqueduct Racetrack, Kid Cruz was entered for a $50,000 tag in a maiden claimer on the main track at Aqueduct Nov. 22.
Brandt, who spends a lot of time watching televised races to prospect for future purchases, was struck by Kid Cruz's presence on the screen when he ran on turf and made a mental note to look for the horse. He attributed the poor performance to a lack of desire to race on grass.
Making his main track debut, Kid Cruz won the mile test by six lengths and changed barns after being claimed by Rice on behalf of Vina Del Mar Thoroughbreds. With a case of apparent seller's remorse, representatives of Black Swan contacted Rice about purchasing a minority interest in the colt not long after he changed barns. Brandt initially resisted, but after being approached again, he relented. Black Swan is now a partner in Kid Cruz.
Given a break of several months, Kid Cruz returned with a solid second in an allowance before making the leap into stakes company in the Private Terms. Kid Cruz got off to a slow start for jockey Julian Pimentel in the 1 1⁄8-mile stakes, and at one point was some 20 lengths behind the leader before unleashing a powerful move from last to first to win by four lengths.
"He was like a monster," said Brandt.
Following the race, Brandt found a copy of his mother's memorial service in his pocket and considered that a good omen, given her initial assessment of the colt.
"This horse was the first one she ever said anything to me about," Brandt said. "I thought that (stakes win) is the most wonderful gift I could get."
For Kid Cruz's next start in the April 19 Federico Tesio at Pimlico, Brandt brought his mother's memorial program along, this time placing it on his clubhouse table. The colt responded with another convincing win that stamped him as a possible Preakness contender.
"No matter what happens to this horse, it's been wonderful," Brandt said of Kid Cruz's success.
Note: This article originally appeared in the May 10 edition of the Blood-Horse Magazine, issue No. 19. Purchase here.
Update: Kid Cruz, who arrived at Pimlico from Belmont Park the evening of May 12, was sent to the track for steady gallops the mornings of May 13 and 14 under exercise rider Reul Munoz as he continued his preparation for the Preakness.
"He's fine, doing well and has settled into his new surroundings well," said Rice, who arrived in the Baltimore area later the morning of May 14. "Everything's been pretty routine."
Named for New York Giants wide receiver Victor Cruz by Black Swan's managing partner John Destefano Jr., Kid Cruz is the only member of the 10-horse Preakness field with a race at Pimlico.
"That's definitely a plus," Rice said. "But these are much better horses, so he'll have to step up quite a bit. We're excited to try it."