By John Scheinman
If Social Inclusion was still having problems with the foot bruise that kept him out of the Sir Bear Stakes at Gulfstream Park, he showed no signs of it when he arrived the morning of May 8 in the stakes barn at Pimlico Race Course.
The third-place finisher in the April 6 Twinspires.com Wood Memorial (gr. I) in his most recent start, Social Inclusion completed a 18-hour, 44 minute van ride from Florida to the Maryland oval. He arrived at 5 a.m. EDT to begin preparations for the $1.5 million Preakness Stakes (gr. I) May 17, where he'll take on Kentucky Derby Presented by Yum! Brands (gr. I) winner California Chrome .
After failing to qualify for a starting berth in the May 3 Kentucky Derby, Social Inclusion was entered in the minor stakes at Gulfstream that same day.
"I wanted to run in that race last Saturday," 85-year-old trainer Manny Azpurua said of the Sir Bear. "I had a small problem with him, and I didn't want to take a risk. That's why I scratched him. Now he's doing everything right. He's doing everything the way I expect."
The 3-year-old son of Pioneerof the Nile rode in the van with his right front hoof wrapped in bandages as a precaution, said owner Ron Sanchez. He arrived at Pimlico and walked the shed row for 30 minutes.
While his traveling partner, Hey Leroy, bound for the Dixie Stakes (gr. IIT) on the Preakness card, slept off the trip in the stall next door, Social Inclusion looked ready for action. The bay colt vigorously attacking a hay ball and took swipes at the hands and shoulders of foreman Robert Riasco and exercise rider Doming Navarro.
He appeared to show no discomfort standing in his stall.
Even with only three races on his resume, Social Inclusion, if healthy, appears to be a speedy impediment to California Chrome's efforts to win the second jewel of the Triple Crown.
After breaking his maiden by 7 1/2 lengths in a six-furlong race Feb. 22, Social Inclusion crushed highly regarded Honor Code by 10 lengths in a 1 1/16th-mile allowance race March 12 at Gulfstream.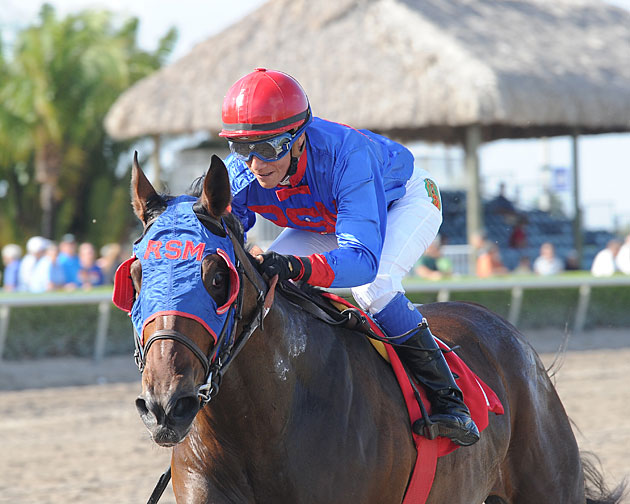 Azpurua then sent Social Inclusion to the Wood at Aqueduct Racetrack, where he finished third. In that race, he ran on the pace from the outside post in the 10-horse field, taking over at the top of the stretch. But he was passed by winner Wicked Strong with less than a sixteenth of a mile remaining and then could not hold off Samraat for second at the wire.
"I think the horse has the quality to be here," Sanchez said of Social Inclusion. "He deserves to be here. The last race gave him the experience. This is a short field (seven at the moment)."
He said he had reservations about running in the Derby. "It was a 20-horse field. We're going to be more comfortable (at Pimlico). California Chrome is an experienced horse, of course, but I think he can handle him."
Sanchez said he was "98%" certain jockey Luis Contreras would retain the mount for the Preakness, but he admitted he had been having conversations with Javier Castellano about riding.
"Contreras, so far," Sanchez said. "You never know what can happen. (Castellano) called me yesterday. We're very close friends. We made a commitment to Luis. I like Luis. We talked to Javier to see what's going to happen to him. Hopefully, nothing is going to happen and Contreras is going to ride the horse."
Social Inclusion is scheduled to jog and then gallop once around the track the morning of May 9 at 8:30 a.m., after the renovation break. If he moves to Azpurua's satisfaction, he will work May 12 after the break.
Azpurua, 85, will have the opportunity to become the oldest trainer to send out the winner of the middle jewel of the Triple Crown and eclipse the record of legendary "Sunny Jim" Fitzsimmons, who was 82 years and 10 months old when he scored with Bold Ruler for a 1957 Preakness victory. Social Inclusion is the first Preakness candidate during Azpurua's long and successful career that includes more than 3,500 winners in his native Venezuela and nearly 950 winners in the U.S.
The veteran horseman said he would have preferred to run in the Sir Bear as a confidence-building race for Social Inclusion after his first defeat in the Wood, but he believes the hoof is healed the horse is ready for the 1 3/16th-mile Preakness.
"Social Inclusion is a good horse," he said. "I don't know how far he can go. He will have to improve a lot. He's getting mature now because he's a May foal. I believe he's going to improve a lot from now on."