In a hackneyed Hollywood formula for a racing movie, an ordinary man buys a cheap mare, breeds her to a little-known stallion, puts the resulting colt in the care of a down-on-his-luck trainer, and wins the Kentucky Derby. No movie studio would buy such a shopworn screenplay. But tweak the manuscript just a little, and you have the real-life story of California Chrome . The son of an $8,000 mare and a stallion that stood for $2,500 in the year of his conception, the flashy chestnut became the first California-bred since Decidedly in 1962 to win the Run for the Roses.
Of course, there's quite a bit more to the story than that, pedigree-wise. Like most other Thoroughbreds, California Chrome has regal antecedents if you dig a little further back into his bloodlines. He is the second male-line descendant of 1977 Triple Crown winner Seattle Slew to win the Kentucky Derby Presented by Yum! Brands (gr. I) in two years, following on the heels of 2013 victor Orb .
Unlike Orb, a product of the storied Phipps and Janney breeding programs, Slew came from a background not unlike California Chrome's. He emerged from an unlikely branch of the male line of eight-time leading sire Bold Ruler, arguably the greatest North American sire of the 20th century. Both Slew's sire Bold Reasoning and grandsire Boldnesian were good runners—Bold Reasoning won the 1971 Jersey Derby and Withers Stakes while Boldnesian won the 1966 Santa Anita Derby—but both had soundness issues, and Bold Reasoning died after siring only three crops. His loss would prove a great one, as the 10 stakes winners he got from 64 foals included not only Seattle Slew but 1977 French champion juvenile male Super Concorde, whose son Big Shuffle was a six-time leading sire in Germany.
My Charmer, the dam of Seattle Slew, won the 1972 Fair Grounds Oaks but was otherwise undistinguished as a racer and was by the disappointing sire Poker out of the Jet Action mare Fair Charmer, a winner of one of four starts. Following Seattle Slew (her first foal), My Charmer produced three other stakes winners, including 1983 Two Thousand Guineas (Eng-I) winner Lomond (by Northern Dancer) and multiple group II winner Seattle Dancer (a Nijinsky II colt who sold for a world-record $13.1 million as a yearling).
All that was in the future, however, when Seattle Slew was offered at the 1975 Fasig-Tipton July yearling sale by breeder Ben S. Castleman. With both sire and dam unproven in the breeding shed, the husky colt with the turned-out right forefoot went to racing newcomers Mickey and Karen Taylor and Jim and Sally Hill for $17,500.
Slew, of course, turned out to be one of the great bargains of racing history. The only horse ever to win the Triple Crown while undefeated, he was a champion at 2, 3, and 4. He went on to become a leading sire as well, heading the general sire list in 1984 and the broodmare sire list in 1995 and 1996. Seattle Slew died on Derby Day—May 7, 2002—marking the 25th anniversary of his Derby triumph.
When both racing and breeding performances are considered, A.P. Indy stands out as the best of Seattle Slew's sons. Produced from the grade III-winning Secretariat mare Weekend Surprise, whose three other stakes winners include 1990 Preakness Stakes (gr. I) winner Summer Squall, A.P. Indy began his life as equine royalty. Although a ridgling, the handsome bay topped the 1990 Keeneland July yearling sale on a $2.9 million bid from Japanese owner Tomonori Tsurumaki. He ran to his looks, winning the Hollywood Futurity (gr. I) as a juvenile and capturing Horse of the Year honors at 3 based on wins in the grade I Santa Anita Derby, Belmont Stakes, and Breeders' Cup Classic.
Retired to his birthplace, Lane's End Farm, A.P. Indy became an important stallion, leading the general sire list in 2003 and 2006 before being pensioned in 2011 after failing to get any of that year's mares in foal. As might be expected given his success at stud, the quality of his mates, and his own excellent pedigree, he is becoming an important broodmare sire; among the top five maternal grandsires for the last three years, he is currently third on the 2014 list.
A.P. Indy succeeded in handing the torch to two similarly bred successors: Malibu Moon (out of French group I winner Macoumba, by Mr. Prospector), sire of Orb; and Pulpit (out of 1991 Frizette Stakes, gr. I, victress Preach, by Mr. Prospector). Both had careers cut short by injury, but Pulpit lasted long enough to win the 1997 Fountain of Youth Stakes (gr. II) and the Toyota Blue Grass Stakes (gr. II). Fourth in the 1997 Kentucky Derby, Pulpit was injured during the running and retired to his birthplace, Claiborne Farm. He proved a good sire prior to his unexpected death in December 2012. His 74 stakes winners to date include Breeders' Cup Dirt Mile and Metropolitan Mile (gr. I) winner Corinthian; Florida Derby winner and Kentucky Derby runner-up Ice Box ; 2002 Hopeful Stakes (gr. I) winner Sky Mesa ; and 2004 Wood Memorial Stakes (gr. I) winner Tapit .
Both Sky Mesa and Tapit are proven good sires—particularly the latter, who led the 2008 freshman and juvenile sire lists, currently leads the 2014 general sire list, and is the sire of Longines Kentucky Oaks (gr. I) winner Untapable. But it has fallen to a much less heralded son of Pulpit, Lucky Pulpit, to sire the first classic winner from the A.P. Indy/Pulpit branch of Seattle Slew. A winner of the five-furlong Smile Stakes on turf as a 4-year-old, Lucky Pulpit placed in five other turf stakes at distances up to a mile and was second in the 2004 Santa Catalina Stakes (gr. II) at 1 1/16 miles on dirt as a 3-year-old. He retired to Harris Farms near Coalinga, Calif., at an advertised fee of $2,500.
Making his own way against more heralded competitors, Lucky Pulpit led the California freshman sire list in 2010 despite being represented by only 10 runners. The stallion has just 99 foals in his first four crops of racing age but has 62 juveniles coming to the track this year, the progeny of mares attracted to the stallion's court by his early success. Lucky Pulpit is currently leading the California general sire list, and it seems safe to say that if he has any remaining space in his book for this spring, it will not remain unclaimed long.
A muscular, strong-quartered chestnut with the dipped topline common to the Seattle Slew tribe, Lucky Pulpit is out of the winning Cozzene mare Lucky Soph. Her dam, Lucky Spell (by the speedy Olympia horse Lucky Mel), was a multiple grade III winner on dirt and turf and is a half sister to the similarly versatile group/grade I winner Seattle Song (by Seattle Slew), broodmare sire of two-time Breeders' Cup Classic (gr. I) winner and important sire Tiznow .
California Chrome is the first foal of Love the Chase, whose only win came at 3 in an $8,000 maiden claiming race at Golden Gate Fields. She has an interesting pedigree as her sire, Not For Love, is a maternal grandson of 1971 champion juvenile filly and high-class matron Numbered Account, who is also the dam of her broodmare sire, giving Love the Chase 3x3 inbreeding to Numbered Account, as well as 3x4 to Northern Dancer.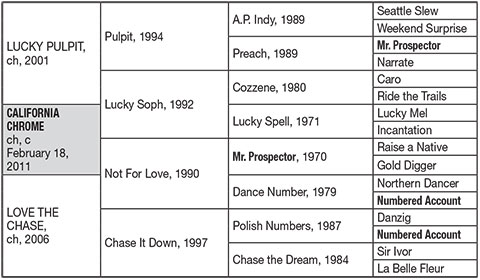 Continuing the theme of humbler relatives of good horses making good, Not For Love (Mr. Prospector—Dance Number, by Northern Dancer), is a stakes-placed full brother to 1989 champion juvenile male Rhythm. While Rhythm flopped at stud, Not For Love led the Maryland sire list for nine consecutive seasons (2003-11). He is still active at Northview Stallion Station at an advertised fee of $15,000 and has sired 75 stakes winners.
Love the Chase is out of Chase It Down, whose sire Polish Numbers, a winning Danzig half brother to grade I winner Dance Number, was also a good sire in Maryland. A half sister to multiple listed stakes winner Amourette (by El Gran Senor), Chase It Down is out of the Sir Ivor mare Chase the Dream, a multiple state-bred stakes winner in New York. Chase the Dream, in turn, is out of the unraced Vaguely Noble mare La Belle Fleur, a half sister to four stakes winners including 1977 champion older mare Cascapedia (by Chieftain). This female line is a branch of one of the oldest American strains, tracing back to a daughter of Medley who was foaled in the late 1700s.
This tail-female line has already produced Kentucky Derby winners Clyde Van Dusen (1929), Swaps (1955), and Iron Leige (1957).
California Chrome is inbred 4x3 to Mr. Prospector—similarly to Orb, who is inbred 3x4 to the stalwart Claiborne sire. The success of Mr. Prospector inbreeding combined with Seattle Slew is not really surprising, given that both stallions are direct descendants of Myrtlewood. In this case, the Mr. Prospector inbreeding also reinforces a strain not duplicated in California Chrome's inbred dam, a pattern similar to that seen in some of the top stock produced by the 17th Earl of Derby, including the important sires Phalaris, Hyperion, Pharos, and Fairway. This type of breeding pattern was noted by pedigree authority Abram Hewitt as often yielding results that were better than anything in the immediate family.
A cleverly constructed pedigree can't always create a Hollywood result from modest parentage; most horses, no matter how well bred, fail on the track. But in California Chrome's case, a happy confluence of genes passed down through less than outstanding parents has helped to create a Derby and Preakness champion in a story worthy of the silver screen.