By Anne Peters
It can be frustrating to listen to the banter on a certain television racing channel, but even more so when an on-air personality recently declared to the viewers that there are no more sires with stamina in America, so forget about using that as a factor when handicapping this year's classic contenders. In other words, he didn't understand pedigrees and didn't want this lack of knowledge to get in the way of his Derby selections.
So, it's time to remind breeders—and broadcasters alike—that stamina still exists in America and remains an essential part of breeding classic winners. It's not just a matter of which sprinter staggers across the finish line first at 1 1/4 miles. It's about class and guts and stamina.
In the last 11 years five Kentucky Derbys (gr. I) have been won by horses whose sires won as far as 10 or 12 furlongs: I'll Have Another 's sire, Flower Alley; Mine That Bird's sire, Birdstone ; Street Sense 's sire, Street Cry; Barbaro's sire, Dynaformer; and Giacomo's sire, Holy Bull.
Three more Derby winners were sired by routers who won as far as 1 1/16 miles, which is not exactly staying, but shows that they weren't raw speed horses, either. These were Animal Kingdom 's sire, Leroidesanimaux; Super Saver 's sire, Maria's Mon (his second Kentucky Derby winner after Monarchos, by the way); and Smarty Jones ' sire, Elusive Quality. That's eight of the last 11 Derby winners by stallions that could win at more than a mile.
Only three sires couldn't score past the sprints. Orb 's sire Malibu Moon broke down after his second start going five furlongs at 2, so never really got a chance to show if he had inherited any stamina from his sire, A.P. Indy. Orb is evidence that he did. Big Brown 's sire, Boundary, didn't win past six furlongs sprinting. Lucky Pulpit, the sire of California Chrome , didn't win beyond 5 1/2 furlongs but did run second in a grade II race at 1 1/16 miles.
Of the last 10 winners of the Preakness Stakes (gr. I), four were sired by stayers at 10 and 12 furlongs (by Awesome Again , Flower Alley, Medaglia d'Oro , and A.P. Indy), and four more were by routers that won out to 1 1/16 miles (two for Smart Strike, and one each by Forestry and Elusive Quality). The only sprinter here was again, Big Brown's sire, Boundary.
In the Belmont Stakes (gr. I), six of the past 10 victors were sired by winners at 10 and 12 furlongs, stallions such as Curlin , Birdstone, Tiznow , A.P. Indy, Seeking the Gold, and Grindstone. Another three sires won to nine furlongs (Dixie Union, Roman Ruler, and Northern Afleet ). The odd man out was Drosselmeyer's sire Distorted Humor , who had already sired dual-classic winner Funny Cide and Travers Stakes (gr. I) winner Flower Alley, so who is going to criticize him for lacking the right genetics?
Siring a winner of one of the Triple Crown races isn't the only way to determine whether a stallion has the right stuff. There's a useful tool found via The Blood-Horse Stallion Register online, through the Statistical Summary link. It's a statistic listed as "Avg. Winning Distance," which is the average winning distance (in furlongs) of a stallion's offspring. Right below that is "Avg. Max Win Distance" which is useful to refine the point, because the average winning distance tends to be slanted toward sprints. Most horses start out sprinting before they find their best distance.
The leading active stallion in Kentucky with the longest average winning distance might surprise you, as he's not among those already discussed as classic winners or classic sires. Giant's Causeway 's average winning distance (AWD) is 8.83 furlongs and his average maximum win distance (AMWD) is 9.16.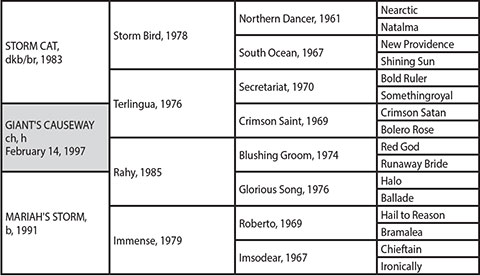 In declining order by AWD after Giant's Causeway come classic sire Street Cry (8.18/8.81), the venerable Sky Classic (8.12/8.59), classic winner Lemon Drop Kid (8.07/8.49), followed by Arch (8.09/8.66), English Channel (7.98/8.29), Bernardini (7.89/8.08), Pleasantly Perfect (7.77/8.00), War Chant (7.72/8.30), Thunder Gulch (7.68/8.06), Smart Strike (7.66/8.17), and Kitten's Joy (7.66/8.05).
The high incidence of turf horses (Giant's Causeway, Sky Classic, English Channel, Kitten's Joy, for instance) is partly due to the greater opportunities afforded to turf horses at 10 and 12 furlongs, which are lacking on the dirt in America. Of all the other races for any horse of any age in the U.S., the Belmont remains the only major 12-furlong dirt test. This shouldn't scare breeders off as Dynaformer and Leroidesanimaux were both thought to be "too turfy" until they sired their Kentucky Derby winners, Barbaro and Animal Kingdom, respectively.
Balancing speed and stamina has been a long-held formula for breeding success. Speed on speed won't do it, no matter how good it looks in the sale ring. Stamina has to be part of the equation, and there are, fortunately, plenty of stallions and staying strains still available in America that fulfill that need.