Two years ago when Thoroughbred owner/breeder Robert "Shel" Evans observed Peter Pan Stakes (gr. II) winner Tonalist snoozing in his stall after being shown at the Fasig-Tipton Saratoga select yearling sale, the colt's broodmare sire Pleasant Colony immediately came to mind.
"The Friday before the (1981) Kentucky Derby (gr. I) that Pleasant Colony won, we went to see him at about 10 a.m. in (trainer John) Campo's barn, and he was lying on a big pile of straw dead asleep," remembered Evans with a chuckle.
Evans' father, the late Thomas Mellon Evans, raced Pleasant Colony under his Buckland Farm banner, and the colt went on to capture the Preakness Stakes (gr. I) before his Triple Crown bid was spoiled by Summing in the Belmont Stakes (gr. I).
Following a four-length win at Belmont Park in the Peter Pan, Tonalist will have the opportunity June 7 to capture the Triple Crown race that eluded his maternal grandsire while carrying Robert Evans' colors.
SHINAR: Tonalist Hits High Note in Sloppy Peter Pan
Largely because of the Pleasant Colony tie, Evans decided to purchase Tonalist privately from his breeders, Rene and Lauren Woolcott of Woodslane Farm, after the colt failed to meet his reserve and was bought back for $195,000 at Saratoga.
"Cathy Sweezey (of consignor Sweezey and Partners) kept dragging me over to see Tonalist (at the sale)," Evans said. "She took him out of the stall and told me he was the best horse she'd ever been around; she loved him, and I had to buy him."
A strapping son of Tapit out of Settling Mist, Tonalist had stamped himself as one of the most impressive individuals raised at the Sweezeys' Timber Town Stable near Lexington but had hit a major growth spurt before the sale.
"He was one of the most stunning horses we had ever had on the farm," said Wayne Sweezey. "I've raised a lot of horses in my time, and he was special--not only in his looks but also in his temperament. We were convinced we were going to hit a long ball come the Saratoga sale.
"His growth stage hit him about July, however, and he went from being this beautifully balanced colt to being punched up a little bit, and he had a little bit of a roach back," Sweezey continued.
The Woolcotts were left scratching their heads when he failed to meet his reserve, but luckily Tonalist had caught the eye of Evans. After his private purchase the colt was sent to be broken by Bill Harrigan at Miacomet Farm near Georgetown, Ky.
"They took their time with him in the fall, and he started to stretch back out and become that big, elegant, beautiful horse he was originally," said Sweezey.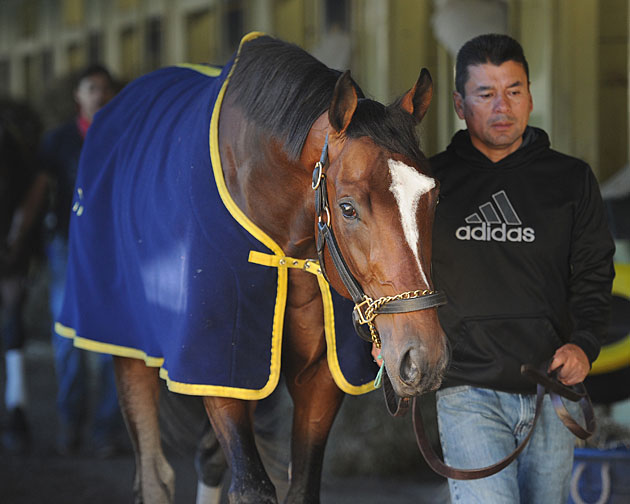 Trained by Christophe Clement, Tonalist flashed early promise when he broke his maiden in his second start at Gulfstream Park in January. He then finished second to Constitution (the eventual winner of the grade I Besilu Stables Florida Derby) in an allowance optional claiming contest at the South Florida oval. An illness prevented Tonalist from competing in the April 5 TwinSpires.com Wood Memorial (gr. I), which in turn kept him from earning a slot in the Kentucky Derby starting gate. When Tonalist's health improved, the Peter Pan was targeted with an eye toward the Belmont.
BLOOD-HORSE STAFF: Tonalist Keeps Clement's Belmont Dream Alive
Tonalist's accomplishments are climbing toward the height of some of Evans' other fine horses throughout the years, which include grade I winners Shared Interest and Marsh Side. A brother to the late Edward P. Evans, also a top Thoroughbred owner and breeder, Evans serves as chairman of Crane Co., an industrial manufacturing company based in Stamford, Conn., and Huttig Building Productions in St. Louis.
Among the other numerous stakes winners bred by Robert Evans, who owns Courtland Farm near Easton, Md., are Shared Interest's daughter Cash Run, winner of the 1999 Breeders' Cup Juvenile Fillies (gr. I), and Forestry, also a grade I winner and a leading sire.
A victory in the Belmont Stakes would be especially satisfying for Evans as it would, in a way, carry on his father's legacy.
"It would be the win Pleasant Colony didn't get," said Evans. The veteran horseman admitted that if Tonalist didn't win, however, he would be rooting for California Chrome to become the first Triple Crown victor since Affirmed in 1978.
"As a racing enthusiast having been involved for 50 years, I'd like to see a Triple Crown winner," said Evans. "We're cheering for him along with everybody else."
Note: This article originally appeared in the May 31/June 7 combined edition of the Blood-Horse Magazine.