By Derek Brown (Twitter: @NJDerek)
The culmination of a Chromar Vortex is approaching. The combination of temperatures that allowed us to emerge from our winter burrows, the release of drinks with "Summer" in the name, and the faint hint of romance in the air can cloud even a slightly smitten racing fan's judgment. A place in history for
California Chrome
isn't the only thing on the line on June 7—so is your entire romantic future.
Racing and romance are a magical combination. Many successful marriages trace their roots back to the racetrack. Even the Bachelorette got into the action recently when she and one of her 762 suitors visited
Santa Anita Park
. They dressed up in festive outfits, strolled hand-in-hand under optimal lighting conditions, sipped mint juleps and stared longingly into each others' eyes during a private concert.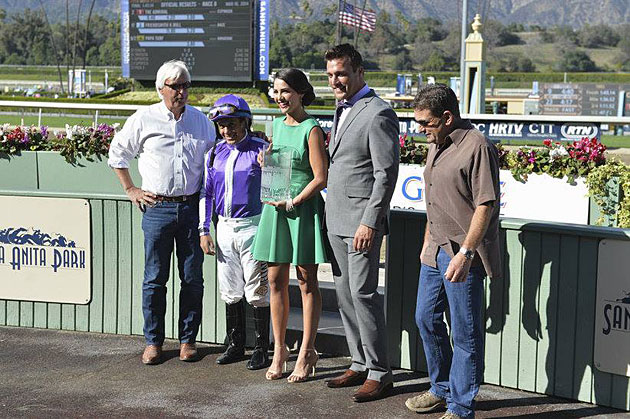 Perhaps you'll have a chance meeting with LL Cool J at the Belmont Stakes (gr. I), and maybe he'll drop a few lines from Around the Way Girl or buy you a drink in the hopes of eventually making you leave him alone. It is, however, probably a good idea to abandon all hope of private concerts and a day of golden hour lighting for a more realistic perspective on where your human and racetrack romantic interests shall meet.
What an Adorable Couple?
Perhaps you've just entered into one of those "relationships" people spend time on. The lead up to Belmont Stakes (gr. I) is a great opportunity to genuinely question how well you know the person that you've embarked on this journey with. They simply might not be racetrack material, and that is perfectly okay. In such a case, someday, the two of your will host amazing cocktail parties where your friends will delight at the way you both mispronounce the names of exotic cheeses. Horse racing isn't the only niche market in life, my friend.
There are three stages of bringing a date to
Belmont Park
when a Triple Crown is in play: first it seems like a horrible idea, then you rationalize it as a reasonable idea, and then the stark realization hits that you're in the wagering line attempting to explain a superfecta box to someone who's basically a stranger. You've been on one date and all you're really confident about is that you both have friends that are really into, and take mediocre pictures of, Tapas.
A baseball fan doesn't start cold calling people come down to the ballpark in the eighth inning of a perfect game, then stay on the phone to explain the rules and history of baseball while they drive down. And nobody faulted NASA for not starting new mission control employee orientation the day they launched Apollo 11.
It only gets more awkward if you've recently started dating a Canadian. Don't get me wrong. Canadians' influence on our world cannot be overstated. They are incredibly personable and pleasant-smelling, but will pepper conversations with words like "exator" and "triactor." You really don't have time to embark on a linguistic scavenger hunt and there's a reason Rosetta Stone never runs "Learn To Speak Canadian in 25 Minutes Between Races" specials during the Belmont Stakes.
It's Getting Serious
The exclusionary policy is really designed to protect participants in newer relationships, where the seeds of affection are just beginning to sprout into the blossoming garden of a boundless future. The entire card at Belmont that day is far too important let distractions involving a semi-plausible future with the two of you skipping through fields of poppies creep in.
Relationships that have a bit of foundation—10 dates or more—are absolutely acceptable. You've had the "straight vs box" talk already, you trust them to find whatever food and drinks at the track will keep them occupied, and are confident they have a basic enough understanding of racing to get by. By all means, bring that person. You're as committed to them as you are to racing, so keep equal parts of both worlds in a big stew pot over low heat and stir.
In This Bet, I Thee Place
The days leading up to the race are an introspective window to contemplate whether this person is your soulmate, but it's also fair to question whether they are "the one" you trust to make your bets when the race is on the line. You might have hit it off at the Preakness Infield, but infield stamina and Triple Crown stamina are very different disciplines.
Are you genuinely confident in your couples wagering preparations? Did you throw this person a few exotic ticket curveballs? The litmus test is to include a horse that you know is scratched on your ticket. They should know your style and which horse to add, but if they floundered at that task at
Arlington Park
last summer do you genuinely trust them to execute flawlessly in the pressure cooker of Belmont's wagering lines?
The last thing you want is have hours of handicapping negated because "some" one (and clearly not "the" one) mixed up the numbers on your Pick 6 ticket. In The Shawshank Redemption, Andy Dufresne had years to think about whether Ellis "Red" Redding would find the right wall and a rock that has no earthly business in a Maine hayfield. Trusting a near stranger to make your bets at the Belmont stakes requires the same level of trust without the due diligence or incarceration. You may be a gambler, but this scenario is playing a caveman ticket with your life.
There will always be a race and a track for every stage of your relationship. But this year's Belmont Stakes is bigger than love or adding to the "Arm Candy 2014" photo album. It's about something that, for many of us, has never happened in our lifetimes. You can make it up to her down the road. That Ethiopian restaurant she's always wanted to go to? Book a table. They don't use utensils there? Even better.
It's your relationship bankroll and I'm legally bound not to tell you how to spend it. But the odds are pretty good that you will witness history on June 7. Choose your bets and your track companions wisely.