Just more than 60 years ago a trim California-bred with unorthodox connections came East to shock the racing establishment by scoring an upset win in the 1955 Kentucky Derby. His name was Swaps, and he took a couple of "cowboys"—owner Rex Ellsworth and trainer Mesh Tenney, whose ultra-practical style of Western horsemanship didn't sit well with Eastern racing men and sportswriters—to the heights of American racing. Swaps also earned Horse of the Year honors as a 4-year-old in 1956.
Art Sherman was along for the ride when Swaps came east to knock off Eastern favorites Nashua and Summer Tan—literally along for the ride, as he shared Swaps' boxcar on the way to Louisville and exercised the Derby winner prior to the big race. The following year he was Swaps' regular exercise rider, and the year after that he took out his jockey's license. A couple of decades later he became a trainer, and that's what he's been doing ever since.
Fast forward to 2014, and perhaps Swaps' ghost is looking events over with a benevolent eye. His former exercise rider is now the trainer of Cal-bred California Chrome , who after a professional-looking win in the Preakness Stakes (gr. I) will take his shot at Triple Crown glory June 7 in the Belmont Stakes (gr. I).
Swaps and California Chrome share more than a common state of origin, their connections to Sherman, and ownership by people whose approach to breeding and owning Thoroughbreds is a bit off the beaten path. They also share a genetic heritage, both via a direct link and through their common female lineage.
American Family #4 is one of a group of old American female lines that could not be conclusively traced to an English foundation mare registered in the General Stud Book and so was not originally included in the Bruce Lowe numbering system. Nonetheless, this family's proven class has been none the worse for its uncertain origins. Aside from Swaps and California Chrome, the family includes 1914 Epsom Derby Stakes winner Durbar II; Kentucky Derby winners Clyde Van Dusen (1929), Iron Liege (1957), and Kauai King (1966; also won the Preakness); 1988 champion sprinter Gulch; and Kentucky Broodmares of the Year Iron Reward (1955), Track Medal (1962), and Courtly Dee (1983).
The common ancestress of both Swaps and California Chrome is Clyde Van Dusen's half sister Betty Derr, a 1928 daughter of Sir Gallahad III—Uncle's Lassie, by Uncle. She was a pretty fair race mare, her four stakes wins including the 1931 Latonia Oaks. She also did quite well as a broodmare, producing three stakes-winning fillies. The first, the Sweep All filly Betty Sweep, died without issue, but both Iron Maiden and Judy-Rae turned out to be important producers.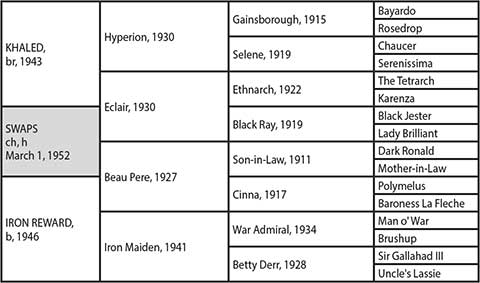 A daughter of 1937 Triple Crown winner War Admiral, Iron Maiden took an unorthodox path to success as a runner and as a broodmare. After winning four times in 19 tries at 2 and 3 in 1943-44, she was bred to Louis Mayer's good stallion Beau Pere as a 4-year-old. The following spring she delivered a healthy filly but suffered some trauma from the birth, preventing her from being re-bred that spring. Instead, she wound up going back into training and ran another 42 times at 6 and 7. Her eight wins during the second phase of her racing career included the 1947 Del Mar Handicap against males. Following her second retirement, she produced three stakes winners including Iron Liege.
Iron Reward, her 1946 filly by Beau Pere, actually got to the races while her mother was still in training but proved useless as a runner, finishing unplaced in eight starts at 2 and 3. She made up for it as a broodmare, though. Swaps was the first of her three stakes winners—all sired by Ellsworth's English import Khaled (Hyperion—Eclair, by Ethnarch)—and her first foal, Track Medal (also by Khaled), followed her dam as a Kentucky Broodmare of the Year.
Judy-Rae, the third of Betty Derr's stakes winners, was closely related to Iron Reward as she was by Beau Pere. She produced three important broodmares, all by different sires. The first, the War Admiral filly Tulle, was a minor winner on the track but produced two stakes-winning colts and Broodmare of the Year Courtly Dee. The second, Nasrullah's stakes-winning daughter Judy Rullah, produced three stakes winners including the good sire Creme dela Creme.
The third of Judy-Rae's important daughters, Princess Matoaka (by Princequillo), was unraced and produced two stakes winners, Hillbilly (by Hillsdale) in Norway and 1968 Remsen Stakes winner Palauli (by Pago Pago), but her stakes-placed daughter Princess Ribot (by Ribot) produced four including 1977 champion older female Cascapedia. Bred to European champion Vaguely Noble, Princess Ribot also produced La Belle Fleur, who never made it to the racetrack. A stoutly bred mare by American standards, La Belle Fleur was, in turn, taken to the court of 1968 Epsom Derby Stakes winner Sir Ivor. The resulting filly, Chase the Dream, showed a bit more precocity than might have been expected, winning stakes restricted to New York-breds at ages 2 and 3.
Chase the Dream was rather unlucky as a broodmare, going barren for three years and then slipping a foal in a fourth between the births of her first and second live foals. In all she produced five foals and only one with significant racing ability: the El Gran Senor filly Amourette, who captured a couple of distance turf stakes. But more importantly, she produced Chase It Down (by Polish Numbers), whose daughter Love the Chase (by Not For Love) is the dam of California Chrome.
In human terms, Swaps and California Chrome are distant cousins through their common descent from Betty Derr. But there is a more direct linkage between the two that also comes by way of Love the Chase's ancestry. As has been previously pointed out, Love the Chase is inbred 3x3 to 1971 champion juvenile filly Numbered Account through the champion's daughter Dance Number (dam of Not For Love) and son Polish Numbers. Numbered Account, in turn, is one of three stakes winners produced by mating the great Buckpasser to Intriguing, a daughter of Swaps. Thus, through Numbered Account, California Chrome is a great-great-great-great-grandson of Swaps twice over.
To be sure, this represents only a tiny portion of California Chrome's genetic makeup, but it is still nice to think that it might have played a role in making him the horse he is.
Lucky Pulpit, of course, played a much more immediate role in California Chrome's ancestry and is worth touching on in more detail. Bred and owned by Larry and Marianne Williams (who purchased his dam, Lucky Soph, in foal to Pulpit, for $200,000 at the 2000 Keeneland November mixed sale), Lucky Pulpit was foaled in Kentucky but was sent to the Williamses' Tree Top Ranches in Idaho to be broken and given his early training.
"He was a lovely horse to break, very intelligent and eager to please," recalled the Williamses' racing and bloodstock manager, Dan Kiser. "He wasn't very big but was muscular and had a kind eye. I thought he might have been the best I ever broke."
As a juvenile, Lucky Pulpit won two races and placed in two turf stakes, good enough for a rating of 106 pounds on the Experimental Free Handicap for American juveniles of 2003. Switched back to dirt for his first race at 3, the Santa Catalina Stakes (gr. II), he continued to show promise, finishing a good second to highly regarded St Averil. But then he contracted a respiratory virus, and everything changed. He was badly beaten in both the San Rafael Stakes (gr. II) and Santa Anita Derby (gr. I) after showing speed early and was not seen again until the Del Mar meeting, when he ran third in a division of the opening-day Ocean­side Stakes. He failed to win in three more tries in 2004 and in fact won only one more race in his career—the 2005 Smile Stakes, a five-furlong turf sprint—before an ankle injury forced him into retirement after one start at age 5.
Looking back, Kiser believes Lucky Pulpit was more compromised by his illness than anyone realized at the time.
"Sometimes a horse being smart isn't such a good thing," he said. "I think it got to where it hurt him some to breathe hard, and he started refusing to train. It got so bad by the time he was 4 that he wouldn't work at all unless he was breaking from the gate. I've always thought that if he hadn't developed the breathing problem, it would have been the farther the better with him."
As if to make up for his disappointing racing career, Lucky Pulpit made the most of his limited early opportunities at stud at Harris Farms, leading the California freshman sire list in 2010 while represented by just 10 runners. In contrast, his 2014 book of 124 mares was filled even before the Kentucky Derby Presented by Yum! Brands (gr. I), and he has 62 named juveniles of 2014 including recent Santa Anita winner Kristi's Copilot, who broke her maiden in her debut the day before California Chrome won the Preakness.
"He's a wonderful horse to work with," says David McGlothlin, general manager of Harris Farms' horse division. "He's very professional and mannerly and is super fertile. He's a great-looking horse too—strong, muscular, good through the knees and with good bone. When people take a look at him, if they weren't sold before, seeing him usually seals the deal."
These days Lucky Pulpit doesn't take much selling—and certainly not to California Chrome's owner/breeders, Perry Martin and Steve Coburn. Love the Chase produced full sisters to the dual classic winner in 2013 and 2014 and returned to Lucky Pulpit May 1.