It is good timing that a Triple Crown is on the line at this year's Belmont Stakes (gr. I), because otherwise the race might have gotten lost in the sea of extraordinary grade I stakes action that has been inserted on the undercard of the third classic, slated for June 7 at Belmont Park.
Flush with money from the racino at Aqueduct, the New York Racing Association and its newly hired senior vice president of racing operations, Martin Panza, have created a mega-day plan for advancing racing and business in New York, beginning with the Belmont Stakes card that will feature six grade I stakes and, with
California Chrome
going for all the marbles, rates right up there as a racing day with anything the Breeders' Cup will mount.
Besides the headline event featuring California Chrome, the June 7 card also includes the Metropolitan Handicap (gr. I), traditionally run on Memorial Day, which will feature 2013 Belmont winner
Palace Malice
; the Ogden Phipps Stakes and Acorn Stakes (both gr. I), and the Brooklyn Invitational Stakes (gr. II), each imported from other days on the racing calendar. Holdover Belmont undercard staples the Knob Creek Manhattan Stakes (gr. IT), Longines Just a Game Stakes (gr. I), Woody Stephens Stakes (gr. II), Jaipur Invitational Stakes (gr. IIIT), and Easy Goer Stakes round out the June 7 stakes action, with the True North Handicap (gr. II) moved to the June 6 card, where it will be joined by the brand new Belmont Gold Cup Invitational Stakes to be run at two miles on the turf. That's $8 million in stakes purses over two days.
In addition to creating a day of racing unmatched except for the second day of a typical Breeders' Cup event, NYRA will also be generating additional cash as it tries to dig itself out of a perpetual sea of financial losses. For those that wonder why a race like the Met Mile would be moved from headliner status on a holiday card to a supporting event on Belmont Stakes day, the answer is money.
"The Met Mile was doing about $1.8 million in win, place, and show bets on Memorial Day," noted Panza. "It should do between $5-6 million Belmont Day. That is better for Belmont and for the horsemen."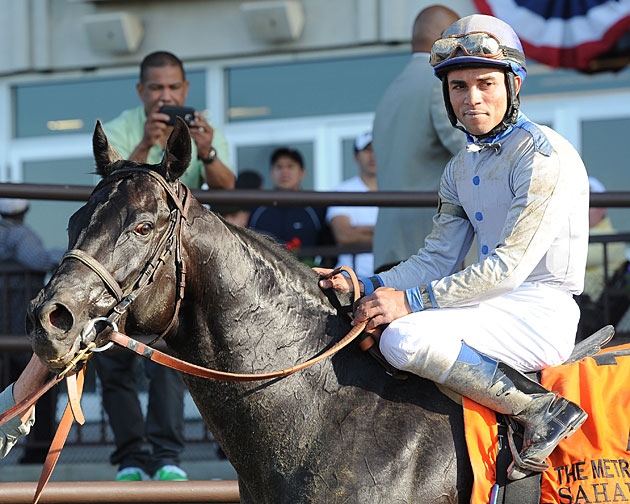 Also better for horsemen are the enhanced purses attached to these races, and several others on the NYRA schedule in early July. The Belmont Stakes has been upped this year from $1 million to $1.5 million, and hefty purse hikes are also being given to the Met Mile ($750,000/$1.25 million), Manhattan ($500,000/$1 million), Ogden Phipps ($400,000/$1 million), Just a Game ($500,000/$750,000), Acorn ($300,000/$750,000) and Brooklyn ($200,000/$500,000).
The payoff for these hikes is already evident. The Ogden Phipps, for example, should all stay healthy, will feature a titanic battle among top 4-year-old fillies
Beholder, Princess of Sylmar
, and
Close Hatches
, a match-up that likely would not have come to pass at $400,000.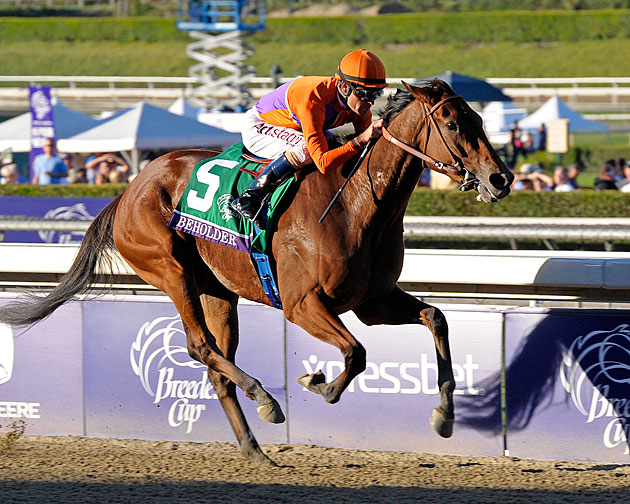 Clearly, NYRA does not want to depend on a Triple Crown being on the line to draw people to Belmont Stakes day. It is trying to create an event that will bring fans in to help fill the huge Belmont grandstand due to the quality of the entire card.
Panza, who created the American Oaks Invitational Stakes (gr. IT) and turned it into a huge success while he was vice president of racing and racing secretary at the now-defunct Hollywood Park, didn't create the concept of the big race day. He is borrowing the idea from international success stories like the Melbourne Cup, Arc de Triomphe, and Royal Ascot, realizing that big days can carry a racetrack through its less prestigious offerings.
A month after the Belmont Stakes, Belmont Park will be hosting the Stars & Stripes Festival July 5, its second newly-created mega-day. Joining the July 4 staple Suburban Handicap (gr. II), which will see a purse enhancement from $350,000 to $500,000, will be the rebranded Jamaica Handicap (formerly run at nine furlongs for $400,000), now called the Belmont Derby Invitational (gr. IT), to be run at 10 furlongs for $1.25 million; and the rebranded Garden City Stakes (formerly run at nine furlongs for $325,000), now known as the Belmont Oaks Invitational (gr. IT), to be contested at 10 furlongs for $1 million. That card will also feature the former James Marvin Stakes, now called the Belmont Sprint Championship, which carries a $400,000 purse, up from $100,000 last year.
So, while California Chrome is the headliner this year, the star going forward, as far as NYRA is concerned, is hopefully Belmont Stakes day itself.