As he nears his bid to become the 12th winner of racing's Triple Crown, California Chrome has at least one thing more in common with the three Triple Crown winners of the 1970s than the 12 Kentucky Derby/Preakness winners that have come up short in New York since then: the size of his foal crop.

Does size matter? We'll know more after the June 7 Belmont Stakes (gr. I) in New York, but if nothing else, the raw numbers show California Chrome has had a shallower pool of potential rivals along the Triple Crown trail than the "near miss" cast from 1979-2012.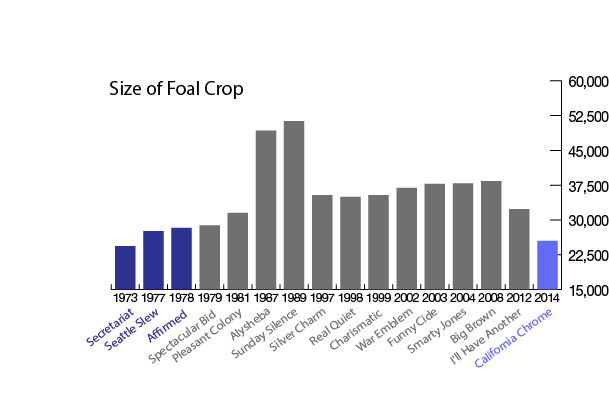 The North American foal crop has declined for eight consecutive years beginning in 2006. The foal crop of 2005—that included Derby/Preakness winner Big Brown -—stood at 38,862. Four years later, the figure dipped to 32,339 for the crop that included dual classic winner I'll Have Another (a decrease of 17%), and has slid further since.

The 2010 foal crop fell 12.3% from 2009 to 28,353, and the 2011 foal crop decreased another 10.1% to an estimated 25,500. California Chrome hails from that group.

By the numbers this year's crop of 3-year-olds sizes up favorably with the crop size in the 1970s when the Triple Crown was won three times. Secretariat's crop of 1970 numbered 24,361. Four years later Seattle Slew's crop was 27,586, while Affirmed's class of 1975 included archrival Alydar and 28,270 others.

California Chrome is facing a pool of 3-year-olds that is considerably smaller than the ones that brought us Triple Crown contenders from Spectacular Bid in 1979 (28,809) to I'll Have Another. As the bloodstock market peaked in the early-to-mid 1980s, Alysheba's crop of 1984 (49,241) and Sunday Silence's 1986 crop (51,296) gave them the most potential rivals on the track at 3.

And looking ahead, the potential for more Triple Crown winners is favorable as they'll find even less competition on the track. Next year's 3-year-old lot will be from a group of an estimated 23,500 and the following year's cast will be approximately 23,000.