By Evan Hammonds and Ron Mitchell
Dual classic winner California Chrome drew post position 2 and was installed the 3-5 morning-line favorite for his attempt at the coveted Triple Crown when he faces 10 other 3-year-olds in the June 7 Belmont Stakes (gr. I).
The 1 1/2-mile Belmont, known as "The Test of a Champion," will be televised live from Belmont Park by NBC from 4:30-7:30 p.m., with an approximate post time of 6:52 p.m. (All times Eastern Daylight Time).
California Chrome, a California-bred son of Lucky Pulpit trained by 77-year-old Art Sherman for Steven Coburn and Perry Martin is seeking to become the 12th horse in history to win the three American spring classics—Kentucky Derby Presented by Yum! Brands (gr. I), Preakness Stakes (gr. I), and Belmont—and the first to complete the sweep since Affirmed in 1978.
Chrome's Preakness victory May 17 was the colt's sixth consecutive win, a streak that began with the King Glorious Stakes at Betfair Hollywood Park last December. In addition to that race, the Derby, and Preakness, California Chrome won the California Cup Derby, the San Felipe Stakes (gr. II), and Santa Anita Derby (gr. I).
With eight wins and a second-place finish in 12 starts, California Chrome has earned $3,452,650, a healthy return on Lucky Pulpit's $2,500 fee when Coburn and Martin sent their mare Love the Chase (by Not for Love) to the Harris Farm stallion.
"It's sinking in," said Coburn when asked about being on the edge of the Triple Crown. "It's all coming to the top of the pyramid right now. They've got three points...Triple Crown pyramid. Just like that trophy right there, three points.
"To watch this horse develop, to watch him grow up... he's just an amazing animal. I wish everybody in the business could have a horse like this.
"He's America's horse because we've got the entire country, if not the entire world, behind us," Coburn said. "We just want to hope and pray that everybody gets a clean break, every horse has a safe trip, and everybody gets to come home clean and let the chips fall where they may."
"I think going a mile and a half, it's a good post position," Sherman said of post 2. "We feel we can save ground leaving from there. I think it's going to be a jockey's race anyhow. It gives you a chance to see who's going to have the speed and where you land going into the first turn."
Just to the right of the podium at the draw sat Patrice Wolfson, who has ties to Affirmed, the last winner of the Triple Crown. She, along with her husband, Louis Wolfson, bred and raced the Florida-bred Affirmed at their Harbor View Farm. She's clearly a fan of California Chrome.
"This horse has such pizzazz,' she said. "He's captured the people's imagination. His owners are different and are very close to their horse. They're refreshing, very refreshing."
Asked about the 36-year span since Affirmed won the Triple Crown and California Chrome's upcoming bid, she put things in perspective.
"Well, there was a long drought between Citation (1948) and Secretariat (1973)...it was 25 years," she said. "The '40s had four Triple Crown winners and the '70s had three, almost four with Spectacular Bid."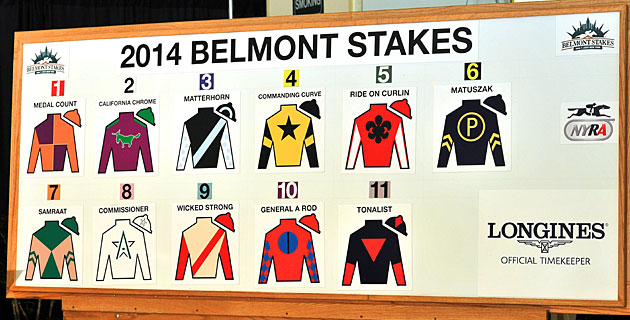 In his bid for racing history, California Chrome will be facing some of the same horses he disposed of in the Derby and Preakness, including Centennial Farms Wicked Strong , the 6-1 Belmont second choice who ran fourth in the Derby after an impressive victory in the Twinspires.com Wood Memorial Stakes (gr. I).
Trained by James Jerkens, the 3-year-old son of Hard Spun breaks from post 9 under Rajiv Maragh in search of his third career victory.
"It's not too bad, he won't be in the gate that long," said Don Little, president of Centennial. "He's had some gate issues in the past but he schooled in the gate this morning and he didn't move a muscle."
Not unlike California Chrome, Wicked Strong has impressed onlookers in his Belmont training. He breezed five furlongs in :59 over the Belmont training track June 1, a bullet move with 12 going that distance.
Happy with post 5 was the team behind Ride On Curlin , seventh in the Derby and second in the Preakness. When his number was called during the draw, a loud "yes" went out from owner Daniel Dougherty and trainer Billy Gowan.
"I'm very confident," Gowan said. "This might be his best distance."
Ride On Curlin, a son of Curlin —Magical Ride, by Storm Cat, only has two wins from 11 starts, but has placed in four graded stakes including a second in the Arkansas Derby (gr. I). He's a 12-1 shot on the morning line.
Robert "Shel" Evans laughed when his Tonalist drew the outside 11 post for the Belmont.
"I had said to (trainer) Christophe (Clement) when he started training for me he had to deal with my luck," he said. "Before the draw I told him, 'You know, we're going to get 11'."
Tonalist is the winner of the May 10 Peter Pan Stakes (gr. II) going nine furlongs at Belmont and was made the 8-1 third choice on the morning line. A private purchase after he RNA'd at the 2012 Fasig-Tipton Saratoga yearling sale, Tonalist is by leading sire Tapit out of Settling Mist, by Pleasant Colony.
"I loved his walk at the sale," he said. "He was a big, growthy colt. He's 17 hands. A lot of people like speed and he didn't look like a ton of speed, being out of a Pleasant Colony mare."
Pleasant Colony won the Derby and Preakness in 1981 for Evans' father, Thomas Mellon Evans, but fell short in the Belmont behind Summing.
"It was very quiet here (at Belmont Park) when he lost," Evans said of the '81 Belmont. "Hopefully we can make up for that. I'm all for a Triple Crown winner and I love California Chrome, but we like our horse, too."
Commanding Curve, a closing second in the Derby at 37-1, drew post 4 for the Belmont. West Point Thoroughbreds' son of Master Command, rallied from 18th at Churchill Downs under Shaun Bridgmohan, who will be aboard Saturday. He is listed as a 15-1 shot on the morning line.
"I think it's good; kind of right in the middle of the racetrack so he should be fine," said trainer Dallas Stewart. "This horse came out of the Derby great; he never seems to get tired, so he's had three works since the Derby. They've all been very good works. He's doing great. He's eating well. He's a very sound horse and we're very happy and proud to be here."
Stewart is not overly concerned with Commanding Curve's late-running tactics.
"We've got such a great rider in Shaun Bridgmohan," he said. "I'm sure he'll stay in touch with the race and he's got a lot of confidence in the horse, so I'm going to put it in his hands and we're going to see but it's going to be a great race. The Triple Crown on the line...a lot of excitement, so I hope we get a big crowd."
Samraat, bred and owned by Len Riggio's My Meadowview Farms and trained by Rick Violette Jr., drew post 7 for the 12-furlong Belmont. The New York-bred son of the late Noble Causeway trains at Aqueduct Racetrack and was vanned over to Belmont just in advance of the draw. The dark bay or brown colt worked a mile in 1:47.55 May 31. The Withers and Gotham (both gr. III) stakes winner was second behind Wicked Strong in the Wood and was fifth in the Kentucky Derby.
"The post is OK," Violette said. "We would have preferred a little closer to the fence but I think it's kind of mid-pack and we'll see how the break goes and go from there.
"Pedigree-wise, he's actually very suitable—Noble Causeway, by Giant's Causeway on the top—and that certainly would give him some ability to get a mile and a half. But I don't think anybody in the race right now, or probably after the race, is going to say a mile and a half on the dirt is his strong suit."
Medal Count , eighth in the Derby, drew the rail for the Belmont. The big son of Dyanformer—Brisquette, by Unbridled's Song, races for B. Wayne Hughes' Spendthrift Farm. Spendthrift also owns two-time champion Beholder, who will start in the Ogden Phipps Stakes (gr. I) on the Belmont undercard.
Trainer Todd Pletcher has a pair of runners in WinStar Farm's Commissioner (post 8; 20-1) and Eclipse Thoroughbred Partners and Town & Country Farms' Matterhorn (post 3; 30-1).
"We're in the Belmont because we feel like they're horses that want to stay the distance," Pletcher said. "They both need to improve. They both need to run their best races to be a part of it."
Commissioner, second in the Peter Pan, is by A.P. Indy (won the '92 Belmont) out of the Touch Gold (won the '97 Belmont) mare Flaming Heart. Earlier in the year the bay colt was third in the Sunland Derby (gr. III).
Matterhorn was fourth in the Peter Pan in his stakes debut. The son of Tapit —Winter Garden, by Roy, has a maiden win from four starts to his light resume.
"Commissioner was always a horse we felt would improve with a little time and improve with a little distance and we felt the same way about Matterhorn. I think both of them ran respectable races on a sloppy track that maybe they weren't their best on and the Peter Pan has been a good prep for the Belmont over the years.
"I'm excited about the race whether I was in it or not," he said. "We feel like both horses are doing well and have a chance to make a little bit of an impact. It's also kind of fun to not have a lot of pressure on it."
The number 1 post position has been the most successful since the race has been run at Belmont Park. Here are the post positions and number of winners:

1 - 23
2 -11
3- 13
4 - 9
5 - 13
6 - 7
7 - 11
8 - 5
9 - 3
10 - 2
11 - 2