By Anne Peters
The story of California Chrome's trainer, Art Sherman, and his connection to Swaps is now well known. As a young man working for Swaps' breeder/owner Rex Ellsworth, Sherman had the privilege to get up in the mornings and ride Swaps for his exercise, quite an honor for so young a student.
It's also well known that Swaps appears twice in the pedigree of two-time classic-winning California Chrome . Chrome's dam, Love the Chase, is a daughter of Not For Love out of Chase It Down by Polish Numbers. Not For Love is a grandson of the champion filly Numbered Account, who was by Buckpasser out of the stakes-placed mare Intriguing, a daughter of Swaps. Polish Numbers was a direct son of Numbered Account. By being inbred 3x3 to Numbered Account, Love the Chase has Swaps twice in the fifth generation.
Swaps was a big, gorgeous bronze statue of a horse. He was sired by the imported Khaled (by Hyperion) out of the unplaced mare Iron Reward, by Beau Pere. His second dam was a half sister to Kentucky Derby winner Clyde Van Dusen, and two years after Swaps won the Derby, his "uncle," Iron Liege, won the prize for Calumet Farm.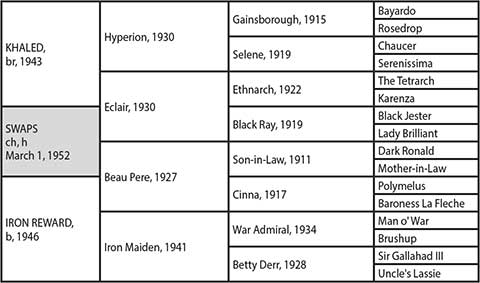 Simply put, Swaps was one of the most extraordinary horses ever to race in America. He won 19 of 25 races from 2 to 4 and beat Nashua in the Kentucky Derby in 1955. Although he lost in the championship voting to his rival that year, the next year he was Horse of the Year and champion older male. At 3 and 4, Swaps set or equaled nine track records from coast to coast, including six world records, and one additional American record.
A serious left hind cannon fracture forced Swaps' retirement in October 1956, and he stood at Ellsworth's ranch near Chino, Calif., in 1957. He was moved to stand the next year at John Galbreath's Darby Dan Farm, near Lexington. Galbreath had bought into the horse, and later gained full ownership.
Swaps' first crop, foals of 1958, started him off well, featuring Primonetta, a stakes winner at 2, even better at 3, and champion older female at 4. His second crop included stakes winners Clover Leaf, Black Beard, and Gaelic Lad. The third crop, foals of 1960, produced champions Chateaugay and Affectionately, as well as No Robbery and Main Swap. Darby Dan retired its homebred Chateaugay to stud alongside his sire in 1965, and Swaps, at the peak of his value, was sold to a syndicate managed by Leslie Combs II. After the 1967 season he was moved to Spendthrift Farm and died there in 1972.
Swaps was a very good sire, getting 35 stakes winners from 430 foals (8.2%). Unfortunately Chateaugay was not a good stallion, with the tough handicapper True Knight among his 14 stakes winners, and he went to Japan. Swaps' son No Robbery was a better sire, with 46 stakes winners including champions Track Robbery and Wind and Wuthering, but he wasn't considered top class. No Robbery's daughter, Stepping High, produced the leading sire Buckaroo and the good Argentine sire Parade Marshal, however.
With no suitable male heir, Swaps faded from the breeding headlines, but his daughters left a more important legacy.
Affectionately produced Personality, by Hail to Reason, winner of the 1970 Preakness and champion of his crop at 3. Unfortunately, he disappointed and also wound up in Japan.
Primonetta foaled four stakes winners: Cum Laude Laurie, Prince Thou Art, Maud Muller, and Grenfall. Grenfall had the greatest influence, and through his daughters we got Belmont Stakes (gr. I) winner Go and Go, Twilight Agenda, Refuse to Bend, Tribal Rule, Media Puzzle, and 2013 champion 2-year-old male Shared Belief.
Perhaps the most influential daughter of Swaps is the one in the pedigree of California Chrome, the Phipps-bred Intriguing. Her best runner was Numbered Account, through which we get Private Account, Polish Numbers, Not For Love, Mutakddim, Confidential Talk, Rhythm, Super Saver , and Frost Giant . Numbered Account's full sister Playmate was the dam of Woodman.
Swaps' daughter Sweet Clementine produced the good sire Best Turn, sire of Cox's Ridge. Change Water was the dam of Allen's Prospect, Fall Aspen, and an ancestress of Dixie Union. Baracala is the third dam of Malibu Moon .
Many other Swaps' daughters have followed suit. Without his daughter Soaring, there would be no Battle Creek Girl, Wings of Grace, Devil's Bag, Glorious Song, Rahy, Singspiel, or Saint Ballado. Without Ortalan, there's no Toussaud, Navarra, or Empire Maker .
Without Likely Swap, there's no Likely Exchange, Crème Fraiche, Dream Deal, or Clear Mandate. Without Director, there's no Take Charge Lady. Without Pretty Pat, there's no Wicked Strong .
There isn't enough space to tally all the important runners descending from daughters of Swaps.