It takes more than just talent and racing luck to win Thoroughbred racing's Triple Crown—just ask trainer Barclay Tagg. The horse has to have the right demeanor to handle the added commotion around the barn that accompanies a run in the Belmont Stakes (gr. I) in New York, and the trainer has to know when to put his foot down.

Tagg won the Kentucky Derby and Preakness Stakes (both gr. I) in 2003 with Sackatoga Stable's Funny Cide but they came up short in the Belmont. The New York horseman paints with bold strokes how the horse must be handled during the three weeks between the second and third jewels of the elusive Crown.

"It all comes down to how they handle the commotion in the last couple of weeks," Tagg said June 5 outside his Barn 6 at Belmont Park. "I didn't handle it well enough. It's hard coming back here (to New York) for those last few weeks. I was stabled here and you have to put up with all that. It's hard on a horse when there are people in front of his stall all day long, laughing and cutting up and clowning around."

California Chrome , seeking to become the 12th winner of the Triple Crown June 7, is stabled in Barn 26, the barn of local trainer James Toner. Every morning as California Chrome and assistant trainer Alan Sherman heads to the track to gallop or work they are followed by a media horde recording his every move. Every bath is documented, every cool-out viewed. It can become a distraction.

"I have some horses now down there right in front of Jimmy's barn and there is a lot of commotion there," Tagg said. "You can't shun the press and everybody. It's a big deal and is part of the gauntlet you have to go through, but still, it will cost you the race if you're not careful so you have to put your foot down a little bit.

"I was lucky," he said. "We'd do a press conference every day and everybody had to stay behind the fence across from this barn. That was OK; I was trying to keep people from being in front of his stall all the time."

The Shermans—trainer Art and his son Alan—and their staff seem to be handling the situation just fine as California Chrome is readied for the Belmont. A victory in the 1 1/2-mile classic to cement the Triple Crown has eluded 12 horses since Affirmed last won it in 1978. Included in that grouping was the John Servis-trained Smarty Jones , who came along a year after Funny Cide in 2004.

"I remember when John Servis was trying to win the Triple Crown and I came back to the barn from a party around midnight to check the horses—I usually check on my horses around 9—and there were six guards in front of his stall, cutting up and drinking beer, and the light was on in his stall...and he didn't win it either," Tagg recalled. "It's very hard to keep the commotion down."

Tagg believes California Chrome has what it takes to win on Saturday and sees a Triple Crown score as a big positive for the sport.

"I think it will be good for racing and particularly good for the Triple Crown because of all the people that want to change it," he said. "If they change it, it will be just three nice grade I races, it won't have the aura a Triple Crown has. There is a reason it's hard to win. If someone doesn't win it for 35 years, so what? It takes a hell of a horse to do it. This one looks like he's got the tools."
Tagg and the New York-bred gelding Funny Cide had the tools in 2003, too, but finished third in the slop behind Empire Maker and Ten Most Wanted. During Belmont week, Tagg was gruff with the media and others wanting to get close to his star. A few days before the race, a black limo pulled up to the barn. Famed artist LeRoy Neiman got out, went into the barn, but quickly exited. He had been given the brush off by Tagg.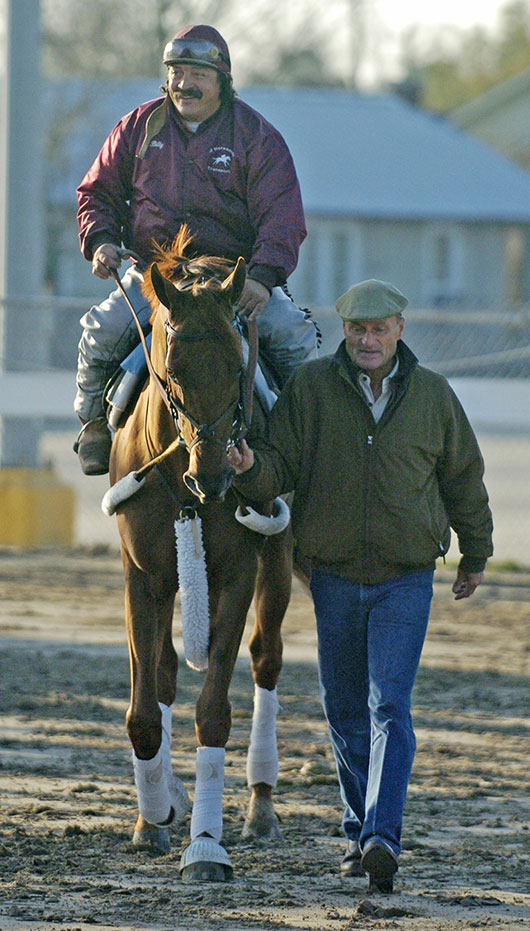 "I felt bad about that because he was so nice," Tagg said with a laugh. "He was really nice to me even after all of that. He congratulated me on things and (wife) Robin and I were at some charity dinner and he was sitting a couple of tables away and he did some sketches of us that were really, really good and gave them to us...and this was after all of that. I thought he'd never speak to me again."
Check in with Funny Cide at the Kentucky Horse Park: