Trainer Art Sherman expected California Chrome co-owner Steve Coburn to perhaps apologize the morning of June 8 for comments he made in the aftermath of his runner's spoiled Triple Crown bid, or at least to make a statement to the media as a whole. But the outspoken Coburn did nothing of the kind.
Coburn and Perry Martin's homebred Kentucky Derby Presented by Yum! Brands (gr. I) and Preakness Stakes (gr. I) winner was walking well and appeared bright and alert the morning after he was injured in the June 7 Belmont Stakes (gr. I). He sustained a superficial cut along his tendon and a more serious injury to his right front quarter when Belmont rival Matterhorn clipped his heel coming out of the gate in the race won by Tonalist .
The loss, by 1 3/4 lengths in finishing fourth, snapped California Chrome's six-race winning streak by a combined margin of 27 1/2 lengths.
"It took a big chunk out (of his hoof), but we can heal that up," Sherman said. " 'Chrome' is going to have a needed rest; it's been a tough campaign for him."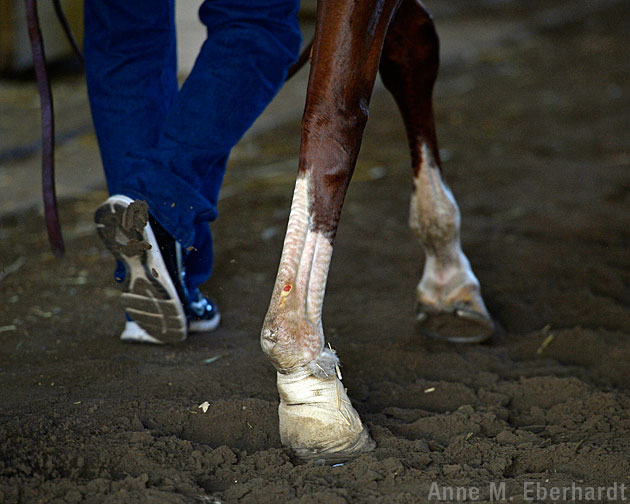 California Chrome was slated to return to his home state the afternoon after the Belmont, and it is unlikely East Coast racing fans will see him again any time soon, if at all this year. Sherman expects his injury to take at least two or three weeks to heal before he is turned out for some pasture time after the rigors of the Triple Crown trail. He is expected to rest for period of six or seven weeks, which effectively rules out summer racing.
A run in the Oct. 31-Nov. 1 Breeders' Cup World Championships at Santa Anita Park is still the goal for the 3-year-old son of Lucky Pulpit, but a prep for that run would likely occur in Southern California.
Sherman, down-to-earth and approachable as always, laid out those plans after returning to the barn to address local and industry media after making an appearance on Good Morning America from the apron at Belmont Park.
"Hey listen, we'll be here to fight another day, I'm just happy he's all in one piece," Sherman said. "It was kind of scary, you come back to see a horse bleeding from the foot and he's never had anything wrong with him; we've been awful fortunate.
"He's got a lot of talent, he just needs a little time off. This Triple Crown is a rough thing to go through."
That was the argument Coburn made as well when he arrived at the track a few moments later to make a Good Morning America appearance of his own, but his comments were found abrasive by some. Immediately following California Chrome's Belmont loss, Coburn said that entering the Belmont with a fresh horse after not running in the Kentucky Derby or Preakness was "a coward's way out."
"I'll never see—and I'm 61 years old—another Triple Crown winner in my lifetime because of the way they do this," he said on the NBC race broadcast. "It's not fair to these horses that have been in the game since day one. If you don't make enough points to get into the Kentucky Derby you can't run in the other two races.
"It's all or nothing. It's all or nothing because this is not fair to these horses that have been running their guts out for these people and for the people that believe in them. This is a coward's way out, in my opinion. This is a coward's way out."
Choosing to speak only to Good Morning America's hosts and ESPN SportsCenter anchor Lindsay Czarniak the morning of June 8, Coburn stood near the Belmont apron and said the Triple Crown system has to change.
"I feel bad for the horses...I don't regret a damn thing I said," he remarked. "If your horse is good enough to run in the Belmont, where was he in the Kentucky Derby and the Preakness? I may have gone off half-cocked yesterday, but that's the way I feel...it's not fair to these horses that are running to entertain these people in all three legs of the Triple Crown, it's not fair to them to have somebody just show up at the last minute and run."
California Chrome, General a Rod , and Ride On Curlin were the only three horses in the Belmont field of 11 who ran in all three Triple Crown races this year. General a Rod finished seventh in the Belmont, fourth in the Preakness, and 11th in the Derby. Ride On Curlin, seventh in the Derby, was runner-up in the Preakness but bled in the Belmont and was eased before finishing.
Triple Crown runners, however—the 11 winners of the series and those whose bids have been spoiled—have always faced "new shooters" in both the Preakness and Belmont. Go back through the records and you'll find new names against the likes of Affirmed, Secretariat, and Seattle Slew, horses who sat out one race or another, then took a shot but were blown away by the legends. And, of course, there are the myriad of upsetters who got the job done in the Belmont after bypassing one or two races.
ANGST: Waiting, and Waiting, for Crowning Glory
Coburn's comments sparked a firestorm of controversy among fans and members of the media, many upset by his lack of tact and offended by his politically incorrect approach. The owner, a newcomer to the racing game, likened starting a fresh horse against runners who had competed in all three legs of the Triple Crown to himself playing basketball against a child in a wheelchair.
"It wouldn't be fair if I played basketball with a child in a wheelchair, because I've got the upper advantage," he said. "If your horse was good enough to run in the Belmont, where was he in the Kentucky Derby and the Preakness?"
He later compared the series to a triathalon, saying only an athlete that competes in all three events should be able to win.
"They want to call me a sore loser, have at it," he later continued, going on to list his personal telephone number on national television. "Call me. We'll talk."
Although Sherman said he didn't talk to Coburn about his comments, when someone asked the 77-year-old trainer if he thought there would ever be another Triple Crown winner, he shook his head.
"Boy, I'll tell you, unless things change I doubt it very much, unless you come up with some freaky horse that is just outstanding," he said. "I think they need a little bit more time between races; three races in five weeks, that takes its toll. And I think Mr. Coburn was mad because the other horses got a break...freshening up from their last race.
"But hey, listen, I've been in the game a long time and I know things have a way of changing—but it takes a long time."
Steve Coburn shares thoughts on GMA:

See footage of California Chrome's foot and leg in the June 8 news update: