By Anne Peters
Buckpasser is one of the most revered names in American racing and breeding. Besides being a beloved racehorse, his influence on the breed has been enormous. The beautiful bay appears in the pedigrees of stallions such as A.P. Indy, Danehill, Galileo, Unbridled, Kitten's Joy , Midnight Lute , and many others.
There was nothing humble about Buckpasser's origins. Bred by Ogden Phipps, he was sired by Tom Fool, who was voted Horse of the Year as a 4-year-old in 1953, no mean feat considering that his competition for the title was the 3-year-old Native Dancer. Buckpasser's dam was Busanda, one of the best stayers of her era—male or female—and winner of the 1 3/4-mile Saratoga Cup at 4 and 5.
Buckpasser did not disappoint his family. He was the best of his division all three years he raced, and voted Horse of the Year at 3. An old-fashioned American runner, he showed the precocious speed of Tom Fool, and was still able to win the Travers Stakes and Jockey Club Gold Cup, proving that he also had inherited the deep stamina of Busanda.
An exceptionally handsome horse, Buckpasser stood a leggy 16.3 hands, beautifully balanced, with exquisite quality. Although bothered with bad knees and quarter cracks, Buckpasser was the highest caliber runner, even if he liked to cut his finishes a little too close.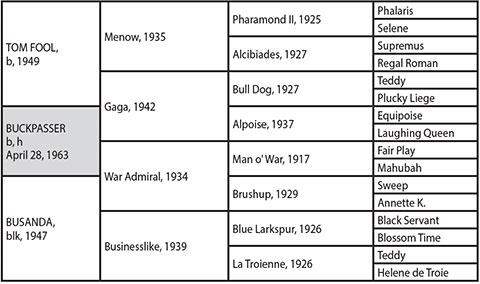 As a stallion, Buckpasser was always held in high regard, and sired five champions—Relaxing, Numbered Account, La Prevoyante, L'Enjoleur, and Norcliffe. The latter pair won the Queen's Plate at 1 1/4 miles in Canada, but Buckpasser never sired a classic-winning colt in the United States. He had top-class runners on dirt and turf, and in some cases, such as State Dinner and Balzac, on both surfaces. By nature his progeny also tended to get better as the distances got longer.
The fact Buckpasser's fillies were so much better than his colts put a bit of a tarnish on his reputation, even with a successful stallion son such as Buckaroo, who became the leading sire in 1985, thanks to Spend a Buck. His sons weren't very popular or successful in Kentucky; Buckaroo earned his title after being sent to Florida.
Buckpasser got his revenge, as many "filly sires" do, when his daughters sent the genetic gold forward, making him a tremendously influential broodmare sire. His daughters have produced Hall of Famer Slew o' Gold, along with With Approval, Easy Goer, El Gran Senor, Plugged Nickle, Coastal, Touch Gold, Seeking the Gold, Private Account, Fast Play, Believe It, Woodman, and Miswaki.
Two Buckpasser mares have been voted Kentucky Broodmare of the Year. In 1989 the winner was Relaxing, dam of grade I winners Easy Goer, Cadillacing, and Easy Now. In 1991 the winner was Toll Booth, dam of seven stakes winners including grade I winners Plugged Nickle and Christiecat. A third, Passing Mood, was a Broodmare of the Year in Canada in 1989 on the merits of her son With Approval, and this was before a later son, Touch Gold, won the 1997 Belmont Stakes (gr. I) over another Buckpasser grandson, Silver Charm.
There have been many other outstanding Buckpasser producers, including Alluvial, Con Game, Numbered Account, and Sex Appeal. Their breeding exploits could go on for pages. Others made a mark through one son, such as Breakfast Bell who produced Believe It, the broodmare sire of champion Real Quiet, which takes us to Midnight Lute. Uncommitted produced Wavering Monarch, the sire of Maria's Mon, whose son Super Saver has three lines back to Buckpasser.
Buckpasser's influence continues through daughters Lassie Dear, the second dam of A.P. Indy and Summer Squall; Spring Adieu, the second dam of Danehill; and Magic, the third dam of Unbridled.
Stallions out of Buckpasser mares have also become great broodmare sires. Private Account sired Hall of Famer and 1996 Broodmare of the Year Personal Ensign; and El Gran Senor sired 2002 winner Toussaud, the dam of Empire Maker and others. Miswaki's great daughter Urban Sea was also Broodmare of the Year in England and Ireland in 2001, and her son Galileo is one of the top sires in the world.
Buckpasser's sons didn't do such a bad job at passing on his sireline. Buckaroo sired Spend a Buck, who was rejuvenated when sent to Brazil, where he sired Pico Central and Einstein, the latter an up-and-coming young stallion.
Buckpasser's son Norcliffe fathered At the Threshold, whose Lil E. Tee won the 1992 Kentucky Derby (gr. I). Buckpasser's son Silver Buck sired the 1997 Derby/Preakness Stakes (gr. I) winner, Silver Charm. Other sons Egg Toss, Logical, Settlement Day, and Chairman Walker all did good work in South America. Another significant son is L'Enjoleur, the sire of That's My Hon, who is the second dam of Kitten's Joy.
Buckpasser has proved to be an important source of stamina in global pedigrees, which, fortunately for us, is what he was born to do.