While the results of the Belmont Stakes (gr. I) may have been bitterly disappointing to those hoping that the long Triple Crown drought was finally over, they nonetheless brought a measure of vindication to another dual classic winner who was unable to complete the sweep in the Belmont. Thomas Evans' Pleasant Colony ran third to Summing in the 1981 Belmont, a horse that did not contest either the Kentucky Derby (gr. I) or the Preakness Stakes (gr. I) due to the aftereffects of an illness. This year Pleasant Colony's maternal grandson Tonalist , wearing the colors of Evans' son, Robert "Shel" Evans, played the role of Summing to deny California Chrome a Triple Crown.
Unlike California Chrome , Tonalist was born with the equine equivalent of a silver spoon in his mouth—platinum-plated at that. Bred by Rene and Lauren Woolcott's Woodslane Farm, the colt is a son of top Gainesway stallion Tapit , who now has his first classic winner, and is from one of the finest female families in the American Stud Book.
Given the quality of horses sired by Tapit since his first crop exploded onto the racing scene in 2008, it was only a matter of time before he came up with a classic winner. He himself was a high-class racehorse who won the 2004 Wood Memorial Stakes (gr. I) in impressive fashion despite having been compromised by a lung infection that had cost him training time. That infection might have cost him a classic victory as well. Sent into the Kentucky Derby as one of the favorites off that effort, Tapit finished unplaced and a recurrence of his lung infection and other physical woes followed, suggesting that he may have been overtaxed by a courageous effort when not fully fit. He was retired following another subpar effort in the Pennsylvania Derby (gr. II) and stood his first season at Gainesway in 2005 at $15,000 live foal.
An attractive, well-balanced, elegant horse whose appearance hints at the Thoroughbred's Arabian ancestors, Tapit attracted 142 mates in his first season. The 96 foals produced by those mares included 2008 champion juvenile filly Stardom Bound and 2008 Hollywood Starlet Stakes (gr. I) winner Laragh, vaulting the young stallion to the top of both the freshman sire and juvenile sire lists. The following year Careless Jewel annexed the Alabama Stakes to become the third grade I winner from Tapit's first crop; a fourth, Testa Matta, would become a grade I winner in Japan in 2012. All told, Tapit's first crop has yielded 15 stakes winners.
While the stallion has not quite maintained that standard, he has still been very good. Third on both the 2009 second-crop sire list and the 2010 third-crop sire list, he was third on the general sire list in 2011 (when his son Hansen was champion juvenile male), fourth in 2012, and seventh in 2013. He currently leads the 2014 sire list and, besides Tonalist, is the sire of Longines Kentucky Oaks (gr. I) winner Untapable and Besilu Stables Florida Derby (gr. I) winner Constitution . The sire of 50 stakes winners to date, Tapit stood the 2014 season for $150,000 live foal.
Tapit was sired by another horse with a brief but highly promising career in Pulpit, who won the 1997 Fountain of Youth Stakes (gr. II) and Toyota Blue Grass Stakes (gr. II) and was runner-up in the Florida Derby. He was injured while running fourth in the Kentucky Derby and retired to his birthplace, Claiborne Farm.
As a son of two-time leading sire A.P. Indy (the 1992 Belmont winner) from the female family of Round Table's full sister Monarchy (also the family of 2001 champion juvenile Johannesburg, successful sire Tale of the Cat , and the quite useful Bold Ruler stallion Blade), Pulpit was expected to become a good sire and fulfilled those expectations prior to his death in 2012, having sired 74 stakes winners to date. He has also established his own branch of the Seattle Slew/A.P. Indy sire line, with Tapit, Sky Mesa , and California Chrome's sire Lucky Pulpit among his sons.
Like his sire, Tapit comes from a family with a history of stud success, that of Foggy Note. Tapit's dam, the stakes-winning Unbridled mare Tap Your Heels, is a half sister to champion sprinter Rubiano (by Unbridled's sire Fappiano), a useful sire. Tapit's granddam, Ruby Slippers, is a half sister to another useful sire in Glitterman (by Dewan), and his great-granddam, Moon Glitter, is a stakes-winning full sister to the highly successful Relaunch, head of the most successful branch of the Man o' War/In Reality sire line. This is also the family of the late Summer Bird, champion 3-year-old male of 2009 and Belmont winner, whose first foals are coming to the races this year.
Tonalist himself hails from a still more glittering family, that of Missy Baba, which is also the family of Belmont Stakes winners A.P. Indy and Lemon Drop Kid (1999). But whereas A.P. Indy and Lemon Drop Kid are both descended from Missy Baba's daughter Gay Missile, Tonalist is the first American classic winner descended from another notable daughter: Toll Booth, the 1991 Kentucky Broodmare of the Year.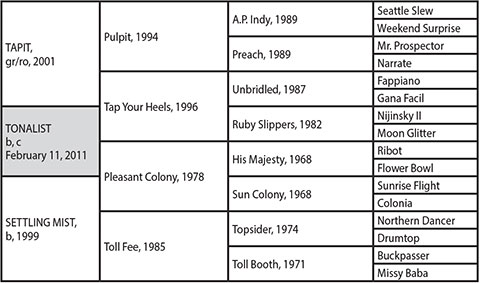 A rather light-framed, plain daughter of the great champion and broodmare sire Buckpasser, Toll Booth had a modest career on the racetrack, winning three of her 22 starts and placing in eight others. Her broodmare career did not begin auspiciously, as her first foal did not live to be named. But her second foal, a son of 1972 champion 3-year-old male Key to the Mint, signaled a reversal of her fortunes. Plugged Nickle proved a high-class competitor at both 2 and 3. Ranked second to champion Temperence Hill in the sophomore male division after winning the Florida Derby and Wood Memorial and being unplaced as the favorite in the Kentucky Derby, Plugged Nickle also won the Vosburgh Stakes (gr. I) and two other seven-furlong sprint stakes to earn championship honors in the sprint division. Unfortunately, he tended to pass on his own bad feet and made little mark as a stallion before being exported to South Africa in 1988.
Following Plugged Nickle, Toll Booth produced six additional stakes winners and two stakes-placed runners from 11 named foals. The best of the group was Christiecat, a daughter of multiple grade I winner Majestic Light who won the 1992 Flower Bowl Handicap (gr. IT) at 5. Exported to Japan after producing two minor winners from five foals in the United States, she became the dam of Excuse (by Boston Harbor), a multiple Japanese stakes winner.
Toll Fee, a daughter of Claiborne Farm's Northern Dancer stallion Topsider, was not as good a racer as Christiecat but has been the most important of Toll Booth's daughters in the breeding shed, despite failing to produce a stakes winner herself. Her first foal, grade III-placed The Bink (by Seeking the Gold), produced six named foals, all fillies, before dying of complications of foaling. The first two were the best: grade III winner Cozzy Corner (by Cozzene) and multiple grade I winner Riskaverse (by Dynaformer), who died after producing just three named foals but is the dam of group I-placed Irish group III stakes winner Say (by Galileo).
Easter Bunnette, Toll Fee's 1998 daughter by Carson City, was a fairly consistent racer with three wins from 11 starts but ran at a lower level than did The Bink. Her claim to fame is her daughter Havre de Grace, from the one crop sired by 2005 Horse of the Year Saint Liam. The best runner to represent her ill-fated sire, Havre de Grace was a grade II winner at 3 but improved markedly at 4 to win the Apple Blossom Handicap and Beldame Invitational Stakes against her own sex and the Woodward Stakes against males—all grade I events. The 2011 Horse of the Year, Havre de Grace was a stakes winner again at 5 and was sold to Mandy Pope's Whisper Hill Farm for $10 million at the 2012 Fasig-Tipton Kentucky November sale. She produced her first foal, a filly by Tapit, this spring and has been bred to War Front for a 2015 foal.
Tonalist is the fifth foal, fourth winner, and first stakes winner for Toll Fee's winning daughter Settling Mist, whose sire Pleasant Colony was named the champion 3-year-old male of 1981 despite his Belmont loss to Summing. A son of the Ribot stallion His Majesty and the stakes-winning Sunrise Flight mare Sun Colony, the tall, rawboned Pleasant Colony was a successful sire in his own right, getting 77 stakes winners from 640 foals including 1992 champion older male Pleasant Tap. He has also been a very good broodmare sire, with 102 stakes winners credited to his daughters thus far.
Tonalist concludes what has been an excellent classic season for the Seattle Slew/A.P. Indy male line, which has accounted for all three Triple Crown races, the Kentucky Oaks winner, the Kentucky Derby runner-up (Commanding Curve, by A.P. Indy's son Master Command), and the Belmont Stakes runner-up Commissioner (by A.P. Indy). He has also concluded some unfinished business for the Evans family, collecting the one classic trophy that evaded his maternal grandsire, and added a classic success to the family of a most deserving mare in Toll Booth.
These accomplishments may not be as emotionally satisfying for the majority of racing fans as a Triple Crown would have been, but they are nonetheless a worthy addition to the history of America's classic races.