By Anne Peters
This year's Belmont Stakes (gr. I) quietly showcased the influence of one of the finest sources of stamina in American breeding. The winner, Tonalist , is by Tapit out of Settling Mist, by Pleasant Colony. The third-place finisher, Medal Count , is by Dynaformer out of Brisquette, by Unbridled's Song. The common link between the pair is His Majesty, sire of Pleasant Colony and the broodmare sire of Dynaformer.
Another reminder of His Majesty's legacy jumped up at Churchill Downs a week later, in the form of late-maturing Moonshine Mullin, winner of the Alysheba Stakes (gr. II) and the June 14 Stephen Foster Handicap (gr. I). Moonshine Mullin is a 6-year-old horse by Albert the Great, a son of Go for Gin, by Cormorant, by His Majesty.
His Majesty, by the great Italian runner Ribot out of stakes winner Flower Bowl, by Alibhai, lived most of his early life in the shadow of his older brother, Graustark, who had been a phenom as a racehorse. Ranked second behind Buckpasser among the colts of his crop, Graustark rode a seven-race win streak, including the Bahamas Stakes, into the 1966 Blue Grass Stakes, when he was shockingly second to Abe's Hope, only to discover he'd broken a bone in his foot.
His Majesty arrived on the scene five years after Graustark. Flower Bowl hemorrhaged and died after foaling, so he was raised on a nursemare. A winner at 2, His Majesty was third in the Bahamas, and won the Everglades Stakes at 3 before an injury forced time off. At 4 he was third in the Seminole Handicap and second in the Widener Handicap before a wrenched back set him down again. At 5 His Majesty set a track record for nine furlongs (1:46 2/5) in an allowance race at Hialeah, then bowed in his left front when unplaced in the Donn Handicap.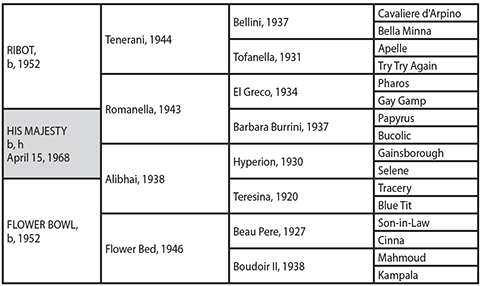 By the time His Majesty retired alongside him at Darby Dan Farm in Kentucky in 1973, Graustark had already proved he was going to be a tough act to follow as a stallion, having been represented by runners such as champion Key to the Mint, Jim French, Grafitti, and Ruritania. He proved to be a top sire, with 52 stakes winners (8%) and additional high-end runners including Tempest Queen, Caracolero, Prove Out, Avatar, and Proud Truth. Graustark specialized in classic types that loved a distance of ground, on both dirt and turf.
His Majesty's early crops weren't as exciting although they included the good colts Cormorant, Batonnier, and Obraztsovy; and fillies Andover Way and Ribbon. Then the numbers began to catch up, because like most of the other Ribots, the His Majestys got better with age and distance. Pleasant Colony won the 1981 Kentucky Derby and Preakness Stakes (both gr. I) on the way to a division title. Mehmet and Majesty's Prince took His Majesty to the top of the leading sires list in 1982. In a long, productive stud career, he wound up with 59 stakes winners (9%), beating Graustark on both count and percentage, before he died in September 1995.
Graustark's sons went to stud first, and while Key to the Mint was an elite sire, his daughters were better in the breeding shed than his sons; Plugged Nickle, Java Gold, Gold and Ivory, and Sauce Boat all proved to be substandard. A valuable cross of Graustark can be found in the pedigrees of Mizzen Mast , Elusive Quality, Grand Slam, and Spring At Last, to name a few.
His Majesty's line, however, continued to outperform his brother's. Despite being the opposite of what the commercial market wanted, Pleasant Colony was a top-class sire—a big, lanky, angular, staying type. Still, he sired 1992 European Horse of the Year St. Jovite; and leading American runners such as Pleasant Tap, Pleasantly Perfect, Behrens, Colonial Affair, Denon, and Pleasant Stage. Pleasantly Perfect and Pleasant Tap have been successful stallions. His daughters, too, have done well as dams of horses including Farda Amiga, Urbane, Forestry, Cash Run, Bowman's Band, and, of course, Tonalist.
His Majesty's son Cormorant was a more regional success in New York but sired Kentucky Derby (gr. I) winner Go for Gin, champion filly Saratoga Dew, and grade I winner Grecian Flight. Go for Gin's best runner was Jockey Club Gold Cup (gr. I) winner Albert the Great, now the sire of other grade I winners Nobiz Like Shobiz, and Albertus Maximus .
Daughters of His Majesty have done as well or better. Besides producing Risen Star, Midway Lady, Informed Decision, and the dam of Street Sense , His Majesty mares have produced two key stallions: Dynaformer and Danehill. Through these sons and daughters, His Majesty has ensured that he will be an influence in international breeding for a long time.