Former jockey Michael Straight has adapted to life without riding racehorses in the past five years, since he was paralyzed in an Arlington Park racing accident on Aug. 26, 2009—but that doesn't mean the racing industry has forgotten him.
"Once you're a part of the sport, you're family," Straight said this week. He was reflecting upon the outpouring of support and encouragement that came after his June 30 progress at the Miami Project to Cure Paralysis, where he became the first jockey to ever use Ekso Bionics' "exoskeleton."
The bionic device gives paraplegics and low-level quadriplegics the chance to stand and walk again, and recently Straight spent three days helping doctors at the Miami Project learn how to work with patients using the machine.
Straight knew he'd feel the rush of emotions that came over him as he walked for the first time in five years, but he didn't expect the overwhelming response to a video he posted on Facebook later that day of his first moments in the exoskeleton.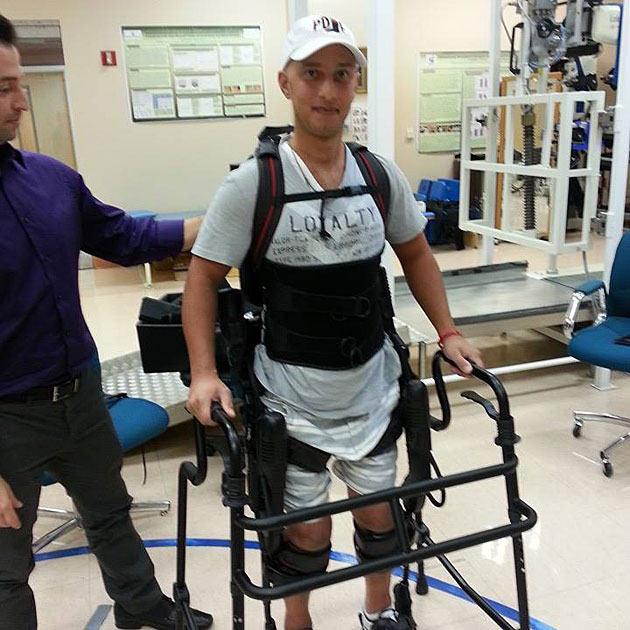 From retired industry kingpins like Pat Day and Chris McCarron to trainers like Buff Bradley and Tevis McCauley, from friends and family to racing fans he's never even met, Straight was flooded with comments and "likes" on social media, encouraging his progress.
"I wanted to show everyone I'm finally really doing it, that I'm moving forward and working hard, so I'm grateful people had such a positive response," Straight remarked. "That gives me power to think about going and doing more things for the Miami Project, whatever they need, helping with research involving spinal cord injuries."
Straight, 28, has developed a passion for spinal cord injury research through the Miami Project at the University of Miami. Online Features Editor Claire Novak took some time to talk with him about that research, and about his hopes for the future.
CN: First of all, congrats on the progress with the exoskeleton! What was it like to walk again?

MS: I wish I could come up with a way to describe the feeling, and all the emotions that were going through my head. I guess the best way to put it is that the first day was like the Kentucky Derby, the second day was like the Preakness, and the third day was like the Belmont—I won the Triple Crown.
CN: As a former jockey, you'd seem to be a great height for the doctors to work with in a machine like the exoskeleton—not too tall!

MS: For sure. I believe they said 6'4" is the tallest you can possibly be, and obviously I'm not close to that. It was easy, too, for whoever was behind me to kind of nudge me back to balance if I was going a little off, they didn't have to hang on for dear life. But they also told me I have great balance, which I'm sure comes from riding horses.
CN: So is there an exoskeleton for full-time use in your future?
MS: Down the road, that's what I'm looking for. It's not instantly going to happen or cure me from me being paralyzed, but it could give me the chance to walk on a daily basis. I really want one.
CN: Tell us about your work with the other research studies at the Miami Project.
MS: I helped out with a spasticity study, which was great because not only will it help people down the road, but it gives me great feedback on some things I deal with now and have to worry about.
I also did a study on cardiovascular health, which was interesting. We did a DXA x-ray that measures the amount of fat and muscle in your body, and a CT scan. They gave you a pill that slowed down your heart rate so the blood vessels would open up, which gave them a great view of how your heart is and how it's maintaining through your injury. That was a very in-depth study so I was glad I could be a part of it.
The one study I'm going to do next is obesity and extra weight in people with early and chronic spinal cord injuries, and the purpose of the study is to determine whether exercise alone or a combination of exercise and diet with professional support will reduce bodyweight and risk of diabetes.
CN: Wow, that's a lot of interesting variety! What's been the biggest challenge so far?
MS: I don't like admitting that I'm really scared of anything, but I'm the biggest girl when it comes to needles. I've thrown up, passed out... I've done it all with needles. And a lot of these studies involved getting needles and actually I got an IV the other day. I figured out that if I get a needle while I'm laying down, I won't pass out or throw up, so that's good. But even though I hate needles, that's how much I'm trying to go forward with the Miami Project. Maybe in 10 or 20 years, people down the road will have their lives changed because of these studies. And that would be worth it.
CN: Speaking of changing lives, talk about your work with the Permanently Disabled Jockeys' Fund. You do quite a bit for them, don't you?
MS: The PDJF has been a huge support for me and I want to help that organization out as much as possible. They are so generous in what they do. The horse racing industry is so tight, it's one family. People do give their support and know that without jockeys there wouldn't be horse racing. I think it's very good to get the PDJF name out there and help raise support for the guys who have gone through career-ending injuries.
CN: We can't forget last year's Jockey Karaoke fundraiser in Saratoga!
MS: That's right, it's actually the reason I'm going back to Saratoga this summer, and to visit all my family and friends. Last year I won with Andrew Lakeman, so we have our championship belts on the line. When I usually talk about Saratoga, I tell people I'm going to see friends and family and my racetrack friends and family. I have such a huge population of people up in New York who love and support me. It's going to really be fun this summer.
CN: When's Jockey Karaoke this year?
MS
: Monday, August 11. You can get more info at
www.pdjf.org
.
CN: Sounds like some important work you're doing between the Miami Project and the PDJF.
MS: All of this is very important to me. I have the PDJF, the Jockeys' Guild, and the people who have pulled together this fundraising event called Jockeys and Jeans, a new fundraiser I've been able to help with. I give special thanks to all of them for helping me out, and I want to return that favor.
CN: Anything else you'd like to share?
MS: I just want to thank everyone for all their support, from the fans to my racetrack family. I also need to thank the Miami Project and my doctors here in Florida who run Spine Solutions. Everyone's support has been so important and inspiring. I'm still paralyzed and I still live that life, I haven't gotten cured yet, but maybe I can help find a cure for the future.