Not every day does a stallion's progeny sweep the top four places in a group I race, but Scat Daddy accomplished the rarity June 20 by siring the top four finishers in the Clasico Alberto Vial Infante (Chi-I). In doing this, he went one better than his feat last year in siring the top three finishers in the Premio Arturo Lyon Pena (Chi-I).
The stallion is on quite a roll in Chile, having sired seven Chilean group winners (including two group I winners) since the beginning of 2014. His two Southern Hemisphere crops of racing age include 64 winners (71.9%) and 15 stakes victors (17.9%) from 89 named foals.
Scat Daddy hasn't been doing badly in his native land, either. The Ashford Stud stallion is represented this year by Frac Daddy , who won his second graded race of 2014 in the Eclipse Stakes (Can-II) June 1, and by grade III winner Daddy Nose Best . A fourth-crop sire, Scat Daddy has 137 winners (58.1%) and 15 stakes winners (6.4%) from the 236 named foals in his first three Northern Hemisphere crops of racing age and has had three winners among his current 2-year-olds.
The leading freshman sire of 2011, Scat Daddy is from a male line that has served Ashford Stud well for generations. Along with fellow Ashford stallions Giant's Causeway , Tale of the Cat , and Shanghai Bobby , Scat Daddy is from the Storm Cat male line. He is a son of former Ashford sire Johannesburg, now in Japan and currently the sire of 65 stakes winners. Johannesburg, the U.S. and European champion juvenile of 2001 was, in turn, sired by Storm Cat's son Hennessy, who did Ashford good service prior to his death in Argentina in August 2007. Other male-line descendants of Hennessy currently at stud in North America include 2012 champion sprinter Trinniberg , his sire Teuflesberg , and Wiseman's Ferry (sire of two-time Horse of the Year Wise Dan).
Like most other good members of his male line, Scat Daddy showed talent at 2, winning the Champagne Stakes (gr. I) and the Sanford Stakes (gr. II). Second to champion Street Sense on the Experimental Free Handicap with 123 pounds to the champion's 127, Scat Daddy trained on at 3 to win the Florida Derby (gr. I) and Fountain of Youth Stakes (gr. II) before suffering a tendon injury when unplaced in the Kentucky Derby Presented by Yum! Brands (gr. I).
Produced from the unraced Mr. Prospector mare Love Style (out of 1993 Las Virgenes Stakes, gr. I, winner Likeable Style), Scat Daddy at first glance would seem best suited for siring horses with brilliant speed. He has certainly gotten his share of those, headed by last year's European-raced sensation No Nay Never, winner of the Darley Prix Morny (Fr-I). Nonetheless, Scat Daddy could carry his speed at least to intermediate distances, thanks perhaps to having Nijinsky II as his second dam's sire. Several of his best offspring have followed suit. His daughter Solaria won the El Derby (Chi-I) at 2,400 meters Feb. 2, giving the stallion grade/group I winners at distances ranging from six to 12 furlongs.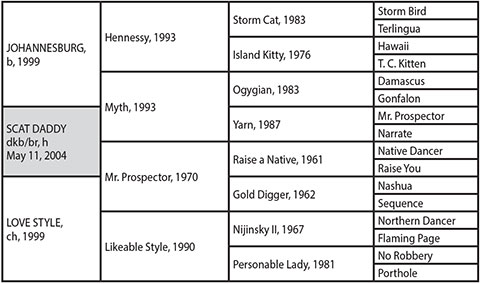 In both hemispheres, Scat Daddy appears to be doing well with mares returning Mr. Prospector or his sire, Raise a Native. His major winners bred on this pattern include the aforementioned Solaria (last year's Chilean champion juvenile filly on turf), No Nay Never, and Daddy Nose Best; El Bromista, last year's Chilean champion juvenile male on turf; and Knockout, winner of the 2013 Premio Nacional Ricardo Lyon (Chi-I).
Scat Daddy's success with mares returning the Raise a Native/Mr. Prospector male line may seem somewhat surprising considering that Scat Daddy is inbred 4x2 to Mr. Prospector (who sired both Love Style and Yarn, Johannesburg's second dam). Nonetheless, it's hard to argue with the results. It's also hard to argue with Scat Daddy's continued popularity; he covered 171 mares during the 2013 Northern Hemisphere season, and based on what he has done so far, he seems likely to be playing beautiful music in breeders' ears for the foreseeable future.