By Leslie Knauf
Sitting in the shade of his shed row just off the Oklahoma Training Track at
Saratoga Race Course
July 20, Jimmy Jerkens was a man completely comfortable in his environment.
The son of Hall of Famer H. Allen Jerkens has been coming to the races at Saratoga since he was a child, when horses became his world.
"I rode from a young age—I didn't start galloping horses (at the track) until I was about 15 or 16, but I started out rubbing horses," Jerkens said. "I never had any formal training—I rode the stable pony here, and I rode my father's polo ponies before the matches at Meadowbrook (on Long Island), then I started to gallop horses and played polo myself.
"I rode quite a bit until the duties around the barn got to be a little more, and I got heavier, too, so I gave up galloping altogether."
At 55, Jerkens has the depth of experience—and the wisdom—to appreciate the good fortune his barn is currently enjoying, particularly when racing luck can shift just as quickly as the direction of Saratoga's summer winds.
"We had a very good spring in April and May. June was a little slow; we only ran five horses and didn't do very well, but we did great earlier in July," the trainer said.
"Team Jerkens" logged nine wins, a second, and two third-place finishes from 26 starts at the recently concluded spring meet at
Belmont Park
.
"Right before we came up here we won a lot of races," Jerkens said. "It's the way it goes, but unless you have 150 or 200 horses, those same horses that won, they're all stepping up in class at the same time."
Jerkens's current Saratoga contingent includes Twinspires.com Wood Memorial Stakes (gr. I) winner
Wicked Strong
, who ran a respectable fourth in the Kentucky Derby Presented by Yum! Brands (gr. I) and subsequently finished in a dead-heat for fourth with the Derby and Preakness Stakes (gr. I) winner
California Chrome
in the Belmont Stakes (gr. I).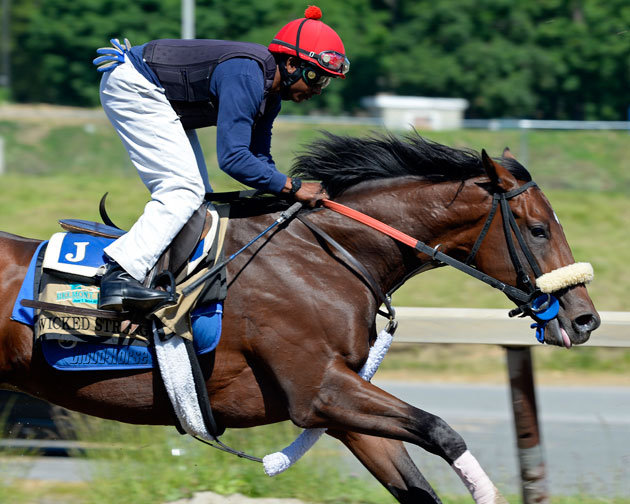 Owned by a 28-member partnership group put together by Centennial Farms and named in honor of the 2013 Boston Marathon bombing victims, the colt broke his maiden at Belmont last fall before upsetting the Wood Memorial for his second win. He is being pointed toward the Jim Dandy Stakes (gr. II) July 26, the traditional local prep for the Travers Stakes (gr. I) Aug. 23.
"Wicked Strong has been pretty consistent since he came back from Florida," Jerkens said. "The Wood Memorial race was great. The Derby and Belmont races were good, but not great. I thought he had a pretty good excuse in the Derby, but he didn't have any excuse in the Belmont. He only got beat a length and a half for everything, but I was still disappointed.
"I thought he didn't give us his best that day for some reason. Going into (the Belmont), I thought he was doing as well as a horse could do, but he was kind of flat (in the race)."
Jerkens sent the bay son of
Hard Spun
out with blinkers for a July 19 work on the Saratoga main course in preparation for his upcoming engagement. With regular exercise rider Kevin Pahal aboard, the colt covered six furlongs in 1:13.09. Pleased with the effort, Jerkens said Wicked Strong will keep the blinkers on for Saturday's Jim Dandy Stakes.
"I like to use what we used to call 'half cups' with a little hole (in each cup), although we covered the holes with white tape (for Saturday's work)," Jerkens said. "He still is able to see a shadow through it, but (the blinkers) should help him be less distracted.
"It may backfire, but I think it's worth a try."
The attractive bay colt with a small white star is a standout in his barn, and Jerkens was hard-pressed to recall readily another successful horse from his past experience that reminded him of Wicked Strong.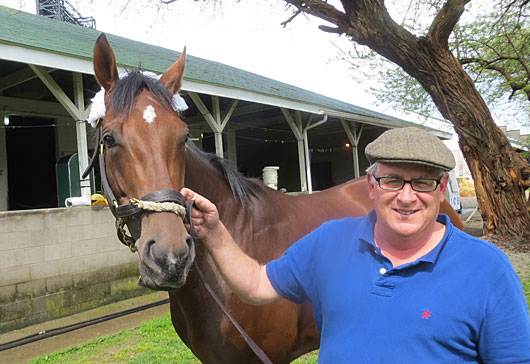 "He's kind of his own (self), because horses have changed, too. They're not raised the same way (as in years past)," he said. "Everybody knocks today's (horses)—that they're not as tough—but in a lot of ways, when you think about it, they are tough. They're rushed much more as young horses, they're asked to go farther earlier than they ever did.
"Like my father said, we used to run 2-year-olds a lot, but we kept them at five furlongs forever. They got a lot of experience with the dirt and getting bounced around. We ran them much more often, but you wouldn't think of running a 2-year-old long. It was a big deal to run a horse six and a half furlongs.
"That was the way to do it because you had horses last longer, (it was) the combination of things, too. The breed has gotten finer—they breed a lot more unsoundness back to unsoundness. You see a lot of speed. A horse like
Danzig
, he only ran three times, but he's a great stallion. People have to recoup things (financially)."
With Wicked Strong as the star, Jerkens has 32 horses in training between Belmont and Saratoga. Due to limited stall space, he will shuttle some horses between the two tracks.
"Some are little behind the others, so we've kept the ones that are at the same level of preparation together," Jerkens said. "Just because an owner wants one up here (in Saratoga), if we don't have a work mate for them, it doesn't make any sense. We don't usually have a lot of 2-year-olds anyway, but we have a few that might run here, providing they don't buck shins."
It's likely the horses will keep Jerkens very busy this summer, but with his father opting to remain in Florida with some horses at
Gulfstream Park
rather than ship back to New York this year, the younger Jerkens might have to make a long-overdue visit to the National Museum of Racing, where a plaque honoring the elder horseman is displayed.
"I haven't been in there in years. I loved the old museum, the way it was before they renovated it," he said. "They used to have a film every day at 10 o'clock. You'd go in there (to watch) some crusty old movie of horses in the 1950s and 1960s. And the way they had those old silks. I used to go look at (Hall of Fame jockey) Mack Garner's silks and boots that he wore on Cavalcade."
Though Allen Jerkens isn't at Saratoga this summer, his son is in touch with him regularly.
"I speak with him a couple of times a week, making sure he's OK," he said. "We don't have a whole lot to talk about, but he's never one to waste words."
The trainer noted that despite his father's absence, the elder Jerkens' presence still is felt at the historic upstate New York racecourse. For the second year in a row, he is featured on the cover of the annual Saratoga trainers' saddle towel guide published by Thorofan, a racing fan organization.
Jerkens was also pleased to see that the Saratoga Special, a popular seasonal racing newspaper published during the Saratoga meet by Joe and Sean Clancy, has continued to include its regular feature of brief quotes from his father, who is known on the backstretch and beyond as "the Chief."
"I don't think they're calling him every day to get that (quote), but it's terrific that they do that," the trainer said.
If his hopes for a solid summer are realized, the myriad media outlets that cover the storied race meet at Saratoga will have plenty of reason to include some new quotes—along with a few of his own poignant recollections of years past—from Jimmy Jerkens as well.