The sign isn't hanging on barn 5 in Clare Court at Saratoga Race Course this summer; there's no sign there at all, no one resident that's claimed the spot that for so many years housed Allen Jerkens and his horses.
The sign is at Gulfstream Park this summer for the first time, the summer meeting in Florida offering an opportunity for the Chief to stay south, to eschew the rigors of packing up a house and a barn and moving a thousand miles north, first to Belmont Park | BloodHorse.com Track Profile">Belmont Park, then further north to Saratoga.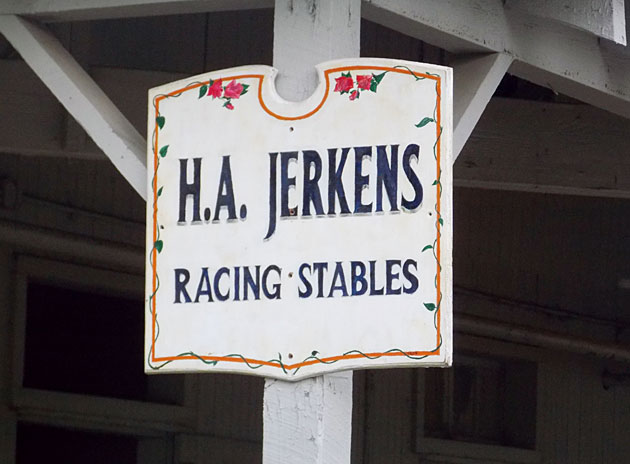 "It's a little harder to get around," Jerkens admitted by phone from Gulfstream. "But there's something so special about Saratoga. I miss being there."
Now 85, Jerkens still gets some good horses, and two of them, stakes horses Classic Point and House Rules, both owned by long-time client Joseph V. Shields, Jr., are in Saratoga, in the barn of Jerkens' son Jimmy.
"I hope they do good for him and Mr. Shields," said the Chief.
"I talk to him two or three times a week," said Jimmy. "Fortunately, you're so busy you don't have time to dwell on (his not being here), but when I go to the backside in the afternoon to watch races, it gets to you a little bit."
The elder Jerkens' absence is keenly felt, his usual haunts bereft of his presence. A fixture at the corner of the backstretch coffee stand, he is instead this summer on the trainer's stand in Hallandale, sitting in the spot on the bench that is reserved for him by a plate with his name on it.
"It's just not the same without him," remarked his coffee-stand partner, former trainer Bill Hirsch, whose grandfather Max trained 1946 Triple Crown winner Assault. "The thing I enjoyed most about him is that we'd talk about the old-time horses, going back a long time ago. That's all I knew and he loved to talk about them."
Jerkens' presence in the entry box has diminished in recent years, the result of a dwindling stable, but to habitués of the Saratoga backstretch, his presence on the backstretch remained as imposing as ever.
"It's like coming home and you can't find your father," said Ralph Theroux, who got his first job on the racetrack with Jerkens, walking hots as a teenager in 1961. "Other than my father, he taught me more about this game than anyone else or anyone ever could."
His barn, inside the little pony track in the complex built by August Belmont II more than a century ago, now holds the overflow from the big stables nearby; David Jacobson; Jerkens' former assistant Mike Hushion; and Ian Wilkes all have stalls in the barn near which Jerkens used to organize afternoon football games.
"I always worked for him up here," said Hushion. "I slept in that back bunkhouse for five years."
Said Wilkes, one of his backstretch neighbors, "I'm just so used to seeing the Chief. I was fortunate to go to dinner with him one time, and I said, 'Allen, I have to talk horses with you.' I asked him questions, and the knowledge and what he's seen over the years—it's just fascinating."
Echoed jockey agent Mike Kelley, "Every time you talk to the Chief, it's like going to college."
The campus has moved this summer, from the Adirondacks to South Florida, and Saratoga's loss is Gulfstream's gain. The lessons and the history continue, with a whole new group of students who will be regaled with the stories that have entertained Saratoga for decades.
Jerkens' most recent—but hopefully not his last—win at Saratoga came last summer when Go Unbridled won the Saratoga Dew Stakes.
"That was something," he said. "I was so glad we had her ready."
The Chief expressed some regret that he didn't make the trip this summer. "Maybe I should have tried harder to come," he said, wistfulness mixing with pragmatism, sentiments echoed in the thoughts of his former assistant.
"When I heard he wasn't coming, I was sad, and I'm still sad," said Hushion. "But my only thoughts are that he's healthy and happy."