By Anne Peters
The good 4-year-old Itsmyluckyday won the Salvator Mile Stakes (gr. III) at Monmouth Park July 6. He joins an impressive roster of winners of this historic event, run since 1948 and taken previously by Flower Alley, Distorted Humor , Smart Strike, and Slew City Slew. The race itself commemorates the great 19th century champion Salvator, who set a world record (1:35 1/2) for a mile in a time trial, on the straight mile course at old Monmouth Aug. 28, 1890. Hence the name of the race, the "Salvator Mile."
Bred by Daniel Swigert and foaled at his Elmendorf Stud April 30, 1886, Salvator was a splendid animal and sold for $4,500 as a yearling to James Ben Ali Haggin, one of the wealthiest men in America. A big, handsome chestnut with a blaze and four white stockings, the colt was originally named "Effendi," but was later renamed Salvator, after Haggin's valet.
Salvator resembled his sire, imported Prince Charlie, who was a magnificent, massive stallion sired by another racing darling, English Triple Crown winner Blair Athol. Prince Charlie was known as "the Prince of the TYC," because although he won the Two Thousand Guineas at a straight mile at Newmarket, he loved the TYCs, the 2-year-old sprint courses, at various racetracks around England.
The dam of Salvator was Salina, winner of the Monmouth Oaks in 1871. Salina, bred at Woodburn Stud, was by the 18-time leading sire Lexington, and became one of several top-class producers from the mare Lightsome. This was a great American racing family, having also produced Vandal, Luke Blackburn (won 23 of 25 starts at 3 in 1880), and Leonatus (1883 Kentucky Derby winner). The family was developed at the Dudley farm, Fairlawn, on the outskirts of Lexington on a once-rural stretch of the Maysville Road, now known as North Broadway.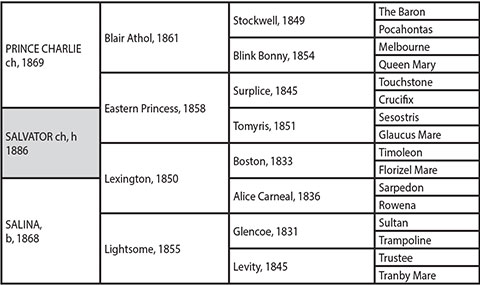 Salvator was a good 2-year-old but became the best 3-year-old of his year, and was the nation's undefeated champion and heart-throb at 4. His match race that year with the stubborn Tenny, in which he set an American record for 1 1/4 miles (2:05) when winning by a nose, inspired the famous poem "How Salvator Won" by Ella Wheeler Wilcox. Written from the point of view of Salvator's jockey, the legendary Isaac Murphy, its closing lines captured the intense thrill of the finish:
"There's a roar from the crowd like the ocean in storm,
As close to my saddle leaps Tenny's great form,
One more mighty plunge, and with knee, limb and hand,
I lift my horse first by a nose past the stand.
We are under the string now—the great race is done,
And Salvator, Salvator, Salvator won!"
Haggin adored Salvator and in 1891 retired him at the head of his vast stud farm, Rancho Del Paso, near Sacramento, Calif. When Haggin decided to own a farm in Kentucky in 1897, he selected Elmendorf, the one that had produced three of his biggest racing stars: Salvator, Firenze, and Kentucky Derby winner Ben Ali, the self-same Elmendorf Farm. Salvator was shifted from California to stand at Elmendorf late in 1900 and lived out his days in the monumental stallion barn that Haggin had built for him. It still stands and is still awesome, at Elmendorf Farm.
Unfortunately, Salvator was not as great a sire as he was a runner. He got 14 stakes winners, led by 1902 Futurity winner Savable, Salvation, George Kessler, and Salvable. Many of his offspring were good juveniles, so he was obviously channeling his own brilliant speed, but he left no lasting legacy.
In August 1909, Salvator was exhibited for three days at the Woodford County (Kentucky) Fair. Just a month later, on Sept. 22, Salvator died "from overfeeding," at age 23. The New York Times headline read "World's Fastest Race Horse Dead."
Haggin had Salvator placed in a coffin and buried on the lawn near the great mansion Green Hills that he built at Elmendorf. A granite shaft inscribed with "Salvator" was placed over the grave, and there begins a mystery because no trace of Salvator's marker or grave seems to have survived.
The mansion was razed in 1929 by Joe Widener, leaving only the four columns that marked the grand portico. On a good day the columns can still be seen from Iron Works Pike. It's possible that Salvator's monument disappeared or was destroyed during the demolition, or it's possible it was simply moved as a temporary measure and forgotten, or even stolen.
Salvator was in the first class of runners inducted into the National Racing Hall of Fame at Saratoga in 1955. Although his grave may be lost, the memory of Salvator and his record-setting mile lives on every year when Monmouth Park runs the Salvator Mile.