Cheyanna Patrick is doing double duty on the education front, honing her skills as a jockey and laying the groundwork for a possible career as a lawyer.
It's a heavy load for the 17-year-old daughter of Gary and Cindy Patrick, who are based as usual at Indiana Grand Race Course. But she seems to have it all figured out despite her age.
"I never wanted anything to do with riding until last year," she said. "Our gallop help quit, and my dad told me to get the tack on and gallop some horses. I really liked it. Then my dad asked me if I wanted to ride in races."
Patrick began her riding career at Fairmount Park in Illinois last year. She then rode for her parents at Tampa Bay Downs this past winter. The schedule worked well because she's enrolled at the University of South Florida in Tampa.
Home-schooling after her first semester in high school put Patrick on an accelerated schedule. She's currently a sophomore at USF with an undeclared major, but she said the plan is to attend law school. She figures to be in college another six years.
"I'll probably keep riding here in the summer while I'm in college," Patrick said. "I'm riding horses to save money for school."
Patrick is following in the steps of her mother, though Cindy Patrick got started as a jockey later in life. She won 387 races, 340 of them for her husband, and retired in 2000.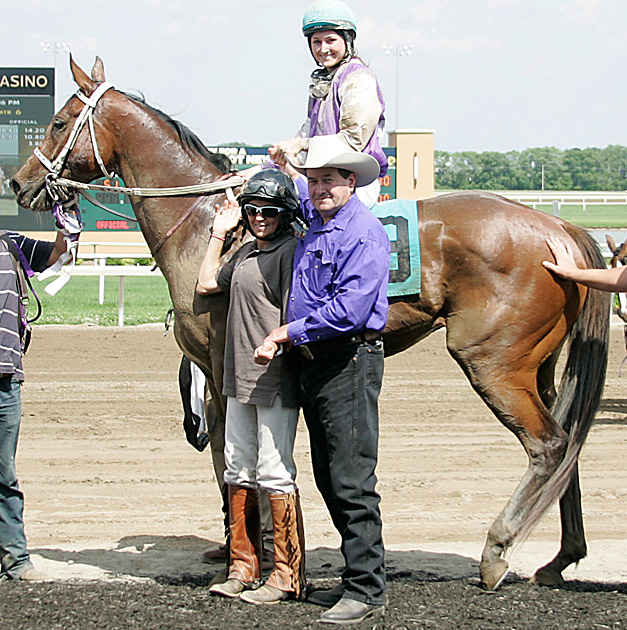 "I was a 29-year-old bug girl in 1988," Cindy Patrick said, "but I had been riding horses since I was a year old. I later rode in barrel races. Cheyenna won the All American Youth Barrel Race when she was 13 years old. I really think it helps that she rode barrel horses and (participated in) rodeo."
Cindy Patrick, who has a trainer's license and last year won a barrel racing championship title in Indiana, said it helps that she knows most of the horses her daughter rides. And when it came to giving her advice as a jockey, it was simple and no-nonsense.
"I told her to be tough and ornery," said Cindy Patrick, who was known as one of the better gate riders at Atlantic City Race Course when she rode there in late 1980s and early 1990s. "I did give her a few pointers on how to ride certain kinds of horses, but that's about it.
"I think Cheyanna is doing a great job. When I rode, it was go (from the gate). I think she's a very patient rider, but we all we make mistakes."
The Patricks have 60 horses in training, 30 at Indiana Grand and 30 at their Indiana farm, where they keep broodmares and breed for the Indiana-bred program. They also have a farm and training track located halfway between Tampa and Ocala in Florida.
Gary Patrick, who was a saddle bronc rider, has won more than 1,600 races, according to Equibase, and usually is among the leading trainers at Indiana Grand. Cheyanna Patrick, who had 13 wins and 33 second and thirds in 100 starts through Aug. 5, said she enjoys riding for her parents, but the situation has its own pressures.
"It's a lot of pressure riding for dad because I'm expected to do the best I can," Patrick said. "I read the past performances and watch videos, but when you're out there on the track you just have to ride the race.
"It's my family, and I don't want to cost my family any money. I love it. It's a family business and we all work together. But unlike other jockeys that go to their own house after riding, I go home with the trainer."