Frank Stronach has never let a pedigree's lack of fashion stand in the way of giving a good racehorse a chance at stud. His stallions include grade I winners sired by Spend a Buck, Pleasant Tap, Holy Bull, and E Dubai, names not usually seen as sires of sires. Nonetheless, Einstein, Tiago, Macho Uno , and Fort Larned all earned their way into Adena Springs Kentucky's stallion roster on racing merit, and they are being joined by another top racehorse with an offbeat pedigree: 2013 Breeders' Cup Classic (gr. I) winner Mucho Macho Man .
Mucho Macho Man will become the fifth Breeders' Cup Classic winner on Adena Springs' Kentucky stallion roster, joining Alphabet Soup (1996), Awesome Again (1998), Ghostzapper (2004), and Fort Larned (2012). Fort Larned (E Dubai—Arlucea, by Broad Brush) stood his first season in 2014, but the other three have been of some interest at stud.
Alphabet Soup (Cozzene—Illiterate, by Arts and Letters) has never been a top sire but has a respectable 47 stakes winners (5.6%) from his 834 foals aged 3 and up. He came back into the public eye last fall when his daughter Egg Drop scored thrilling victories in the Yellow Ribbon Handicap (gr. IIT), Goldikova Stakes (gr. IIT), and Matriarch Stakes (gr. IT). He is also the sire of 2004 UAE highweight older male Our New Recruit, 2003 Canadian champion older male Phantom Light, and grade I winner Alphabet Kisses.
Awesome Again (Deputy Minister–Primal Force, by Blushing Groom) has a pedigree to satisfy almost any critic as he is by a two-time leading sire out of a Kentucky Broodmare of the Year. Not surprisingly, his combination of racing class and bloodlines has translated well to the breeding shed, where he has become Adena Springs' premier stallion. The 20-year-old has sired 60 stakes winners (6.7% of his 899 foals aged 3 and over) including 2004 Horse of the Year Ghostzapper, 2007 champion older female Ginger Punch, and eight-time grade I winner Game On Dude.
Ghostzapper (Awesome Again—Baby Zip, by Relaunch) did not get off to as quick a start at stud as his half brother, 2000 Hopeful Stakes (gr. I) winner City Zip (by Carson City). Still, it has been worth the wait. The stallion now has 40 stakes winners (10.9%) from 366 foals aged 3 and older and is represented by eight stakes winners so far this year, including Madison Stakes (gr. I) winner Judy the Beauty.
In regard to pedigree credentials, Mucho Macho Man has more in common with Fort Larned than with the very well-bred Awesome Again and Ghostzapper. His sire, 2000 champion juvenile male Macho Uno (Holy Bull—Primal Force), has sired 29 stakes winners (5.5%) to date from 523 foals aged 3 and older. Mucho Macho Man is his leading earner, but Macho Uno has also sired North American grade I winners Macho Again, Wicked Style, and Panamanian champions Tolomeo and Private Zone, as well as Canadian classic winner Harlem Rocker.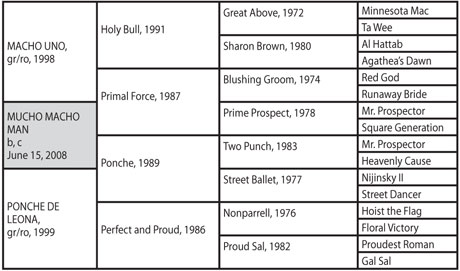 Mucho Macho Man's distaff pedigree has room for upward mobility as his dam, the stakes-winning Ponche mare Ponche de Leona, has a juvenile colt by Macho Uno, a yearling filly by Tapit , and a 2014 colt by Distorted Humor . The female line behind Ponche de Leona is rather weak but traces to Sun Mixa, also the ancestress of the famous Golden Trail family of the late Dynaformer. Given that both Mr. Prospector (Mucho Macho Man's inbred ancestor) and Blushing Groom (broodmare sire of Macho Uno) have worked very well with Roberto (Dynaformer's sire), daughters and granddaughters of Dynaformer with suitable conformation may be an angle worth considering with Mucho Macho Man.
As a staying, late-maturing horse, Mucho Macho Man is a type usually not attractive to the commercial market. Fortunately for his prospects at stud, he will be getting support from Stronach. Also, his own late development is probably a function of his huge size and late foaling date; given average-sized mates and the juvenile form of his own sire and dam, it seems reasonable to assume that his progeny will come around faster. Based on his own form while still an immature 3-year-old, he may be a good choice for people looking for a sire with outcross bloodlines and the potential to get two-turn horses.