By Anne Peters
July belonged to Lemon Drop Kid , who was represented by five stakes winners, four graded, featuring Somali Lemonade (gr. IT), Hangover Kid (gr. IIT), Aurelia's Belle (gr. III), Kid Cruz (gr. III), and Unspurned. For the year he has 10 stakes winners, six group/graded, and it's only August.
Lemon Drop Kid's pedigree is as elegant as you can find in today's breeding circles. His sire is the brilliant French miler Kingmambo, by Mr. Prospector, and he is out of Miesque, two-time winner of the Breeders' Cup Mile (gr. IT). Miesque was sired by another regally bred champion miler, Nureyev, by Northern Dancer out of Special.
Lemon Drop Kid's dam was the winner Charming Lassie, a daughter of Triple Crown winner and leading sire Seattle Slew out of the grade III-winning Lassie Dear. Charming Lassie was a close relative to the 1992 Horse of the Year and two-time leading sire A.P. Indy, also by Seattle Slew, but out of Weekend Surprise, another daughter of Lassie Dear. Lassie Dear was by Buckpasser. Lassie Dear's dam, stakes winner Gay Missile, was by Sir Gaylord, and her dam, Missy Baba, had also produced the 1980 leading sire Raja Baba. That's a pretty nice gene pool.
Racing for Jeanne G. Vance, Lemon Drop Kid came to hand early and was one of the best 2-year-olds of 1998; his wins included the Futurity Stakes (gr. II). At 3 he won the Belmont (gr. I) and Travers (gr. I) stakes but lost the division title to Charismatic, who broke down irreparably when finishing third in the Kid's Belmont. Lemon Drop Kid took home a well-deserved Eclipse Award at 4 as champion older male.
Lemon Drop Kid was the complete package when he went to stud in 2001 with an impeccable pedigree, top-of-his-class ability all three years racing, and dashing good looks. In type he looks more like his dam's side of the pedigree, being a tall, long-barreled horse, although he has Kingmambo's tremendous hindquarter.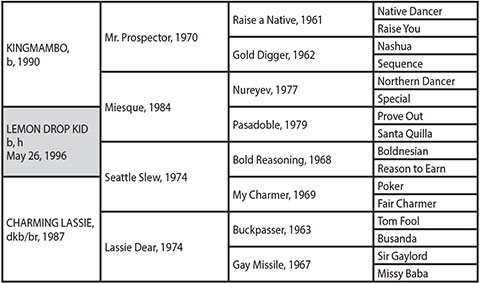 This is the reason breeders were willing to pay an introductory stud fee of $100,000. It dropped to $75,000 in his second season, and $50,000 for the next three years while things percolated. To be honest, it was looking dicey for the young prince until the fall of 2006, with three crops running. As a precaution, his fee was dropped to $20,000 in 2007, but then the tide turned. He's remained an upper-middle class mainstay ever since.
Yes, Lemon Drop Kid, like his sire, has earned a reputation as a turf sire, and his offspring usually improve with age and distance, although he sometimes has a colt on the classic trail as he did this year with Kid Cruz, but he sires class, class, and class. He's sired 79 stakes winners (8.1% stakes winners from foals of racing age), 33 group or graded. His leading earner is the ultra-tough Richard's Kid , who ran through the age of 8 and earned $2,482,259, including two winning efforts in the Pacific Classics (gr. I).
Lemon Drop Kid is an equal opportunity stallion, crossing with a broad range of bloodlines. Richard's Kid, for instance, is out of a mare by Broad Brush, which adds some more Turn-to, and his second dam, by Private Account, is bred similarly to Lemon Drop Kid's dam, Charming Lassie, with Bold Ruler, Buckpasser, My Babu, Glamour, and Princequillo in combination.
Somali Lemonade, now his leading distaff earner, is out of a mare by Nureyev on a Mr. Prospector mare, which is the reverse of the cross found in Kingmambo. She's closely inbred 4x2 to Nureyev and 3x3 to Mr. Prospector.
Lemon Drop Kid's grade I-winning filly Citronnade, out of a mare by Argentine Lord At War, is an absolute outcross for six generations, which is hard to find in this day.
Lemons Forever, his Kentucky Oaks (gr. I) winner, has a link to Citronnade, and although she's not a total outcross (there's linebreeding to Boldnesian and Forli), she's out of an Argentine mare by Tough Critic, a son of Grey Dawn II. Grey Dawn II was also the sire of the second dam of Citronnade.
Christmas Kid, a grade I winner out of a mare by Green Desert, represents another good cross.
It's no surprise that mares by Lemon Drop Kid are carrying on his classy bloodlines, producing 19 stakes winners so far including group/graded winners Elusive Kate, Lochte, Cozzetti, and Flashy Lassie.
Lemon Drop Kid was born a class act and just keeps on going.