Text and Photos by Amy Hart
Carol Seaver sits quietly by the rail of the backstretch at Saratoga Race Course, sipping coffee in the early morning light as jockeys and exercise riders take their horses out for the first run of the day. She is watching with the focused, peaceful gaze of a Zen master.
A keen observer of the subtle nuances of movement, balance, and alignment, Seaver takes it all in and tunes into the Thoroughbreds that need her attention. She is an equine physical therapist, and when she works on horses, magic happens.
When the runners come off the track, Seaver makes the short walk to the barns to work on her selected clients with a specialized technique she has developed from a background in physical therapy, Chinese medicine, cranial sacral manipulation, osteopathy, and an eclectic list of other healing arts. You would be hard-pressed to find the combination of skills and talents she offers in any health clinic or alternative spa for humans, much less horses, but Seaver doesn't really differentiate between the two. She is a healer, and the lucky recipients of her energy feel the difference no matter who they are.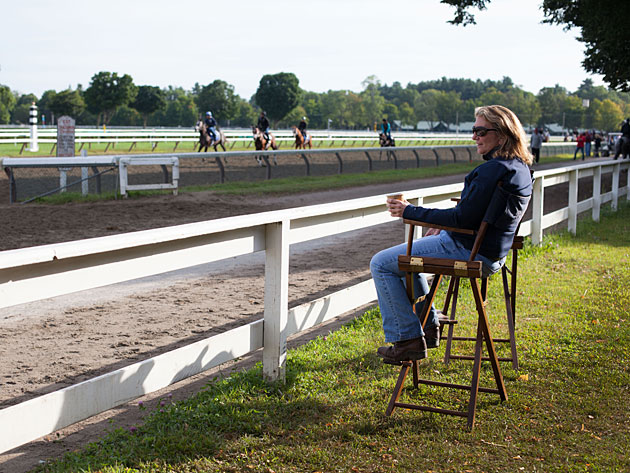 Equine therapist, Carol Seaver carefully observes the horses training on the Saratoga race track.
I follow her into the stall of Sweet Whiskey, one of the many world-class racehorses entrusted to Eclipse Award-winning trainer Todd Pletcher. The filly is a bit skittish at first, and a groom holds firmly to the shank in order to keep her in place as Seaver begins the treatment. But before long, a wave of relaxation takes over and the filly's eyes flutter back in her head as she sinks into pure bliss.
Seaver's movements are quiet and subtle as her hands move from back to chest to hind leg to neck with firm but light pressure.
"Ah, there you go," she says as the horse shakes off another release—similar to the way one sighs after a chiropractor makes an adjustment in just the right way.
The change in energy is palpable as the horse melts from the pleasure of her touch, and Sweet Whiskey expresses no concern as I crawl around the stall to photograph horse and healer at another angle.
Toward the end of the session, Seaver holds out a carrot and lifts it farther and farther away so the horse has to bend sideways in order to reach it.
"I'm making her stretch her neck," Seaver explains. Then she holds another carrot between the filly's front legs so that she has to curl her neck downward and stretch out her back in order to get her treat. When she is done Sweet Whiskey lets out a sigh, looking as if she's had a shot or two of her namesake.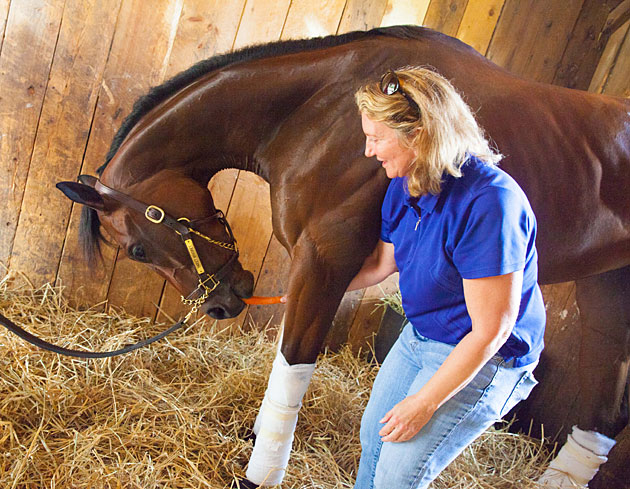 Sweet Whiskey happily stretches out her back to reach for a carrot held by equine physical therapist Carol Seaver.
Seaver has always been comfortable around horses. As a 3-year-old she was put on a horse that promptly ran away at breakneck speed. After chasing the runaway for 45 minutes, the neighbor that rescued her was traumatized, but the young girl was unfazed by the wild ride and never knew she should be scared. She went on to compete in dressage and later developed a career in the healing arts for humans. She was not trained as a veterinarian or equine masseuse, and had little knowledge about the race world when she first entered the scene in 2003.
Seaver is a licensed physical therapist and, prior to treating horses, had a practice treating people near Montague, Mi. Since she had a background in dressage, she developed a clientele that included a number of international riders and judges. Noticing misalignments in the horses, she wanted to see if her treatments could help them as much as humans. A trainer allowed Seaver to treat a few of her horses, and they quickly showed dramatic improvements in dressage competitions.
Soon after, while trying out her technique on a few horses near Lexington, trainer Peter Kirwan invited her to see what she could do with a valuable colt by Giant's Causeway who had been diagnosed as a wobbler. The colt had been put out to pasture after being written off by underwriters who had paid out on a claim of nearly half a million dollars.
"After just two hours you could see the change; it was really impressive," said Kirwan. "After a half a dozen treatments that horse was as good as new, so the insurance company sold it to Sheik Maktoum who then named it Shamardal."
Shamardal went on a winning streak, notching four group I races en route to european championships two years in a row.
Seaver was then tapped by trainer Barclay Tagg to provide treatments to Funny Cide, winner of the Kentucky Derby (gr. I) and Preakness (gr. I), among other high-profile events. So began her career in the world of racehorses, where she has been working ever since.
With her quiet focus and devotion, Seaver has gained respect from professionals in the backstretch. Todd Pletcher trusts her not just because of the dramatic effect her work has on his horses, but because she also provides treatments for him and his wife, as well as for many of the owners and partners.
"Once they experience the treatments for themselves, they understand the fee that shows up in the trainer's bill," Seaver explains.
The atmosphere in the stables is remarkably peaceful and serene; and every interaction I witness feels calm, focused and nurturing. I see this not just with Seaver, but with everyone working in the backstretch from entry-level grooms to the most established trainers.
"What frustrates me," says Carol, "is that people don't realize the amount of time and energy and love and simple everyday quiet care that goes into getting a horse to the races and maintaining it. The truth is, happy horses run better, and we all do our best to keep them happy."
After photographing in the backstretch all morning, I head over to the frontside to watch the races. Seaver escorts me to a nice spot at the finish line and then pardons herself in order to go home and participate in a teleconference on Kriya yoga, a practice that cultivates spiritual development through meditation—a path she has followed for more than two decades. The advanced training session seems to amp up her extraordinary energy even more and when I see her again three hours later she is literally vibrating. Seaver explains that the meditation practice strengthens the work she does and keeps her calm and centered.
Seaver returned just in time to watch the highly anticipated Alabama Stakes (gr. I), and was quite thrilled when the winner was none other than Stopchargingmaria, a 3-year-old she's been treating since the filly began racing.
To celebrate the win, Seaver and her friends head to dinner at Jack Dillon's, a popular post-race restaurant. There, she happens to run into Funny Cide's managing partner Jack Knowlton.
Jack raves about Seaver as he tells the story from his perspective.
"Back in the day with Funny Cide, you know he had issues, particularly with his back and muscles, and Carol did massage on Funny Cide, and she helped us a lot with this horse. He raced for 6 years and Carol did a lot of work with him all of that time," Knowlton said. "I've been in the stall with Carol when she does it and I'd see the horse kind of go 'Ahhhh' and they absolutely love it. They just fall to pieces when she comes in and starts doing what she does. It's amazing. I almost wanted to say, 'Wow! I want you to work on me!'"
Jack's wife Dorothy echoes his sentiments. "I was a little jealous at first because I didn't have a masseuse like that!" she says. "But Funny Cide just loved it, and he responded to her because her touch was so incredible."
Dorothy explains that Funny Cide had a bad habit of rearing up on his hind legs, which strained his legs and back, and diminished his racing abilities. "And Carol could bring him down and make him relax and it was wonderful," she recalls. "Finally I got over the jealousy once he won the Derby!"
Luckily for the owners and trainers of horses she works on currently, humans can now enjoy Seaver's magical touch as much as the horses. "I want to work with both," she says. "Life is all about creating a balance."
Kirwan, who raves about her treatment on his own injured back, concurs in his passionate Irish brogue, "I don't know what she does, but it's pure magic."