Gelfenstein Farm in Ocala, Fla., represents the realization of a lifelong dream for its owner, Ivan Rodriguez Gelfenstein.
In charge of carrying out that dream and overseeing the Ocala facility are the operation's general manager Vidal Martinez and chief operating officer Juan Arnaldo Pacanins.
"We are very proud of what we are building," said Pacanins. "This is the beginning of delivering the dream. Our intention is to offer the best services possible and help improve Ocala's horse industry. We care and we want to make a difference."
Passionate about Thoroughbreds from an early age, Gelfenstein was introduced to the equine industry as a youngster when his parents bred horses in Chile. He owned his first horse at age 24 and has participated in the equine industry for 31 years.
Originally from Venezuela, Gelfenstein, an international businessman, splits time between his native country and South Florida. He opened the doors to Gelfenstein Farm in 2013.
Gelfenstein Farm was established on land that once was Leprechaun Farm, and in its nascent stages keeps a central focus on breaking and training, as well as lay-ups and rehabilitation.
The main farm sits atop nearly 70 acres, housing 22 large paddocks, three barns containing 72 stalls, a half-mile dirt track complete with a teletimer, a training swimming pool with a high-pressure stream, and a mechanical treadmill.
According to Pacanins, extensive renovations were needed to get the farm in shape prior to the arrival of the first horses last year.
"We had to turn the place right side up," related Pacanins. "It was upside down when it was bought. It required a lot of time, money and energy to get it where it is today."
Where it is today and how far the property has come is evident upon arrival at the main entrance. Sparing no expense, a mammoth gate lined by concrete walls with "Gelfenstein Farm" emblazoned on both sides welcomes visitors.
Once inside, the meticulously manicured grounds announce the farm's attention to detail. Artwork and sculptures dot the facility's landscape.
"We wanted the farm to represent the owner's passion for horses," said Pacanins. "The idea is to make a gallery on the farm, something for people to enjoy."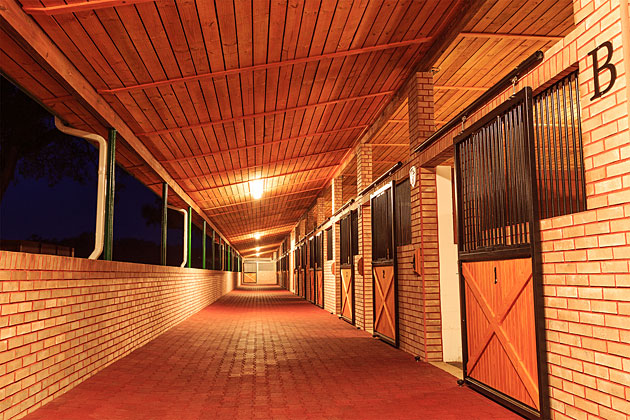 All of the structures at Gelfenstein are equipped with the latest in modern technology, including video cameras for monitoring daily activities of care and training. The video feeds are accessible to the farm's clients.
"We monitor the horses around the clock," said Martinez with Pacanins acting as interpreter. "We keep track of every detail and we make it all available to our clients. We want everyone to be able to check on their horses anytime that's convenient for them."
Detailed biographies on each horse are stored in the farm's database. Clients have access to the information at any time of the day or night through a password-protected portion of the farm's website.
"We know the way we do things is different, it's unique," said Pacanins.
The first runners broken and trained last year at Gelfenstein Farm have shipped to South Florida and are in training with Antonio Sano.
The best horse to race in Gelfenstein's colors is stakes-placed Bon Accord. The 2011 ridgling by Showing Up out of the Street Cry mare Best Regards has won two of seven starts and earned $132,120.
Trained by Sano, Bon Accord finished fourth in last year's Breeders' Cup Juvenile Turf (gr. IT) at Santa Anita Park. He concluded his 2013 campaign with an eighth-place finish in the Dania Beach Stakes (gr.IIIT) at Gulfstream Park, but kicked off this, his 3-year-old season, with a third-place finish in the Lincoln Stakes at five furlongs on the turf at Gulfstream in April.
The farm has designs on standing its best horses as stallions. The Gelfenstein Farm-owned colt Artempus, a 3-year-old son of Unbridled's Song out of the Giant's Causeway mare Seeknfind, is likely to be the farm's first stud in 2015. Winner of a maiden special weight at Calder Casino & Race Course last year, he has a stallion's pedigree.
"He showed us a lot of talent on the track," said Pacanins. "He had potential. He had a decent campaign but ran into some issues. Based on pedigree, alone, he deserves a chance. He has the right blood.
"The idea is to take some of our horses from the racetrack and stand them here," Pacanins added. "We want to offer quality bloodlines for breeders."
Culture and a healthy work environment for employees is an important facet of the farm's philosophy. Martinez believes the high performance standards set by the farm's management team combined with results at the track and in the sale ring will be vital to the farm's future success in attracting clientele.
"We want everyone in the business to know that Gelfenstein Farm is a name they can trust," he said. "That's why we are proving that our system works with our own horses before we expand our client base. We want to be sure our methods work."
The Gelfenstein team, often adorned in the farm's bold orange and black colors while scouting prospects at auctions, is hard to miss.
"We are a solid family and we want to show everyone that," said Pacanins. "We have a commitment to what is best for the horse and that's what we all represent.
"If you have a good, knowledgeable team you can do anything," he added. "Without the right people it just won't work. This is the result of a lot of hard work from a lot of people."
It's safe to say that Gelfenstein's dream is in good hands with Martinez and Pacanins and appears well on its way to fruition.
"Building a place like this makes you want to come to work every day," said Pacanins. "We're happy to be here and we're excited to keep growing."