The victory by Super Saver in the 2010 Kentucky Derby Presented by Yum! Brands (gr. I) could not have been timed any worse for owner/breeder WinStar Farm from a strictly commercial point of view.
"We laugh at times that we won the Derby on the wrong year," said Elliott Walden, president of WinStar, which is owned by Kenny Troutt. "The market was at its lowest. Kenny likes to joke that his ship came in, and he was at the airport."
The market for stallion prospects and the activity among breeders slowed to a crawl along with the rest of the world's economies, all impacted by the sub-prime mortgage-lending crisis. WinStar simply didn't have many options with the classic-winning son of Maria's Mon out of the A.P. Indy mare Supercharger other than to make him a stallion on its own.
"Looking back, who knows? If the market was really rolling, we might have sold him as a yearling or a 2-year-old," Walden said.
The worst of timing wound up creating one of the best opportunities for WinStar to begin rebuilding a stallion roster that was aging. The farm's marquee stallion Distorted Humor was 18 and stalwart Tiznow was 14 at the time Super Saver retired to stud, and Troutt had begun aggressively searching for younger stars to take their place.
Super Saver has definitely begun stepping up to fill the future void. He currently leads the North American freshman sire list with more than $938,000 in earnings and three stakes winners, of which two are graded stakes winners—grade I Hopeful winner Competitive Edge and grade II Toyota Saratoga Special winner I Spent It (who finished second in the Hopeful).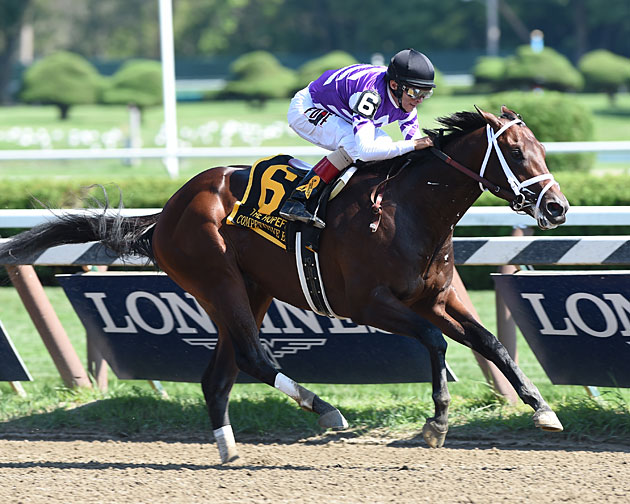 "Having four winners at Saratoga, where our primary 2-year-olds come out, was big," said Walden.
Super Saver did face some stiff competition among the entering stallions of 2011. While he did win the Kentucky Derby, he finished unplaced in his next three starts in the Preakness Stakes, Izod Haskell Invitational Stakes, and Travers Stakes (all gr. I). His competition for mares his first year at stud included Breeders' Cup Classic (gr. I) winner Blame , two-time champion Lookin At Lucky , and four-time grade I winner Quality Road . Super Saver ranked eighth in his sire class by the Comparable Index (a rating indicating the quality of his foals' dams) with a 1.78. Blame, Lookin At Lucky, Eskendereya, and Quality Road all had CIs above 2.00. Super Saver did have numbers on his side, with the largest initial foal crop of 117.
His first crop was well enough received as indicated by a weanling average of $61,000. They blossomed as yearlings, and their commercial value rose accordingly to an average of $91,640 for 73 sold. While Super Saver's progeny tend to be medium-sized, they all seem to possess good balance and athleticism.
"We have a number of them on the farm, and they're all correct, stylish, and athletic," said Peter O'Callaghan of Woods Edge Farm, who is selling a Super Saver daughter out of Evrobi, the dam of grade I winner Tell A Kelly, on Sept. 11 at the Keeneland September yearling sale.
"The one we have here is not a big, robust filly, but she has a nice bit of quality and presence," O'Callaghan said about Hip 625. "We have a few nice ones in the next book, too, that could have easily been in Book One." One of those is Hip 769, a filly out of Latin Lynx, the dam of grade I winner Sean Avery and two other stakes-placed runners.
Richard Kent's Kaizen Sales sold the first Super Saver at the September sale; actually, the first horse through the ring of the 13-day auction. The filly out of stakes producer La Defense sold for a solid $190,000. Kent said he didn't have any concerns about being the first one across the Keeneland stage.
"I told the client not to worry, I could sell a Super Saver in Alaska right now," Kent said. "At the 2-year-old sales this year, they all looked athletic—well-balanced athletes."
Book One has a third Super Saver filly that also sells Sept. 11, a big bay daughter of the Coronado's Quest mare Glory and Grace. Hip 674 is being sold through the Lane's End consignment and is out of the family of 1999 Coaching Club American Oaks (gr. I) winner On a Soapbox, who went on to produce multiple English group winner Soapy Danger.
Walden said it was during the 2013 yearling sales that he started to get his hopes up about Super Saver's potential.
"We encouraged the pinhookers to buy them by reminding them he was a good 2-year-old," he said. Super Saver won the Kentucky Jockey Club Stakes (gr. II) by five lengths at 2 in track-record time of 1:42.83. "His progeny have the neck, the shoulder, they really look the part, and (the pinhookers) bought a lot of them."
The young stallion's first 2-year-olds averaged $140,382 at auction, with his top three sellers all having become winners—Competitive Edge ($750,000), High Dollar Woman ($675,000), and I Spent It ($600,000).
"You know, our biggest concern after the 2-year-old sales was that his bar was set so high, it would be hard for him to match the expectations," Walden said. "But since his first yearlings, he has moved forward at every juncture. They were good yearlings; went to the 2-year-olds sales and they were even better. Then the 2-year-old horses went out and won a grade I and a grade II.
"Along the journey of a horse, whether it is one you buy as a yearling or whether it is mare, a lot of it ebbs and flows. There really has not been a point that he disappointed us."