Though Hollywood Gaming at Mahoning Valley Race Course in Ohio is open for business, construction continues on the stable area in advance of the scheduled Nov. 24 launch of Thoroughbred racing.
The Penn National Gaming Inc. property located just west of Youngstown began offering video lottery terminal gaming and full-card simulcasts Sept. 17. According to local news reports, the opening was moved up by a half-hour because of the crowd waiting to get in.
Mahoning Valley will replace Beulah Park near Columbus on the Ohio racing circuit. It will race from late fall through early spring and form a two-track circuit with ThistleDown Racino, formerly called Thistledown, near Cleveland.
The facility will have 13 barns with a total of 988 stalls. Each barn will have three bath stalls, 12 storage areas, and three tack rooms. The stalls are made of tongue-in-groove pine.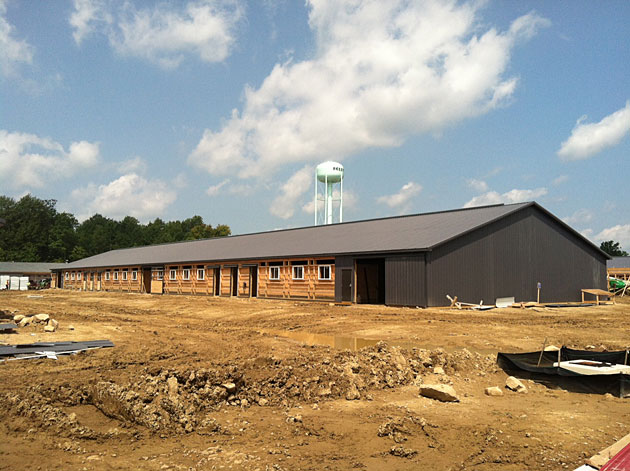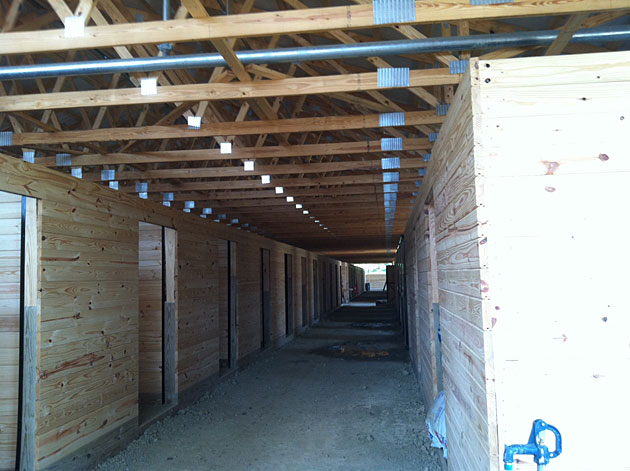 Mark Loewe, vice president of Ohio racing operations for PNGI, said the one-mile racing surface at Mahoning Valley will be topped by a layer of sand and dirt that comes from the same quarry used by ThistleDown and Mountaineer Casino, Racetrack & Resort in neighboring West Virginia for their surfaces. The three tracks are located in proximity and will draw largely from the same horse population.
The base of the surface is native soil topped by six inches of clear drainage stone with a layer of fabric between the two, Loewe said. Another layer of fabric was placed between the drainage stone and a layer of stone dust, which is topped by the cushion.
Loewe said the five-eighths-mile racing surface at Hollywood Gaming at Dayton Raceway, which will begin its live harness meet Oct. 3, was built the same way with the exception of the dirt cushion.
Mahoning Valley plans to race four afternoons a week: Mondays, Tuesdays, Wednesdays, and Saturdays. PNGI vice president of racing Chris McErlean said purses "will be conservative in the beginning," probably $50,000-$60,000 per day because of an overpayment during the final Beulah Park meet earlier this year.
McErlean said the schedule, which mirrors that of Beulah Park, is designed to attract simulcast play on weekdays and on-track betting on Saturdays.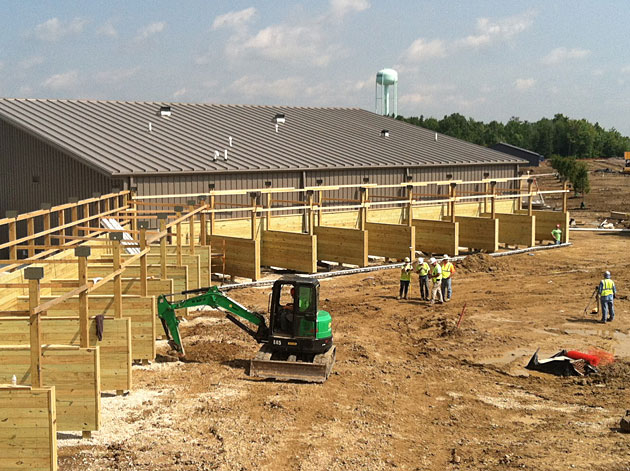 "There's still a niche out there in terms of daytime racing," McErlean said. "Saturday will be a day for the on-track crowd, but there are opportunities in the simulcast marketplace for the signal (early in the week)."
The grandstand racing areas at Mahoning Valley and Dayton are similar with a first-floor simulcast area that leads out to the apron, and a second-floor with some stadium seating, tables with food service, a connecting sports bar, and simulcast accommodations.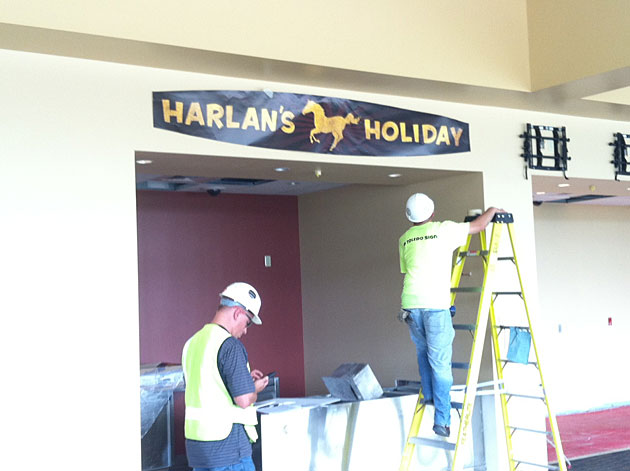 "I do like the way they came out," McErlean said. "We certainly sized them the right way on the gaming and racing side. For days like Breeders' Cup and Triple Crown it may be tight, but the two floors are spaced very well. The apron areas aren't huge but there's plenty of room."