American-bred runners have fared only slightly better in the Breeders' Cup Filly & Mare Turf (gr. IT) over its 15-year history than American golf pros have against their European counterparts in the last 15 Ryder Cup tournaments.
This year the European golf team grabbed its 10th Ryder Cup title since 1985. By comparison, the 15 runnings of the F&M Turf have landed nine European-bred females in the winners' circle.
Six winners of the 15 races (40%) were bred in Great Britain, though Ouija Board skews this number a bit as the only mare to have won the event twice. Lord Derby's brilliant daughter of Cape Cross won in 2004 and 2006. Among the other European-bred winners, two were foaled in France and one in Ireland.
Only four of the winners bred overseas can claim a true title of European invader by having raced exclusively outside the U.S. prior to competing in the Breeders' Cup World Championships. They are Banks Hill (2001), Islington (2003), Ouija Board, and Midday (2009). For three of four competitors, the Breeders' Cup was the only reason they shipped to the U.S.; Banks Hill, Ouija Board, and Midday won on their first attempts.
Banks Hill was the first of three Juddmonte Farms homebreds that have contested the F&M Turf. The daughter of Danehill—Hasili, by Kahyasi, nabbed her first grade I win in 2001 in the Coronation Stakes at Ascot. She would next challenge males twice. At Deauville in the Prix du Haras de Fresnay-le-Buffard-Jacques Le Marois (Fr-I), she finished second to Vahorimix, who had actually finished second but was put up after the disqualification of Proudwings. Banks Hill was then tested in the Prix du Moulin de Longchamp (Fr-I), where she finished second to Slickly and ahead of group III winner Hawkeye.
Shipped right to the Breeders' Cup and to the barn of Bobby Frankel, Banks Hill would win the F&M Turf (run at 1 1/4 miles that year) at Belmont Park by 5 1/2 lengths.
The following year, Banks Hill would arrive earlier in the U.S. to compete in the Yellow Ribbon Stakes (gr. IT) before the F&M Turf, in which she finished second by 1 1/2 lengths to Starine. The 2002 F&M Turf, run at Arlington Park, belonged to Frankel. He not only trained Banks Hill, he also owned and trained French-bred Starine.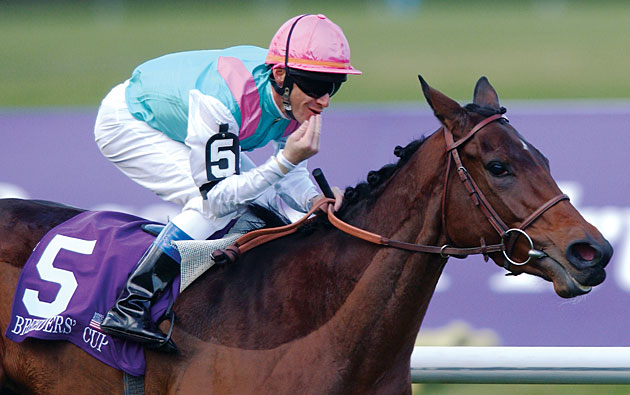 Midday, a Juddmonte Farms homebred daughter of Oasis Dream trained by the late Henry Cecil, won as a 3-year-old. She had a remarkable year in 2009 when she never off the board in seven starts, all made in stakes races. Midday won the Blue Square Nassau Stakes (Eng-I) at Goodwood then finished third in the Qatar Petroleum Prix de l'Opera (Fr-I) before her first Breeders' Cup start at Santa Anita Park.
She defeated Pure Clan by a length with Forever Together third. Midday returned in 2010 to finish a neck behind Shared Account. Midday would return to the Breeders' Cup a third time in 2011 but try instead the Breeders' Cup Turf (gr. IT), in which she finished sixth.
Ouija Board raced five times in 2004, all in stakes and four times in group I events. The 19th Earl of Derby's homebred won the Vodafone Epsom Oaks (Eng-I) and the Darley Irish Oaks (Ire-I) before finishing third in the Prix de l'Arc de Triomphe Lucien Barriere (Fr-I) and winning her first F&M Turf as the favorite by 1 1/2 lengths over Film Maker and Wonder Again. She was not quite herself the following year, waiting until mid-June to make her first start of the season and finishing seventh. Ouija Board would make only one other start in a group III race before trying the F&M Turf again, this time finishing second to the equally brilliant Intercontinental by 1 1/4 lengths.
In 2006 Ouija Board got an earlier start but also faced greater challenges on the world stage. She finished fourth in the Nakheel Dubai Sheema Classic (UAE-IT), third in the Audemars Piquet Queen Elizabeth II Cup (HK-I), and second in the Vodafone Coronation Cup (Eng-I) before she would find the winner's circle again. Ouija Board came into her third F&M Turf off a second against the boys in the Bailey's Irish Champion Stakes (Ire-I)—a loss by a neck to Dylan Thomas—and completed her Breeder' Cup double by defeating Film Maker again, this time by 2 1/4 lengths.
Islington, a homebred for the late Lord Weinstock's Ballymacoll Stud and a daughter of Sadler's Wells, won the Vodafone Nassau Stakes (Eng-I) and the Aston Upthorpe Yorkshire Oaks (Eng-I) before finishing unplaced in the Arc de Triomphe. Her first try at the F&M Turf in 2002 left her in third place behind French-bred Starine and Juddmonte Farms' Banks Hill.
Four of the other five European-bred F&M Turf winners spent significantly more time racing in the U.S. prior to their Breeders' Cup tests.
Frankel bought Starine in 2001 for $150,000. He shipped her to the U.S. and ran her on both coasts throughout 2001. Starine started only three times before the Breeders' Cup in 2002, where she faced and defeated Banks Hill at Arlington Park.
Juddmonte homebred Intercontinental (a full sister to Banks Hill) raced a full two years in the U.S. in Frankel's barn before she won her only start in the F&M Turf in 2005.
Shadwell's Great Britain homebred Lahudood also raced all of 2007 before she tried the F&M Turf that year, winning by three-quarters of a length over Honey Ryder.
Owner Martin Schwartz bought French-bred Zagora in the spring of 2010 and raced her in Europe until the fall when the daughter of Green Tune was moved to Chad Brown's barn. Zagora raced in the U.S. in 2011 and 2012, taking the 2012 F&M Turf by three-quarters of a length over Marketing Mix.
And finally last year's F&M Turf winner, Dank made only one start in the U.S. prior to Breeder' Cup. She won the grade I Beverly D. Stakes by 4 1/4 lengths at Arlington Park. James Wigan's homebred daughter of Dansili had shown a preference for firm going overseas, so she relished Santa Anita a year ago. Dank won as the favorite by half a length over Romantica.