When the World Championships are renewed for a third straight year Oct. 31-Nov. 1 at Santa Anita Park, missing from the lineup will be one of the most dynamic Breeders' Cup winners of the past two years—two-time Turf Sprint (gr. IT) winner Mizdirection.

The Kentucky-bred daughter of Mizzen Mast was carefully managed by Mike Puype for a partnership consisting of Bill Strauss, Danny Gohs, B. Beljak, KMN Racing, and sports media personality Jim Rome's Jungle Racing. Mizdirection won the grass sprint in scintillating come-from-behind fashion in 2012 and 2013, each time returning to the winner's circle following a five-month layoff.
Puype said he misses having Mizdirection in his barn; not only will he not be able to saddle the 6-year-old mare to defend her title, but he will not have any starters in this year's Breeders' Cup.
"You miss it," the trainer said. "She was a very serious horse who did some very serious things. She doesn't owe anybody anything except a good retirement for herself. Yeah, it does hurt not to have a horse of her caliber or any horse going into the Breeders' Cup. But you can't dwell on it. In life, you have to turn the page, you have to move on and just try to get another good horse."
Ridden by Hall of Famer Mike Smith to both of her Breeders' Cup victories, Mizdirection was off a step slow in the 2012 Turf Sprint as the pacesetters set sizzling fractions of :21.11 and :42.39 for the first half-mile. Patiently ridden, she was swung to the middle of the course as the field crossed the dirt track coming off the hill and onto the main turf, setting her sights on leaders Unbridled's Note and Reneesgotzip.

Under vigorous encouragement from her rider, Mizdirection ran down Unbridled's Note to win by a half length in final time of 1:11.39 for the distance of about 6 1/2 furlongs.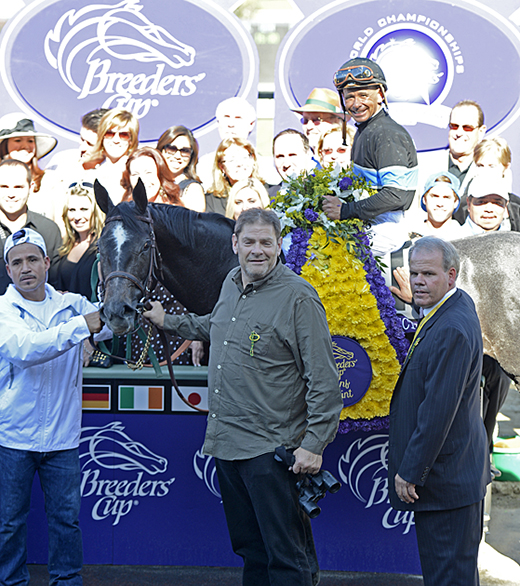 In the 2013 renewal, Mizdirection was closer to the leaders early and was again swung wide by Smith into the stretch to once again wear down Reneesgotzip and Tightend Touchdown, who finished in a dead-heat for the place.

The victory, the last start of her career, was the sixth from as many starts on the Santa Anita downhill course for the sharp gray mare. She was retired with a record of 11-4-1 from 17 starts with earnings of $1,719,621.
Just two days after her second Turf Sprint triumph, Mizdirection was shipped to the Fasig-Tipton November sale where she was purchased for $2.7 million by Mandore International on behalf of Qatar-based entity Al Shaqab Racing.
"Physically she could have gone again but she was too valuable," Puype said. "She was in a partnership for guys who were not breeders. It had to happen that way."
According to an Al Shaqab racing representative, Mizdirection now resides at Haras de Bouquetot in Clarbec, France, about 20 minutes from Deauville. She is in foal to the stallion New Approach and is due in April 2015. She is booked to Dubawi for 2015.

"She is a sweet mare—very easy, great temperament," the Al Shaqab representative said, "and gets along very well with others."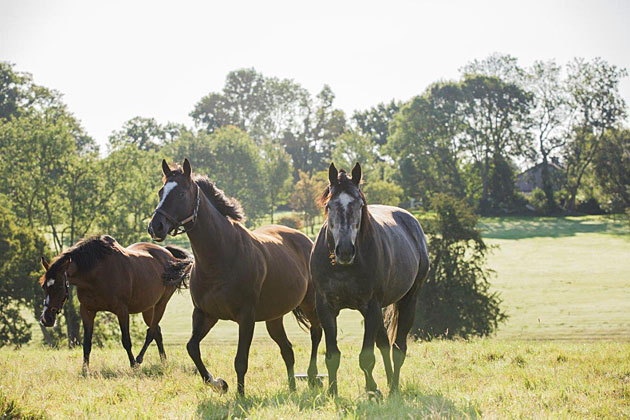 Despite her stellar career and consecutive victories over males in a Breeders' Cup race, Mizdirection raced in the same era as another outstanding sprinter, Groupie Doll, who rode consecutive victories in the Breeders' Cup Filly & Mare Sprint (gr. I) to two Eclipse Awards as champion female sprinter.

Although the mare's 2012 and '13 campaigns both concluded with Breeders' Cup wins, Puype believes Mizdirection's victories were more meaningful since they came outside her division.

"Groupie Doll also won a Breeders' Cup sprint, which was no different from us, and we beat the boys. When you will really look at the records of the campaigns both had that year, we actually did more than her. She (Mizdirection) took it to a different level by defeating the boys."

He attributed the voting outcome, in which Mizdirection finished second, to a stigma by voters against turf horses.

"It's amazing there's that much discrimination in that (female sprint) category," he said.

Even a year after the mare's last start, Puype still marvels at her accomplishments.

"She did something that will probably never be done again in the history of horse racing: she was a filly that beat boys two years in a row off a five-month layoff each time," Puype said. "That's freaky. She never lost a grass race at Santa Anita, long or short, and she never lost a race going down the hill."