By Anne Peters
Last month we discussed the strategy of inbreeding. This time we'll go over the flip side and talk about outcrossing and its use in breeding Thoroughbreds.
If the definition of an inbred horse is one that has at least one duplicated ancestor between the parents within four generations, then an outcrossed one has no closely duplicated ancestors at all. The majority of the breed is outcrossed, which should relieve the fear that the Thoroughbred is overrun with irresponsible and debilitating inbreeding. It is not.
The limited study in last month's review of inbreeding used winners of the Triple Crown races and 3-year-old male division champions since 2000. Of that very small group of 39 individuals, 15 were inbred (38.5%) and 24 were outcrossed (61.5%).
Among the great sires in Kentucky, outcrosses also dominate. In 2014, 16 stallions stood for a fee of $50,000 or more—our proven, elite sires. Of those, 13, or 81.3%, were the result of outcross matings, a serious majority. Studies suggest this is a rough reflection of the population, in that anywhere from 60% to 75% of modern Thoroughbreds, are outcrossed. Is this simply a matter of random population genetics, or is there an advantage to outcrossing?
In a mating each parent contributes half of the genetic code, with a wide range of results. In some cases both parents pass on similar genetics, creating a horse that is pure dominant or pure recessive for those traits. This is what's supposed to happen in an inbreeding program, striving to intensify the genetics so they will be passed on with great predictability.
In other cases genes from one parent will outrightly dominate the other parent's. This is what has happened when we say a horse is prepotent or "stamps his get."
In a third scenario the parents' genetics will blend to create something in between. This is what most breeders hope will happen, but rarely does, getting the perfect balance. Depending on the differences between the parents, it can be a real crap shoot.
In a fourth scenario there is so much favorable genetic diversity coming from either side that the offspring is superior than both parents. This is heterosis, or hybrid vigor, resulting from a high number of heterozygous gene pairings instead of the homozygous pairings often found in inbred stock. It is the Holy Grail of horse breeding because, although racing ability is highly heritable, actual genetic improvement is hard to achieve. Consider that even the greatest stallions sire only 5% to 15% stakes winners and few throw a runner better than themselves.
This is also the possibility that comes from outcrossing. Inbreeding concentrates an ancestor's genes, but every generation forward, that influence is diminished by roughly half. Inbreeding 4x4 to Northern Dancer is only maintaining the influence he had in the third generation of each parent. Unless the inbreeding is very close, say 2x2 or 3x3, it isn't really effective in intensifying that great ancestor's influence. The 4x4 standard many of us use to define it is probably not very significant in actual practice, and 3x3 might be a better the standard.
Now, take an inbred horse, and cross it with an unrelated one, and the possibility of creating that super-vigorous mix of genes increases dramatically. Inbreeding can create better breeding stock, which is ideal for this very purpose, but outcrossing is more effective in creating a better athlete. Alternating these strategies every generation or two is a highly desirable formula.
Look at the pedigrees of some of the greatest racehorses of modern times: Secretariat, Nijinsky II, Seattle Slew, Spectacular Bid, Affirmed, Cigar, Curlin , Zenyatta, Brigadier Gerard, Frankel, and Sea The Stars, for instance. The majority of these are outcrosses. Of this small group, only Seattle Slew (4x4 Nasrullah), Spectacular Bid (3x3 To Market), and Frankel (3x4 Northern Dancer) are inbred using the 4x4 definition.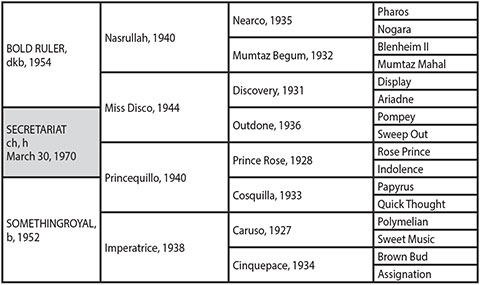 Secretariat was an outcross.
This tendency for great runners to be outcrossed might also explain why many of these superstars are tagged as disappointments as stallions or broodmares. Everyone hopes they will breed true, but their extreme genetic engineering makes it hard for them to pass on their qualities with consistency. Few of them take a leading sire title, like Seattle Slew, who was actually one of the rare ones inbred by the 4x4 definition, although many of them still make a serious mark.
If you need convincing, consider a breeder whose program focuses on favorable outcrossing. Adena Springs, or the farm's owner Frank Stronach, has won the Eclipse Award for leading breeder eight times.