Racing returned to Del Mar Nov. 7 for the first fall racing season in almost 50 years as the track's new "Bing Crosby Season" got off to a sparkling start.
An old-school Hollywood vibe was in order and San Diegans came out to be part of the fun. Many in the opening day crowd of 11,513 were dressed to their Hollywood nines. Crosby, the track's founder, would have felt right at home among the faithful, which included more than 100 people who entered the track's "Vintage Hollywood Fashion Contest." Celebrity look-alikes abounded.
"Just the flavor of the day was a winner in my book," said Joe Harper, Del Mar Thoroughbred Club president and CEO. "It was an enthusiastic crowd, a happy crowd.
"Standing down by the track and looking up into the stands—I think any track manager anywhere would have been pleased."
Del Mar's 15-day fall season replaced dates previously run at the now-shuttered Hollywood Park
The handle figures on the nine-race card were solid, especially when compared with the numbers registered last November at the Los Angeles track. Total handle was $8,560,127, an increase of 46.8% when lined up against Hollywood's opening day money total.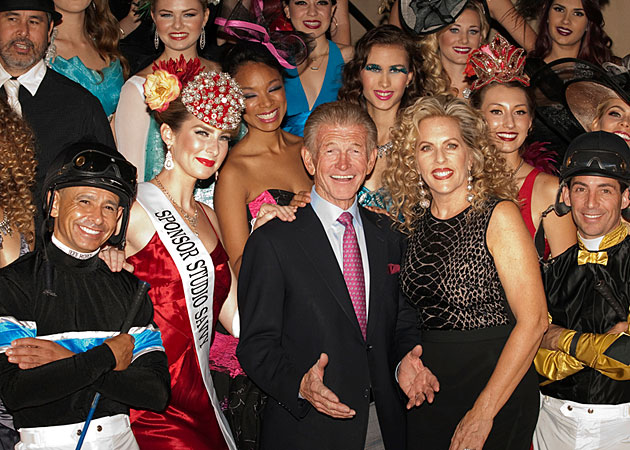 On-track handle was markedly better at $1,310,679, up 129% over Hollywood last year. The on-track numbers were reflective of the crowd difference between the two locations. Del Mar's attendance towered over Hollywood's 2,772 in 2013.
Inter-track wagering was reported at $2,772,830, a boost of 25.4% over Hollywood. And out-of-state handle numbers totaled $4,476,619, an increase of 46.9% over last year.
The previous meet run at Del Mar in the fall—the only other such attempt at late-season racing—was in 1967. By way of comparison, attendance that day was 3,909 and total mutuel handle was $389,571.
Del Mar's turf club was completely sold out for the opener and its trackside dining tables were 95% filled. Weather on the day was sunny and mild with temperatures in the mid-70s.
On the track, Queen of The Sand, the 3-1 second choice in a field of a dozen older fillies and mares, rallied from far back under a beautifully timed ride by Mike Smith to win the $84,350 Kathryn Crosby Stakes (VIDEO).
Tenth in the early stages of the one-mile contest over a fresh turf course, the Irish-bred 4-year-old filly commenced a charge with slightly more than three furlongs remaining. She hit the front in the upper stretch and drew out impressively to score by 2 1/4 lengths in 1:34.56 over firm going.
Gender Agenda, under Kieren Fallon, competing at Del Mar for the first time in his successful career, was runner-up. She finished a length in front of pacesetter Kathleen Rose, with Oscar Party another head back in fourth. Kitten's Point, the 5-2 favorite, was a nonthreatening eighth.
Queen of The Sand, a daughter of Footstepsinthesand, is owned by Derrick Fisher and conditioned by Paddy Gallagher. The victory was her seventh in 20 career outings and first money of $47,940 increased her earnings to $193,670.
To her backers, she returned $8.40, $4.80 and $3.60. Gender Agenda paid $9.80 and $6.20, while Kathleen Rose paid $4.60 to show.
Smith was one of three riders to double on the first day of the new meeting.

"From riding her before, I know the trick is to make her happy early," said the Hall of Fame rider. "Then she gets in that rhythm on her own; she starts opening up her stride. She just went on about it today. I think she likes it here at Del Mar in November. I know I do.
"And the turf course is brilliant. It just is really good. I thought it was good this past summer, but it's better now. Really quiet out there; you can't hear them at all. Like riding with earplugs."