By Anne Peters
In 1984 the inaugural Breeders' Cup races were run at Hollywood Park, and the final event, the Breeders' Cup Classic (gr. I), provided a rousing and controversial finish. Longshot (31-1) Wild Again held off Gate Dancer while Slew o' Gold was sandwiched between the two in deep stretch. Gate Dancer was disqualified to third, but Wild Again survived a stewards' inquiry for the win.
Thirty years later Wild Again is still relevant, counting high-profile runners Bayern , Just a Way, Fed Biz , and Vicar's in Trouble among his headlining descendants in 2014.
Ironically, Wild Again proved the most successful sire of that first Breeders' Cup Classic trifecta. Gate Dancer sired 26 stakes winners from 440 foals and an Average Earnings Index of 1.43. Slew o' Gold sired 28 stakes winners from 581 foals and an AEI of 2.09. Wild Again, however, sired 88 stakes winners from 969 foals with an AEI of 2.23.
Wild Again was bred in Kentucky by W. Paul Little. His sire was the good miler Icecapade, a horse bred on the same nick that produced the great Canadian runner and sire Northern Dancer. Like Northern Dancer, Icecapade was sired by Nearctic and also out of a stakes-placed daughter of Native Dancer who had been hampered by knee problems. Icecapade's dam was Shenanigans, who later produced the great filly Ruffian.
Ruffian didn't get to pass on her bloodlines, but Icecapade helped make up for the loss. As a stallion, he sired 73 stakes winners, including the Canadian Triple Crown winner Izvestia, the important speed/miler sire Clever Trick, and Wild Again. Great Lady M., a stakes-winning daughter, produced Lady's Secret, Horse of the Year in 1986.
Wild Again's dam was Bushel-n-Peck, by Khaled out of a mare by Dante. This gave Wild Again some interesting inbreeding, since Khaled was by Hyperion, as was Nearctic's dam Lady Angela, so Hyperion was 4x3 in Wild Again's pedigree. Dante was by Nearco, who also sired Nearctic, giving Wild Again 3x4 crosses of Nearco. Is this intense pedigree possibly one reason that Wild Again became such a good sire?
Wild Again was sold for $50,000 as a short yearling at the 1981 Keeneland January sale and resold that same year for $35,000 at the Fasig-Tipton Kentucky July sale. He raced for Black Chip Stable, and at 2 won two races in Louisiana as well as placing in the El Rio Rey Stakes at Santa Anita. Sitting out most of his 3-year-old season due to knee chips, Wild Again returned at 4 in exceptional style. He won the New Orleans Handicap (gr. II), Oaklawn Handicap (gr. II)—setting a track record—and the Meadowlands Cup (gr. I), before pulling the ultimate upset at Hollywood Park.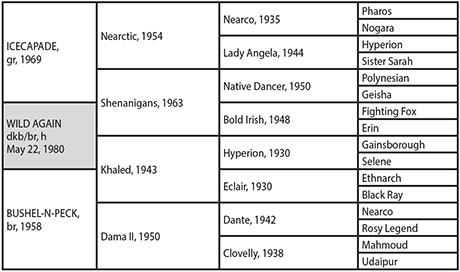 Wild Again raced another year after his Classic win although his best effort was just a second-place finish in the Meadowlands Cup. He retired to stud at Shadowlawn Farm near Midway, Ky., was moved after three seasons to Calumet Farm, and in late 1991 moved again, to Three Chimneys Farm. Wild Again was pensioned in late 2004 and died in October 2008.
Wild Again's top runners included Canadian champions Wilderness Song and Free At Last, as well as 2002 Belmont Stakes (gr. I) winner Sarava, Breeders' Cup Sprint (gr. I) winner Elmhurst, and other grade I winners Milwaukee Brew , Wild Rush, Shine Again, Wild Event, Vicar, A Wild Ride, and Wild Escapade.
His good sons at stud include 2009 leading juvenile sire and freshman sire Offlee Wild, sire of that year's champion 2-year-old filly She Be Wild, as well as this year's Breeders' Cup Classic (gr. I) winner 3-year-old Bayern.
Wild Again's sons Milwaukee Brew and Whiskey Wisdom are perennially among the leading sires in Canada. Milwaukee Brew has sired two Canadian champions, Milwaukee Appeal and Ginger Brew; and Whiskey Wisdom sired Canadian champion Fifty Proof. Wild Rush sired Canadian champion Judith's Wild Rush and Queen's Plate winner Wild Desert as well as grade I winners Hollywood Story, Dream Rush, and Stellar Jayne before being sent to Japan, where he continues to sire group winners regularly.
Wild Again's son Vicar is the broodmare sire of 2014 Louisiana Derby (gr. II) and Super Derby (gr. II) winner Vicar's in Trouble. Wild Again himself is broodmare sire of the brilliantly fast grade II winner Fed Biz, and of Japan's outstanding international sprinter, Just a Way.
The hallmark of Wild Again as a racehorse was the brilliance and fight that came in that sleek, black package, and much of the same could be said of his progeny, who were reliable, tough, and, above all, fast.