By Anne Peters
With nearly all 2015 stud fees announced for Kentucky stallions, there are 175 stallions, give or take, standing in the Bluegrass State at a fee of $5,000 or more. The dominant sire lines are very evenly represented, with 53 from the Northern Dancer line edging out the 52 from the Mr. Prospector line, and a few other minority strains in support. That's 30% for Northern Dancer and 29% for Mr. Prospector. This is a minor but surprising shift in favor of Northern Dancer over the all-American Mr. Prospector.
This balance is similar to the status quo 10 years ago, in 2005, when there were 259 sires standing in Kentucky for $5,000 or higher, but then the Mr. Prospector line edged out the Northern Dancer line 85 to 78, or 33% to 30%.
Storm Cat still holds a dominant place in the Northern Dancer hierarchy—13% of the stallions now as then—while the Americanized Sadler's Wells line through El Prado is moving up in numbers. Danzig is still a force, and up a percent due to the smaller stallion colony and War Front , while Deputy Minister has gone down by a percent.
Among the Mr. Prospector-line sires, descendants of Fappiano are taking the biggest chunk of the action (10%), followed by Gone West, Distorted Humor , Smart Strike, and Street Cry.
In 2005 the next tier of sires was also a contentious one. Seattle Slew had 21 descendants (8%) including 14 through his son A.P. Indy (5%). Close behind Seattle Slew was Hail to Reason with 14 sire descendants (5%). In 2015 this third spot falls solidly to Seattle Slew, now exclusively through A.P. Indy, with 31 (18%); while the Hail to Reason-line sires come in with 12 (7%). Both numbers have improved from 2005, but the gap between the Seattle Slews and the Hail to Reasons is now greater, thanks to the proliferation of the A.P. Indy sons, mostly through Pulpit.
The In Reality male line ranks fifth in 2015, with nine active sires (5%), nearly all through Tiznow and his sons, except for Successful Appeal (by Valid Appeal). This is up from 2005 when only 2% of the sires represented this rare male line, going back to Man o' War and on back to Matchem and the Godolphin Arabian. All the rest discussed here are from various strains of the Eclipse/Darley Arabian line. The Herod/Byerley Turk male line has been extinct in Kentucky for decades.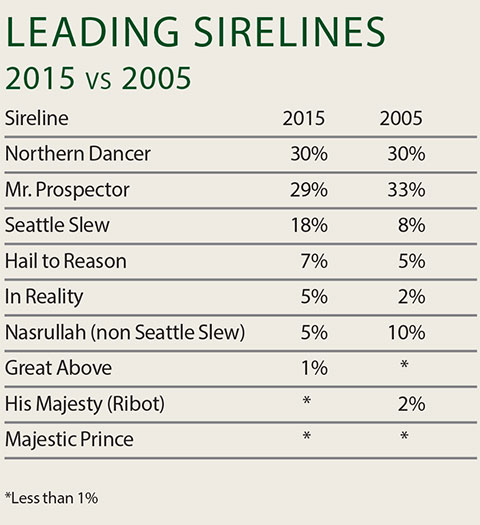 The remaining sire lines represented are almost vestigial, including the 5% descending from various Nasrullah lines other than the Seattle Slew branch, namely Caro, Blushing Groom, and Yes It's True. Blushing Groom has experienced a significant drop in numbers, with only Animal Kingdom (by Leroidesanimaux) and Revolutionary (by War Pass) representing a male line that had 13 stallions (5%) in Kentucky in 2005.
The Caro line has dwindled from five sires to three: Mizzen Mast (by Cozzene), Uncle Mo , and Liaison (the latter pair by Indian Charlie).
Yes It's True is all that's left of the many Bold Ruler strains excluding Seattle Slew's. In 2005 there were six other Bold Ruler-line sires: Yes It's True, Glitterman and his son Champali, Beau Genius, Cobra King, and Fit to Fight.
Macho Uno and his son Mucho Macho Man represent a 100% increase in the Great Above male line represented by only Holy Bull in 2005. This line goes back almost 100 years to Himyar, who is also the tail-male ancestor of Include . His sire, Broad Brush, was the sole flag bearer of this line in Kentucky in 2005.
The Ribot male line has dwindled in 2015 to Nobiz Like Shobiz and Albertus Maximus (who stands for a private fee), both sons of Albert the Great, by Go for Gin, by Cormorant by His Majesty. In 2005 this tribe also boasted three sons of Pleasant Colony, but the last of these, Pleasantly Perfect, left for Turkey this fall.
Super Saver and Monarchos (standing at $4,000) are the last of the Maria's Mons at stud in Kentucky, a branch of the Raise a Native male line coming through Majestic Prince.
We've lost a few significant male lines over the last decade, such as those of Prince John, Damascus, and Buckpasser, to name a few. Fortunately, many of these survive on the dam's side of the stallion pedigrees, so their influence is still strong in the gene pool.