By Anne Peters
He was romantically beautiful, extremely fast, and the pride of Kentucky. Foaled in 1835, Grey Eagle helped establish Kentucky's reputation as a premier source of great horses, but his influence on the American Thoroughbred went far beyond racing.
Grey Eagle was bred by Henry Timberlake Duncan, a wealthy Bourbon County native. In the mid-1830s Duncan built the extravagant estate, Duncannon, close to Lexington in Fayette County, and Duncannon is often given as the birthplace of Grey Eagle, but it's more likely that he was foaled at his breeder's Bedford Farm in Bourbon County, near Hutchison Station. Duncan maintained a horse breeding operation there as late as the 1870s.
Grey Eagle was sired by Woodpecker, arguably the first top-flight racehorse foaled in Kentucky. His dam was the gray mare Ophelia, by Wheild Medley, out of a Sir Archy mare, and being a product of his times, Grey Eagle was inbred 3x3 to Sir Archy.
Ophelia's 1835 colt was also gray, and as his coat lightened, dark markings on his withers that looked like wings suggested the name "Grey Eagle." He was sold as a yearling to Miles W. Dickey for $1,500, who sent the colt to be managed by Sidney Burbridge, one of the great early trainers in the state.
Grey Eagle ran for the first time on May 11, 1838, at the Lexington Association track in a stakes for 3-year-olds. Recovering from a training injury, he was fourth and last in the first mile heat, and third in the second. A month later, in two-mile heats at the Oakland Course in Louisville, he was second in the first heat and third in the second.
At the Oakland fall meet Grey Eagle captured the patrons' attention when setting an American record for two miles in a sweepstakes, going in 3:41 in the first heat, and cantering home in the second heat in 3:43 1/2. A week later he won another stakes at the same track and distance.
Grey Eagle had grown into a strikingly handsome horse, a light gray with a silver mane and tail, of majestic carriage, graceful step, and the effortless stroke of a true four-mile horse. When his handlers uncovered him at the track, ladies were said to have swooned.
Racing settled in New Orleans for the winter, but Grey Eagle stayed in Kentucky recovering from distemper. Dickey sold a half-interest in him, but died, voiding the colt's spring engagements, and in August, the young star was sold at auction to Alfred Lawrence Shotwell for $6,250.
Four-year-old Grey Eagle returned to the races in Louisville in late September over four-mile heats but ran into the Virginia-bred colt Wagner, who beat him handily in the first round. In the second Grey Eagle led most of the way to lose by a desperate neck, in a time seven seconds faster than the first. Although Wagner had won, Grey Eagle earned high praise.
Both horses returned five days later in the Jockey Club Purse at the same track and conditions. Grey Eagle fended off challenges by Wagner to win the first heat, with the Virginia horse fading to third. In the second, after a furious battle from the start, Wagner held off Grey Eagle by a neck. In the third heat Wagner took an easy early lead while Grey Eagle loped along in reserve. A little over a mile into the race, the gray lurched to a stop while Wagner galloped home for the victory.
Fortunately, Grey Eagle survived the injury, having wrenched his left front ankle and coffin bone, but never raced again. He went to stud in 1840 and stood at various farms around Kentucky until 1856, when he was sold to owners in Ohio. He was the second- leading sire in 1850 and 1851 by number of winners.
Grey Eagle's best runners were Little Flea, Bob Snell, Red Bird, Storm, Bulwer, and Lola Montez. Many of his daughters became excellent producers. His name appears often in American families (Zenyatta, Mizzen Mast, and Runaway Groom trace back to a daughter) and he spread his gray color far and wide. Several of his sons, such as Flying Dutchman and Bay Printer, made contributions to the Quarter Horse, and his speed was used in the formative years of the Standardbred.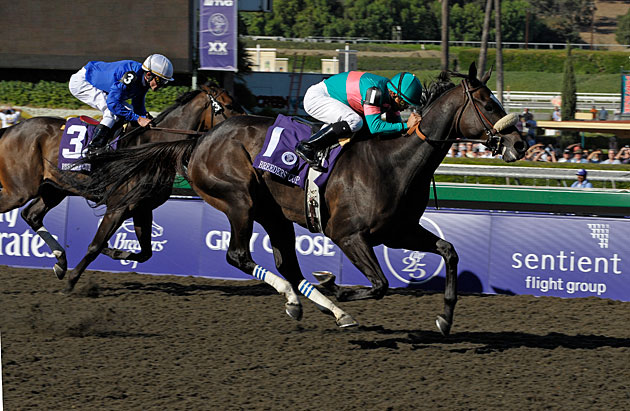 Zenyatta traces back to a daughter of Grey Eagle - Anne M. Eberhardt Photo
Grey Eagle's elegance and beauty weren't wasted. As a stallion, showing under saddle and in harness, he won numerous premiums as a show horse, which enhanced his reputation as a stallion, particularly among Saddle Horse breeders. His most famous offspring, however, was the most recognizable horse of the Civil War, Robert E. Lee's famous gray charger, Traveller. Grey Eagle died in Ohio July 4, 1863, at the age of 28, the day after the Battle of Gettysburg.