There definitely was a vibe of déjà vu Jan. 17 for Ken and Sarah Ramsey Jan. 17. Racing's power couple earned an unprecedented second consecutive Eclipse Awards as outstanding breeders and owners at the championship ceremonies at Gulfstream Park and won the Lecomte Stakes (gr. III) at Fair Grounds Race Course & Slots with a promising 3-year-old.

Last year in New Orleans it was their Louisiana-bred Vicar's in Trouble winning the Lecomte and this year it was with New York-bred International Star.

Vicar's in Trouble would go on to win the Louisiana Derby (gr. II), run in the Kentucky Derby Presented by Yum! Brands (gr. I), and win the Super Derby (gr. II) on his way to bringing home seven figures. Those are some big shoes to fill for International Star.

However, International Star was already a Canadian grade III winner on Polytrack and grade II-placed on the turf heading into the $200,000 Lecomte. Second in the With Anticipation Stakes (gr. IIIT) at Saratoga Race Course last summer, International Star won Woodbine's Grey Stakes (Can-III) then was a troubled ninth, beaten 3 1/4 lengths in the Breeders' Cup Juvenile Turf Stakes (gr. IT). He finished his 2-year-old campaign for trainer Mike Maker with a fourth-place finish behind El Kabeir in the Kentucky Jockey Club Stakes (gr. II) at Churchill Downs.

The Lecomte winner was bred by Marylanders Katharine Voss and Bob Manfuso, who operate Chanceland Farm near West Friendship west of Baltimore just off I-70. They sold the son of Fusaichi Pegasus —Parlez, by French Deputy, to the Ramseys through Patrice Miller/EQB, agent, for $85,000 at the 2013 Fasig-Tipton Midlantic fall yearling sale.

"He was just a really nice colt—you couldn't find anything wrong with him," Voss said. "He's a well-balanced horse. He's not too big; just a nicely put together horse.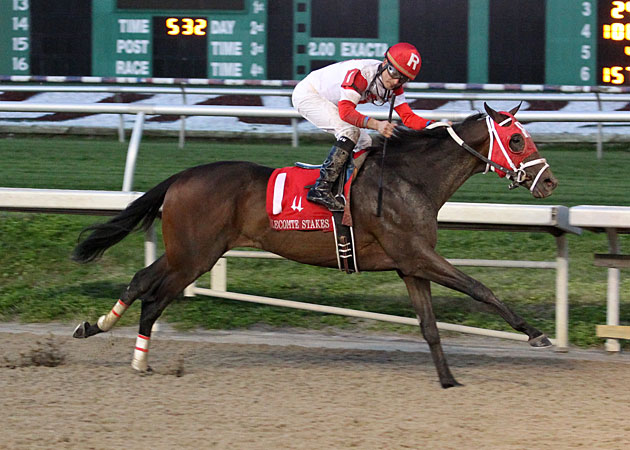 "We were happy with the price...people would come by at the sale and say, 'Nah, can't buy a Fu Peg,' " Voss said with a chuckle. "So that was a good price, all things considered. The Ramseys have Patti Miller measure the hearts (of prospective purchases) and he had an outstanding heart. Patti just really liked the horse, so give her credit."

Breeders in Maryland were struggling a few years ago, and to help spread things around, Voss and Manfuso sent a few mares each year to New York to take advantage of that state's program.

"We have a good relationship with (Dr.) Doug Koch (veterinarian and former president of the New York Thoroughbred Breeders) and for several years we'd send a couple of mares to New York," Voss said. "We sent two mares up each year for a few years. We figured a New York-bred Fusaichi Pegasus would be worth more than a Maryland-bred Fusaichi Pegasus. We bred the mare back to Girolamo, who was in his first year there in New York. We love him, so that was kind of killing two birds with one stone.

"We were spreading things around. Now we foal everything here in Maryland. He was the only New York-bred in our consignment that year; the rest were all Maryland-breds. We had a really good sale that year."

Chanceland sold 10 of 14 yearlings at the 2013 Midlantic sale for $493,200, including a $120,000 Quality Road colt named His World and a $102,000 Maryland-bred Not For Love colt named No More Excuses.

"He was part of a good group of yearlings," said Bob Manfuso. "The mare has thrown hard-knocking runners, it was great to see this guy pop up.

The Lecomte winner is out of the French Deputy mare Parlez, who was also bred by Voss and Manfuso and was trained by Voss.

"Parlez herself was strictly two-turn," Voss said. "She wasn't that fast but she tried hard. She broke her maiden and won a couple of allowance races."

Over two years Parlez won three of 15 starts and earned $93,360. She was covered by Broken Vow and made several starts while in foal, winning an allowance race in August 2003.

"We thought she wouldn't get through her conditions so we wound up running her while she was in foal," Voss said. "She wound up winning a couple of allowance races and we didn't waste a year (of waiting to breed her)."

With an outstanding family—Parlez' second dam is Halory, the dam of five graded winners, including 1998 Toyota Blue Grass Stakes (gr. II) winner Halory Hunter, she's proved valuable as the dam of three stakes winners to date. The other two, Fools in Love and D C Dancer, are by Maryland's leading sire Not For Love.

"International Star, D C Dancer along with Fools in Love are all neat, balanced, not-real-big horses; they all fit that mold," Voss explained. "Just like Parlez is. Halory apparently was small. They're just nice, average-sized horses that are balanced. They're very good, efficient movers."

Good and efficient enough to win a grade III in January, with plenty of upside moving toward the bigger races on the Triple Crown trail.
Voss said she and Manfuso would sit back and root for him...and see how far the "star" rises.