The Florida stallion market has a gaping hole at the top with the loss of Wildcat Heir Jan. 5. One of only four horses standing for $10,000 or more in Florida in 2014, the Journeyman Stud stallion was an outstanding example of a horse that benefited by good placement in a regional market.
On racing performance and pedigree, Wildcat Heir was an excellent fit for Florida, which has always been a haven for speedy stallions. Graded stakes-placed as a juvenile, he scored his biggest win in the 2004 Frank J. De Francis Memorial Dash Stakes (gr. I), defeating a tough field that included grade I winners Midas Eyes and A Huevo. Overall, he won six of 12 starts and earned $424,460.
Wildcat Heir's speed on the track was backed by speed in his pedigree. His sire, Forest Wildcat (Storm Cat—Victoria Beauty, by Bold Native), was a multiple grade III-winning sprinter and proved to be a good sire before his death in 2008, getting 71 stakes winners including English highweight sprinter Var, Puerto Rican Horse of the Year D' Wildcat Speed, and grade/I winners Forest Secrets, D'wildcat, and A Shin Forward.
His dam, Penniless Heiress (by the good Florida sire Pentelicus), produced three other sprint stakes winners, including multiple grade III winner Forest Heiress (by Forest Wildcat), and is out of Royal Ties (by Distinctive). Penniless Heiress is a half sister to multiple graded stakes winner On to Royalty and 1994 Boojum Handicap (gr. II) winner Meritocrat (both by On to Glory). On to Royalty added further glitter to the family by producing 1996 Preakness Stakes (gr. I) winner Louis Quatorze (by Sovereign Dancer) and 1997 Gazelle Handicap (gr. I) winner Royal Indy (by A.P. Indy).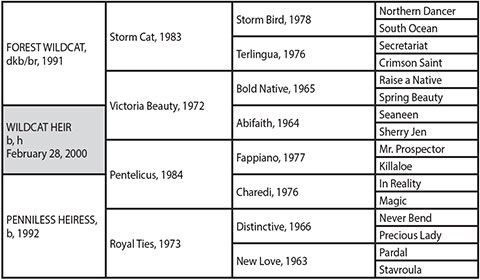 While Wildcat Heir had the race record, pedigree, and conformation to have stood in Kentucky, he would not have been a standout there. In Florida the competition was less, and he was supported enthusiastically with 173 mares being bred to him in his first year at stud. He got 39 winners as a freshman sire, tying Chapel Royal's first-crop world record, and never looked back.
Florida's leading freshman sire in 2009, he was the state's leading general sire in 2010, 2011, and 2014 and was second in 2012 and 2013. He was also Florida's leading juvenile sire in 2009 and 2014 and became the first Florida-based sire to top $4 million in progeny earnings for five consecutive years. His runners earned $6,230,341 in 2014, tops among North American sires based outside Kentucky.
Wildcat Heir's hallmarks were consistency and the ability to transmit precocious speed, characteristics that made him highly desirable to Florida breeders. Out of his first six crops of racing age, he has 311 winners from 528 named foals—58.9%—and 129 of those winners won as juveniles. Twenty-seven of his runners have won stakes, topped by grade I winner Heir Kitty and grade II winners Wild Dude and Vexor.
Much like breeders anywhere else, Florida breeders want to make a profit, and Wildcat Heir provided them a fair chance to do that on the track or at the sales. His median progeny earnings of $42,643 are quite respectable even without counting state-bred incentives. For those wanting to sell, he could also deliver. His 30 2-year-olds in training sold at auction in 2014 averaged $67,867 with a median of $50,000, while his 12 yearlings sold the same year went for an average of $45,209 with a median of $40,000.
"We already had close to 100 mares booked to him for 2015," said Brent Fernung, who co-owns Journeyman Stud with his wife, Crystal. "He just had unbelievable support throughout his career. You can never really replace a horse like that, but we'll have to try."
Few stallions in regional markets enjoy Wildcat Heir's level of consistent success, but his story does illustrate principles of good stallion placement. While he could quite possibly have succeeded in Kentucky, his positioning as one of the top sire prospects in a smaller but still sizable market, combined with a close tie to bloodlines already successful in that market, got him the best opportunities Florida could afford—probably better than he would have received in Kentucky. That extra edge in quantity and quality of mare support early on might have been the difference in making him the highly profitable stallion he became.