By Anne Peters
Great stallions are the usual subjects of racing folklore, but a great broodmare takes second billing to no stallion. This is the story of such a mare, appropriately named Cinderella, who became a mother to two great American sire lines through her sons Hastings (1893) and Plaudit (1895).
Cinderella was foaled in England in 1885, and bred by Sir William Throckmorton. According to the Stud Book, she was sired "by Tomahawk or Blue Ruin," the senior and junior stallions at Throckmorton's stud at Buckland House. Tomahawk was the presumed sire, a son of King Tom and a full brother to the 1864 English One Thousand Guineas winner Tomato. Cinderella's dam was Manna by Brown Bread, an undistinguished mare, although Cinderella's third dam was a half sister to the classy Sweetmeat (Gladiator—Lollypop).
Cinderella was imported by Alfred Withers as a yearling and sold for $500 to Dr. John D. Neet, a physician from Versailles, Ky. He took her home with a second imported filly, Tarantella (by Peter). Both wound up at his farm on McCowan's Ferry Road a couple of miles south of Versailles, and they became the foundations for Neet's Kindergarten Stud.
What Dr. Neet saw in Cinderella is a mystery, because surviving photos of her are not flattering. She was a small, sparsely-made mare with weak front legs and markedly sickle hocks. She also had a seriously unpleasant personality.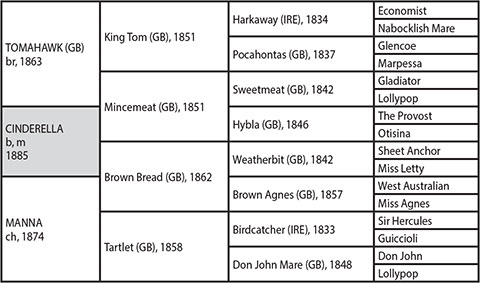 Cinderella trained and showed some speed but never raced, so she was bred as a 3-year-old. In 1889 she produced the colt Foreigner, by Fonso, who became a stakes winner. She next foaled Ferrier (1890 colt by Falsetto), another stakes winner. Then came Handsome (1892 colt by Hanover), a brilliant juvenile.
In 1893, Cinderella produced the colt Hastings (by Spendthrift), who carried his speed to win the Belmont Stakes. Hastings was also a notoriously bad character, but he became the leading sire in 1902 and 1908. His son, Fair Play, was the leading sire three times.
Fair Play's sons Man o' War, Chatterton, and Chance Play were all leading sires, and Man o'War's son War Admiral also gained a title. Another son, Hard Tack, sired Seabiscuit; however, it's through Man o' War's son War Relic that the line survives. His grandson Intentionally sired In Reality, Tentam, and the great sprinter Ta Wee, dam of Great Above (sire of Holy Bull). Hastings' male line has been thriving through Valid Appeal, Successful Appeal , and Valid Expectations, as well as Relaunch, Bertrando, Cee's Tizzy, and Tiznow .
Two years after Hastings, Cinderella produced Plaudit (1895 colt by Himyar). A stakes winner at 2, Plaudit won the Kentucky Derby at 3 and became a good sire. His best included the top handicappers King James and Plate Glass, and the precocious filly Southern Maid. He sired several nice broodmares, but his sire line survived, and that's what makes him exceptional.
Through his son King James, Plaudit's male line resurged through Rough'n Tumble, and his sons Dr. Fager and Minnesota Mac. Dr. Fager's branch has faded, but Minnesota Mac sired Great Above, whose son, Holy Bull, sired Macho Uno and Giacomo. Macho Uno has been a good stallion; his get includes Mucho Macho Man and Macho Again.
Plaudit's son King Plaudit became a big name outside of the breed as a remount stallion out west, where his line flourished among Quarter Horses, Appaloosas, Paints, and Palominos.
After Plaudit, Cinderella produced the stakes winner Glenheim (1896 colt by Hanover). In 1898 she delivered her first filly, Glass Slipper (by Spendthrift), a full sister to Hastings. Neet kept her and a second filly, East India (1900 by Hindoo), but neither produced anything of note.
Cinderella foaled the good stakes-placed Migraine (1902 colt by Top Gallant), who stood at stud with little success except for the filly Dolly Higgins, who established a strong family.
The country doctor was approached by millionaire W.C. Whitney in 1902 to sell Cinderella, but Neet declined, although he agreed to lease her for $5,000 per annum. The first year produced Fair Prince (1903 colt by Hamburg), who died as yearling. The second year Whitney got Slippers (1904 filly by Meddler), who produced Preakness winner Buskin and developed a prolific family for his son, H.P. Whitney.
W.C. Whitney died in 1904, and Cinderella came home briefly. Then, in 1906, Neet sent her to be bred to Ethelbert at Perry Belmont's Horse Haven Farm, but the old girl had a heart attack and died there in June 1906.
Cinderella remains one of the few mares to have produced two classic winners, but more notably, sons by different sires that became successful sires, and sires whose male lines have endured for more than a century. In a world dominated by the Phalaris male line, the descendants of Cinderella's sons Hastings and Plaudit are stubborn survivors.