An argument could be made that California's second-best Triple Crown hopeful at this point in the year might only have a maiden special weight win.

That distinction, however, comes with a mountain of context.

In three second-place finishes, Arnold Zetcher's Firing Line has been beaten by less than a length combined. That includes heartbreaking back-to-back seconds against current Kentucky Derby Presented by Yum! Brands (gr. I) futures co-favorite Dortmund in the Los Alamitos Futurity (gr. I) and, most recently, the Robert B. Lewis Stakes (gr. III) Feb. 7 at Santa Anita Park.
SHINAR: Dortmund All Heart in Determined Lewis Tally

According to 31-year-old trainer Simon Callaghan, who could have his first Kentucky Derby starter on his hands, the colt will breeze for the first time since the Lewis the morning of Feb. 21. The $1 million Santa Anita Derby (gr. I) April 4 and the $800,000 Sunland Derby (gr. III) March 23 are potential targets for the Line of David colt.
Big things are expected from Firing Line, who was a $240,000 purchase through agent Ben McElroy out of the Eddie Woods consignment at the last April's Keeneland 2-year-olds in training sale. The bay colt won at second asking by 4 1/4 lengths going 6 1/2 furlongs on the all-weather track at Del Mar Nov. 30.

The Lewis was particularly crushing for all involved, when Firing Line passed Dortmund and led by a length at the eighth pole, only to have the Bob Baffert-trainee rally back on the rail to win by a head.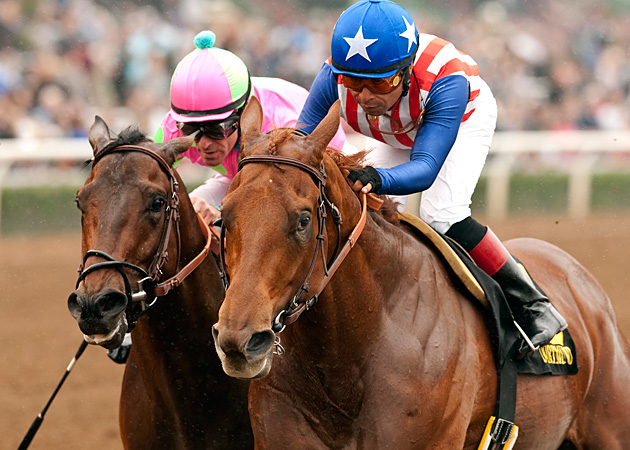 "There was the before, the during, and the after," Zetcher said. "The before, when it looked like he was pulling away. The during, when I said 'uh oh' as Dortmund was coming back. Then the after, realizing how great that race was."

Jockey Gary Stevens and Callaghan echoed the owner's sentiment, both touching on the disappointment of the Lewis loss, but also the positives of the still-developing colt out of the Hold for Gold mare Sister Girl Blues.

"At the time, it's tough, because it's a tough beat," Callaghan said. "But when you sit back and actually look at the third horse (who finished 21 1/2) lengths behind, we're second to what might be the best 3-year-old in the country. We might be second-best (overall). We don't know."

Stevens at first blamed himself for the Lewis loss, thinking he moved Firing Line too soon, but said upon reflection he "went home happy" after the race.

"I'm disappointed any time I get beat, but when I make the lead in a graded race, it isn't too often that a horse I pass comes back to beat me," Stevens said. "I was blaming myself directly after the race and after watching (replays) a lot, I have some opinions about myself and about the colt that I think can help. That race is turf history and we both gained from it."

Stevens also said Firing Line lost a shoe during the race and pointed to several small details that could have made a difference in the result. Along with the shoe, Firing Line appeared to stumble slightly at the start of the 1 1/16-mile Lewis, and went three wide into the first turn.

Callaghan, however, is trying not to dwell on what might have been. The English-born trainer from Newmarket resisted watching the replay more than a few times.

"I've watched it literally a few times," Callaghan said. "If you watch it 15 times, sadly, the result never changes. You've got to draw positives from these things. He's ran great races."

For Callaghan, having a 3-year-old Triple Crown contender is the next step in his North American career, which began in 2010.

Upon his arrival in the U.S. in December of 2009, he thrived on the turf with graded stakes winners Up In Time, Dubawi Heights, and Slim Shadey. He won his first non-turf graded stakes with Byrama in the Vanity Handicap (gr. I) on Hollywood Park's synthetic surface in 2013, and claimed his first graded dirt stakes last year when Fashion Plate captured the Las Virgenes (gr. I) and the Santa Anita Oaks (gr. I).

"It's a gradual thing," Callaghan said. "We started with turf horses, but that's what we brought here. Originally, you kinda' get labeled as a turf trainer, which is fine, but when you have that real flagship 3-year-old dirt horse—that's when you can take it to the next level."

The current vibe from Firing Line's connections remains one of guarded excitement. For Zetcher, who last tested the Kentucky Derby waters with CashCall Futurity (gr. I) winner Liaison (sixth in 2012) and Santa Anita Derby winner Midnight Interlude (16th in 2011), it's enjoyable to be a part of the action.

"It's a fun moment in time to have a horse like this," Zetcher said. "Half the fun of it is having the conversations in between. We couldn't be more excited about having a horse like this."