By Anne Peters
Talk to a group of horse people about conformation and you'll get as many differing opinions as you have bystanders. Racing lore says that a good, big horse can beat a good, little horse, or wait, is it the other way around? There are examples for either side of the argument, but is there an answer to this age-old question?
Over the last few centuries the Thoroughbred has grown from something averaging around 15 hands, to today, when 16 hands is—believe it or not—considered average for the breed. To most breeders 16 hands just doesn't cut it anymore. They want a big stallion to sire a big yearling that will look like a 2-year-old in the sale ring. They want size because buyers are looking for size, meaning that smaller stallions often start at a disadvantage.
Fortunately the cream rises to the top, expected or not. The two most expensive stallions in the United States are Tapit , who tops out at 16 hands, and War Front , at 15.3. Smaller size hasn't been a disqualifier for either. Then there's Distorted Humor at 15.3 hands; Speightstown at 15.3 1/2 hands; Awesome Again , More Than Ready , City Zip, Into Mischief , Exchange Rate, and Afleet Alex , all 16 hands. Tale of the Cat is 15.3 1/2 hands, English Channel is 15.3 hands. They're not big, but they're doing just fine as sires.
Over the last several decades most of the leading sires tended to be average or below average, 16 hands or under. Mr. Prospector, Storm Cat, Seattle Slew, A.P. Indy, Gone West, El Prado, and Smart Strike were, or are, 16 hands. Halo was 15.3 hands. Danzig, at 15.3 hands and Lyphard at 15.2, were both taller than their sire Northern Dancer.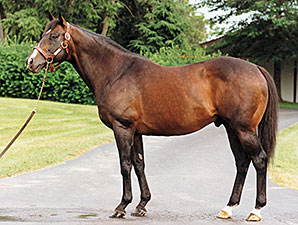 Danzig at 15.3 hands
Now let's look at the other extreme with the big boys, which until recently included the very high-class 17 handers Dynaformer, who died in 2012 and Unbridled's Song, who died in 2013. The top-drawer proven big horse is Tiznow at 16.3 hands. Others include the classy Hard Spun , Quality Road , Midnight Lute , and now Temple City , all at 16.3 or taller. Alert readers will note that this is a distinctly shorter paragraph than the one listing the smaller active stallions.
In fact, from this group—Kentucky-based proven successful sires standing for $12,500 or more—the smaller sires (16 hands or under) outnumber the really big sires (16.3 hands or over) 12 to 5. Stallions in between, taller than 16.0 hands but under 16.3, make up the majority, by the way.
So, if the market demands a big yearling, how come more extra-large horses don't command higher stud fees? One reason is that really big horses can be inconsistent in siring top-class runners due to developmental and soundness issues. They tend to be later maturing as their bones, ligaments, and tendons need more time to develop the strength to carry their greater body mass. Some yearlings are just too big or going through an odd growth spurt at sale time. Many a big, forward-looking youngster has been pushed too hard, too early, and injured before his legs were ready for it.
Smaller horses don't carry the extra mass, so the same level of training is not as punishing on their bones and joints. All other things being equal, smaller to average-sized horses are just easier to keep sound, so more make it to the races and stay in training longer.
Clearly there is a discrepancy between what the market demands and the sires that are having the most actual racetrack success. The bias against smaller stallions is based on an artificial standard set in the sale ring, not on the track.
The most common sense solution is for breeders to be able to take advantage of the good, smaller-to-average-sized stallions by sending them mares that are at least average-to-large in size and type. This requires a little extra effort on the part of mare owners to know their stock and the stallions better.
Breeding without these physical considerations is really breeding blind, no matter how good the match looks on paper.
I strongly encourage breeders to concentrate on the classic big (but not too big), roomy broodmare, since these can be bred to a wider range of stallions. A small mare, especially for a commercial breeder, can be a real liability since her stallion choices are more limited.
So, while there may be no true answer to the "good, big horse" versus "good, little horse" question, breeders should pay more attention to the often overlooked "good, little horse" as a stallion.