Of the winners of this spring's early graded stakes for 3-year-old males, Ralph Evans' Upstart is clearly at or near the head of the class. Although he was disqualified from victory in the Besilu Stables Fountain of Youth Stakes (gr. II) Feb. 21 at Gulfstream Park, the New York-bred ridgling has finished first in two graded stakes this year by a combined margin of 8 1/4 lengths. And as a son of Flatter —sire of two-time Jockey Club Gold Cup (gr. I) winner Flat Out —out of a mare by 1997 Belmont Stakes (gr. I) winner Touch Gold, he should be a lead-pipe cinch to get classic distances, right?
Not so fast. Although Upstart has a better pedigree for getting a distance than many of his contemporaries, there is reason to think he might be better suited to intermediate distances. The reasons start with Flatter. A beautifully bred son of A.P. Indy and the Mr. Prospector mare Praise—and a full brother to successful sire Congrats —the Claiborne Farm stallion has sired 34 stakes winners from his first eight crops of racing age (3-year-olds of 2015). Flat Out and Silver Tongued are the only ones successful at 10 furlongs, however, and Flatter has only two winners at the graded or listed levels at nine furlongs. The average winning distance for his stock is only 6.96 furlongs.
This by itself is no reason to overlook Upstart as a potential classic candidate; plenty of stallions with distance limitations have sired winners of Triple Crown races from mares whose pedigrees supply stamina. The question is whether Upstart's dam, Party Silks, has the bloodlines to supply that stamina.
Upstart is the first winner of four foals bred from Party Silks by Joanne Nielsen, and the mare herself did not race, so clues to her potential stamina must be gathered from her pedigree. The logical starting point is her sire Touch Gold, who has not been transmitting the stamina one might expect from a Belmont winner. The average winning distance for his progeny is 6.95 furlongs, and their average maximum winning distance is 7.59 furlongs. Of his 33 stakes winners, only one, Royal Challenger, has won a stakes at 10 furlongs or more. Nor is he transmitting much stamina as a broodmare sire; the only graded stakes winners at such distances produced from his daughters is multiple grade I winner Emollient—who has 2003 Belmont Stakes winner Empire Maker as her sire and 1992 Belmont Stakes winner A.P. Indy as the sire of her second dam—and Canadian grade III winner Heathcote.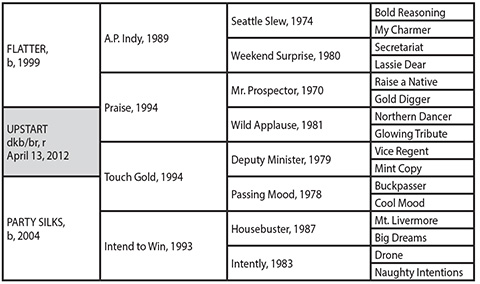 Touch Gold is not the first proven stayer to transmit more speed than stamina. Damascus, who won both the 1967 Belmont and the 1967 Jockey Club Gold Cup—then at two miles—also transmitted more speed than expected, an influence often attributed to his speedy broodmare sire, My Babu.
Even less reassuring for Upstart's chances of getting classic distances is the presence of Housebuster as the sire of his second dam, Intend to Win. A two-time champion sprinter, Housebuster could stretch his speed over a mile, and he actually sired several graded and listed winners over 10 furlongs or more. As might be expected, however, the bulk of his progeny's successes were at shorter distances. This was the case for Intend to Win, whose four wins from 14 starts were all in sprints, and her best foal as a producer was another sprinter, Josh's Madelyn (by Quiet American), who scored her biggest win in Keeneland's seven-furlong Raven Run Stakes (gr. II). A half sister to Gone for Real (by Gone West), a grade III winner over 1 1/16 miles, and sprint stakes winner Crafty Buzz (by Crafty Prospector), Intend to Win is out of the Drone mare Intently, a multiple stakes winner in sprints. Not until the fourth dam's sire, 1963 Preakness Stakes winner Candy Spots, does one get to another horse that clearly stayed classic distances.
Upstart might still prove he has what it takes to go a distance, but a final five-sixteenths run in about :34 off a moderate pace in the Fountain of Youth is hardly reassuring, especially given his bearing out in the stretch. In any event, his pedigree serves as an example of the need to learn what names in pedigrees stand for and what they actually transmitted prior to assessing probable aptitudes.