Denmark is not usually thought of as a center for Thoroughbred breeding and racing, so when Danish-bred Pompoes shipped to France in 1979 to take a shot at the best juvenile fillies there in the Criterium des Pouliches (Fr-I), few people took much notice. While she had won the Swedish Criterium (Swe-II) and Danish Criterium (Den-III), Scandinavian form was considered to be substantially below French form, so no one was really surprised that she failed to win. What was surprising was that it took a very good filly to beat her. Aryenne, the winner, was unbeaten as a juvenile and followed up her success by winning the 1980 Poule d'Essai des Pouliches (French One Thousand Guineas, Fr-I) and running second in the Prix de Diane de Revlon (French Oaks, Fr-I). Later, Aryenne produced 1990 Ever Ready Epsom Derby (Eng-I) winner Quest for Fame (by Rainbow Quest).
Pompoes failed to follow up her Criterium des Pouliches form in quite such spectacular fashion, but she nonetheless showed that the class she had displayed at Longchamp was not a fluke. Group III-placed at 3 in France and stakes-placed at 4 in the United States, she went on to become a successful broodmare and a reminder that class can emerge from unlikely places.
Bred by Mogens Holm, Pompoes descends from a French sire line tracing back to the immortal St. Simon. While her sire Belmont's best win was in the Prix Eclipse in 1969, his sire Cambremont, grandsire Sicambre, and great-grandsire Prince Bio had all been French classic winners. Pompoes' female family was less distinguished but not without merit. A full sister to Bell of the Ball, dam of Swedish group II winner Star Express (by Jimmy Reppin) and Swedish stakes winner Bell Friend (by Colombian Friend), Pompoes is out of the Pall Mall mare Wilhelmina, a full sister to 1971 Prix Eclipse (Fr-III) winner Pompous. Pall Mall won the 1958 British Two Thousand Guineas, and Wilhelmina's dam, Ziba (by Irish dual classic winner The Phoenix), is a half sister to juvenile stakes winner Troopfire (by King's Troop).
At the time of her retirement, Pompoes was owned by Mahmoud Fustok's Buckram Oak Farm, and Fustok apparently believed sufficiently in Pompoes' merit to see she was mated to good stallions. He was rewarded when the mare produced the Alydar filly Three Generations as her third foal. A winner of five stakes races in France and the United States, Three Generations placed in three grade/group III events but unfortunately left no issue. She was followed by Forest Wind (by Green Forest), winner of the 1992 Rokeby Farms Mill Reef Stakes (Eng-II), and by Flash of Joy (by Cryptoclearance), a gelding who won a minor stakes at 6. All told, Pompoes' 14 foals accounted for seven winners and $928,346 in progeny earnings.
Had her record stopped there, Pompoes could be accounted a successful broodmare, but there is more. While her unraced daughter Forest Breeze (a full sister to Forest Wind) failed to produce anything capable of earning black type, Forest Breeze's daughter Candy's Breeze (by Candy Stripes) produced multiple Argentine group I winner Cayaya (by Slew Gin Fizz) and multiple Argentine group II winner Ap Candy (by Indygo Shiner).
Stakes-placed Free the Magic, a full sister to Flash of Joy, has also contributed to Pompoes' legacy as the dam of Ring Weekend (by Tapit ), winner of the March 7 Frank E. Kilroe Mile Stakes (gr. IT).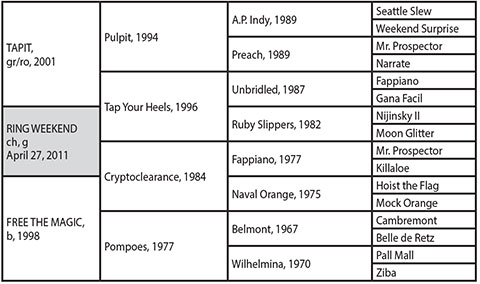 Interestingly, the sires of Pompoes' three grade/group-winning descendants have some pedigree elements in common, as all three combine Seattle Slew, Northern Dancer, and In Reality. The links between Cayaya's sire, Slew Gin Fizz, and Ring Weekend's sire, Tapit, are even closer as Slew Gin Fizz is by Relaunch from the immediate family of Mr. Prospector while Tapit is inbred 3x4 to Mr. Prospector and has Relaunch's full sister Moon Glitter as his third dam.
Pompoes shares some characteristics with two other influential Danish-bred mares: Mowerina, dam of English classic winners Donovan and Semolina, and Rossard, dam of perennial California leading sire Unusual Heat. All three had pedigrees rooted in European strains successful outside Scandinavia, and all three were good performers on the track. Together, they illustrate that when it comes to broodmare prospects, the combination of good racing performance and good racehorses close up in the pedigree should not be overlooked no matter where it comes from.