By Charlie McCarthy
Kathy Taylor thought she was finished caring for, and selling, horses.
"When my daughter was younger, we were operating a farm and buying and selling a few hunter jumpers," Taylor said. "She decided she wanted to take a break from riding and play volleyball in high school.
"We had just sold our last pony, and my farm was empty. It wasn't two days later she calls me, frantic, saying, 'Mom, you have to come and help save these horses!' "
Then 13-year-old Andi Taylor and her trainer were driving on a road outside Ocala, Fla., in 2010 when they couldn't believe what they saw—a Quarter Horse mare was foaling in the field as people stood around not knowing what to do.
"Andi and her trainer went over the fence and helped foal the mare," Kathy Taylor said. "Then they looked around and saw the starving horses."
Grateful for the mare's foaling safely, the owner was facing a dilemma of not being able to care for the other horses.
"He said, 'Any of the horses you want, you can have—I'll give you the papers,' " said Kathy Taylor, who, not knowing the pedigrees, took the worst-conditioned horses to her suddenly revived farm and to another annex with more acreage. Among the mares were elderly daughters of Rahy, Storm Bird, Turkoman, Seattle Slew, and others.
With help and support of nearby farms such as Manny Andrade's Get Away Farm and Winding Oaks Farm, Taylor helped nurse 22 rescued horses back to health. Unfortunately, some 60 horses died before they could be saved.
Taylor's farm bred eight of the mares, with only four or five producing foals.
"There was one mare that I decided, 'No one is going to take her,' " said Taylor, owner and operator of the equine advertising agency Capstone Enterprises. "She could run if she had to but was lame from Sweeney shoulder. She was old and in bad shape all around and probably the least likely I thought to get in foal."
That horse, a daughter of Storm Bird named Cent Nouvelles, was bred to Shakespeare. The mating produced a bay colt that proved to be the mare's last foal.
French Quarter was foaled April 8, 2011, when Cent Nouvelles was 19. She died the following year.
"Cent Nouvelles went from being a bag of bones into the most beautiful, dappled mare you could imagine," Taylor said.
Now a 4-year-old gelding for owner Howard Walton, French Quarter finished sixth in his last out, a 61⁄2-furlong starter allowance race at Woodbine on April 11. In his previous start French Quarter had won a six-furlong allowance optional claiming race at Gulfstream Park March 7. Overall, the gelding is 4-2-1 in 16 starts and has earned $119,847.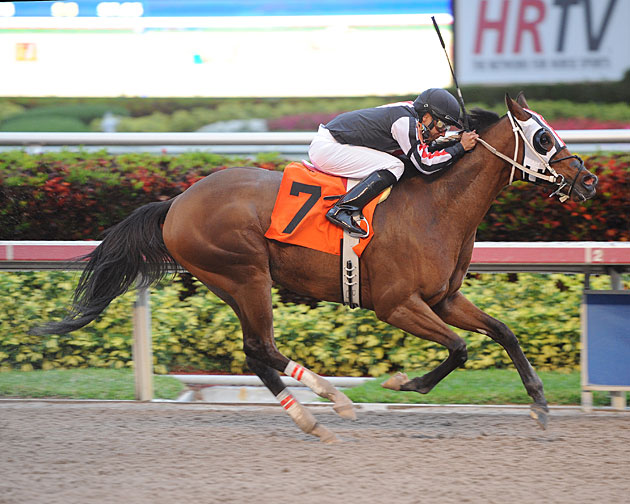 French Quarter's trainer John Mattine had no idea of his horse's background.
"The day he won in Florida, I get a text from a friend that said, 'Hey, that horse is famous,' " Mattine said. "I said, 'I don't know what you are taking about. We were just in an allowance race.' I thought he was pulling my leg.
"I was having supper with a few friends, and the story came out. I called Ms. Taylor and thanked her for doing what she did. It's a sad story but a happy ending for this horse."
Consignor Beth Bayer sold French Quarter to agent Paul Sharp, who was representing Walton, a 70-year-old Toronto native.
"I've had quite a few horses over the years but I never had a Shakespeare, and I like them," said Walton, who added he hoped to develop French Quarter into a stakes horse. "And he's out of a Storm Bird mare, which made him more attractive."
The rescue performed by Taylor and her farm has produced winners besides French Quarter, including Ifoundmy Mojo, now a 7-year-old dark bay or brown gelding by Spanish Steps out of Do I Make Ya Randi, who finished third in a claiming race April 3 at Hawthorne Race Course.
Ifoundmy Mojo has won 13 times and has earned $216,705.
Taylor made a point to find owners who would take care of and provide for those rescued. She contacted several people who had bred or previously owned the horses, and some adopted back the respective horse.
"I'm overwhelmed with joy that so many of these horses went on to become great racehorses and productive broodmares," she said. "I hope it shows others that rehabilitating Thoroughbreds can be a rewarding experience."
The original edition of this article appeared in the April 18 issue of The Blood-Horse. Order here.